Pictures courtesy of the Cleveland Browns and The Canton Repository

By Ashley McCollum & Stephen DeAugustino
Josh Cribbs, wide receiver for the Cleveland Browns, doesn't always root for the good guy.

Ghost Rider
"My favorite comics [were] THE PUNISHER and GHOST RIDER because I loved their characters and graphics," Cribbs says in reference to two of Marvel's infamous antiheroes. "I used to collect comic books when I was a kid with my brother who is the reason I got in to comics and I still have my collection at my parent's house of over 100 comics."
Like these characters, Cribbs wins some impressive battles on the field against his own opponents. Cribbs holds the record as the best kick off returner in NFL history with eight touchdowns. He was recently named one of the Top 100 NFL Players of 2011. As for football strategy, who would his Marvel Draft picks be?  
"I would definitely want the Incredible Hulk, Juggernaut, and The Thing from Fantastic Four."
The current NFL lockout has freed up some time for Cribbs, which he's been using to his advantage.
"I have been traveling, training, and enjoying my family time, which included going to the movies to catch ["X-Men: First Class"]," he shares. "I love how they brought each main character's story together showing them actually learn how to use their powers. It was very interesting and exciting to see how the mutants decided to fight for good vs bad [and] become either heroes [or] villains."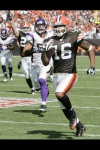 Cribbs breaks away
On the state of the lockout Cribbs says, "The lockout will be resolved as the season gets closer because for both sides it is too much at stake."
Like his favorite heroes, Cribbs has his own personal "super villains" whom he considers archrivals.
"Pittsburgh is Magneto and Cleveland is Professor X; we are Spider-Man and they are Venom," he jokes. "To Clevelanders beating them is just under winning the Super Bowl."
Like any good super heroes, Cribbs and the Cleveland Browns have strong support behind them.
"They are the most loyal diehard fans in football and our sports team is life or death for a Cleveland fan," he explains of the Browns faithful. "It is everything to them and it better be everything to the players as well. Due to my dedication to Cleveland and my hard work on and off the field, I have earned the respect of our fans and love to represent their best interest."
Recently, at the behest of his wife, Cribbs has joined Twitter—you can follow him @JoshCribbs16—as she "thought it would be a good way to reach fans.
In his real life, Cribbs counts himself lucky to be surrounded by real life super heroes, beginning with a new face on the field.
"The Browns are led by a new hero [who] we call 'Big Show,' [new team President Mike Holmgren]," he says. "He has been chosen to lead us out of the dark into the light and to resurrect this great football town. No less than the playoffs are our hope!"
What will the Cleveland Browns need to achieve this hope?

Cribbs off the field
"We need multiple players who are willing to do whatever it takes on and off the field to give us the best chance to go all the way," Cribbs insists. "We as players are training and waiting eagerly to get back to playing football again."
Hopefully helping with Cleveland's efforts will be their 2011 NFL Draft pick, Defensive Tackle Phil Taylor.
"He looks capable but I can't wait to see him in action," says Cribbs of the new blood. "He is as big as they come if not bigger and more solid."
Off the field, Cribbs conducts himself as a member of the Avengers or Fantastic Four would, devoting his free time to causes like his current ongoing fundraiser for Zack Randall.
"Zack passed away after a tragic auto accident and his Mom needs help with the funeral expenses," he says. "I found out about Zack while filming a reel for my new reality show Project 16. I put the Project 16 team on the case to help raise the money.  People can help this family out by just texting CRIBBS to 85944. This will donate $5 to the Randall family and it will get billed to their wireless bill. If we can get everybody to just give a little, our power to help people like the Randalls will be limitless like The Hulk."