By Ben Morse
All this week, Marvel will be pulling back the curtain and providing in-depth looks at the various editorial offices that make the House of Ideas run. We'll be kicking things off and finishing them up here on Marvel.com, but also be on the lookout on Newsarama, Comic Book Resources and iFanboy for more.
As Marvel's Senior VP – Executive Editor, Tom Brevoort has a pretty full plate. In addition to the various administrative duties that come with that position, he oversees some of the biggest franchises in comics, including the Avengers, Iron Man and Captain America, not mention major events like Fear Itself. Fortunately, just as Steve Rogers can look to Earth's Mightiest Heroes to have his back, Tom has associate editors Alejandro Arbona and Lauren Sankovitch providing a support staff that's second to none.
We spoke with Tom, Alejandro and Lauren about the way their office runs, the path they took to their current positions, managing high profile assignments, their passion projects and much more.
Marvel.com: How would you describe the workflow on a day to day basis in your office?
Tom Brevoort: Every day is different, so it's all about prioritizing those things which must get accomplished most urgently, while still finding enough time to plan stuff further out.
Alejandro Arbona: [It's] like spinning plates. The most immediate priorities are usually the deadlines that are on the shortest term—the comics due at the printer that week—while we also work on other projects for later weeks and months, and develop projects for even further out, trying to keep all those plates spinning. An average day involves everything from thinking and planning at a pretty abstract level on projects way down the line to lovingly poring over lettering proofs on a near-final comic, greasing every gear, tightening every last bolt.
Lauren Sankovitch: Typical day has Tom and I answering and sending hundreds of emails from receiving art from our freelancers to giving feedback on a script to doing an interview like this one. There are weekly meetings to attend, covers to be put together, scripts to be read, calls to be made [and] answered, recaps to be written, a revolving door of various persons from across the office coming in with questions for us and vice versa and other daily office minutiae. All that and we have a delightful intern who assists us by doing research and trafficking paperwork throughout the greater office.
Marvel.com: What's the division of responsibilities in the office like?
Tom Brevoort: While they're in position to backstop one another, Lauren and Alejandro work on separate projects, both on the stuff that they individually edit and those titles on which they assist me. So it's a pyramid structure with [me] at the top.
Lauren Sankovitch: I handle the bulk of the scheduling and trafficking of files for the office and assist Tom on the books he directly oversees. Overall, there's a lot of back and forth between us and a lot of our day-to-day business gets shared: i.e. I'll contact this artist to start this cover, meanwhile, can you chuck this reference material to the colorist for so-n-so book?
Alejandro Arbona: Lauren and I each edit our own comics individually under Tom's oversight, such as INVINCIBLE IRON MAN in my case, and we also work closely with Tom on the projects he edits personally. Geographically speaking, we operate out of different offices; Lauren shares an office with Tom, and I'm down the hall in another room.
Marvel.com: How frequently do the three of you meet and interact and how is it decided who will handle what?
Tom Brevoort: We meet informally when there's something that needs to be discussed, and individually on the projects that we're each working on. Every other week there's a Heroes Office meeting which includes all of the Spidey office and Bill Rosemann's guys as well as Lauren and Alejandro. At that meeting, we'll go over larger issues within the department, anything that requires a broader discussion or some brainstorming.
Alejandro Arbona: Informal meetings happen all the time; we walk into each other's offices to ask questions or discuss a story.
Marvel.com: How does your office interact with other offices?
Tom Brevoort: On a case-by-case basis we may interact with other offices. As I also oversee the Spidey group and the broader Marvel Universe, I've got oversight on a lot of other titles as well. Once a week the entire staff gathers for our General Editorial Meeting, at which we discuss the issues of the day, including operations stuff, as well as delving into pitches and ideas for new books and new initiatives.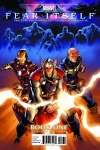 Alejandro Arbona: In general all the offices keep each other apprised of the broad strokes of their story planning for the entire year, namely through our editorial summits. On a day-to-day basis, we generally all communicate face to face whenever we see each other's characters turn up in our books. Strictly for the sake of example and purely hypothetically speaking, if Matt Fraction and I want to use Wolverine in an issue of INVINCIBLE IRON MAN, I'll talk informally with Jeanine Schaefer, who oversees the Wolvie comics, and with Nick Lowe, the senior editor of the entire X-group. Provided that's all clear, we'll go ahead with a script, and I'll give them that to read, and when the lettering comes in, I'll run that by them, too. They'll let me know if anything in the story seems out of character to them or if it conflicts with any Wolverine plans they have.
Marvel.com: Since Tom oversees some other editors and their books, what role does that play in how you see your office in the big picture that is Marvel?
Alejandro Arbona: The big picture is like a structure of cells, operating independently, but each overseen and coordinated by a series of senior editors, each with broader oversight and reach. Tom keeps our intimate three-person team buzzing, but he's also high on the honeycomb overseeing the other cells of the Marvel Heroes hive, and helping coordinate the entire line across editorial groups. Did you like that expression, "high on the honeycomb"? I just made that up.
Marvel.com: Tom, how has your promotion to Senior VP affected your editorial workload and impacted the way you run your office and utilize your editors?
Tom Brevoort: Honestly, it hasn't changed things all that much. Before that titular promotion, I was still overseeing the same people, so the structure remained very much the same. I'm just a little bit more likely to be involved in broader planning at this point. But if I'm credited as editor on a title, I'm editing it.
Marvel.com: How have you refined your dynamic with associate and assistant editors over the years?
Tom Brevoort: I'm not sure that anything much has changed, other than having more and more experience, and getting my arms around having to manage more and more people. I look at the editor/assistant relationship as being like beat cops out on patrol, which is to say, it's a partnership, and each person needs to feel invested in the work. My crew feels a direct responsibility for every book they work on, regardless of whether they're "only" the assistant on it. I don't care where a good idea comes from, so everybody is encouraged to put forth their best effort and to speak their mind when they have a thought or a concern. On the books they work on with me, Alejandro and Lauren are as involved as I am, if not more so.
Marvel.com: How closely do you oversee projects you're not directly editing?
Tom Brevoort: Probably closer than most of my juniors would like, actually. I try to read every script and give comments, as well as reviewing the black and white lettered book and even the final colored book assuming that there's time. But the higher up the editorial food chain somebody is, the less they're likely to need to check in with me on stuff. [Senior editor] Steve Wacker, for example, is perfectly capable of running his titles with minimal input from me.
Marvel.com: How does the weight of Avengers being Marvel's top selling family of titles as well as the basis for Marvel Studios' films affect the work you and your office do on those books?
Tom Brevoort: I don't see it as weight, I see it as responsibility, and I don't view it any differently than I did before AVENGERS got so popular. Every time at bat, I try to produce a comic book that's worth the reader's time and money. That's no different on a top-seller like AVENGERS than it is on something more niche-oriented like KA-ZAR. There's perhaps more pressure on AVENGERS simply because it's more important to our publishing line at the moment.
Marvel.com: What has it been like to oversee the transition of Avengers from a single title to Marvel's most lucrative franchise?
Tom Brevoort: It's been a period of controlled, steady growth. Early on, both [writer] Brian [Michael Bendis] and myself were very concerned about the typical gold rush threatening to undermine whatever it was about the series that made it vital, so we held off on expanding beyond a single book for a few years. Then, in the aftermath of Civil War, there seemed to be a legitimate story reason to go up to two titles—one being Iron Man's team, the other Cap's team in absentia. And form there, the line has grown organically. The toughest part, honestly, is in trying to keep it all from getting out of control, because even now, it would be frighteningly easy to just slap "Avengers" onto a bunch of titles whether they warranted it or not, so there's constant vigilance to try to prevent us from distorting the premise and he series beyond all reason.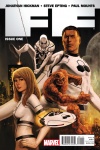 Marvel.com: You're currently guiding the Fantastic Four, Marvel's original Silver Age property, through one of its most radical periods of transformation in FF—what's that like?
Tom Brevoort: It's great that we seem to have found the way to make FF more interesting to a wider audience. That's all really down to [writer] Jonathan Hickman and the big game plan he brought to the series, as well as the artists, most notably Steve Epting. But it's great to see FF routinely charting in the top 10 for the field—hopefully, we can keep it there for awhile.
Marvel.com: What's the process within your office and for you personally when it comes to spearheading a major crossover like Fear Itself? What have you learned from past events and incorporated into your process?
Tom Brevoort: Each crossover is a little bit different, so while there's general experience that comes in handy, you need to take each one on its own level. But there's a lot to be coordinated, and the trick is really trying to be flexible enough to allow creators working on the tie-ins enough latitude whereby they can tell worthwhile side-stories in their titles while still being rigid enough that the core of the concept is upheld across all of the assorted titles involved. Also, being vigilant to make sure that somebody can read the central book and only the central book and still get a full reading experience out of it—since that's how it'll eventually be collected.
Lauren Sankovitch: While coordinating our office's Fear Itself-related books—including FEAR ITSELF itself—we field a lot of questions from the other editorial offices and try to make any pertinent information available to them so there is a much synergy and clarity as possible between the books. Tom keeps meticulous track of each of the tie-ins, when they come out, and their main story points so we have a bird's eye view of the event as a whole.
Marvel.com: With all those headline books under your purview, how do unique projects like KA-ZAR make their way into your workload? What kind of projects jump out at you as ones you want to handle personally?
Tom Brevoort: The reality is that I probably shouldn't be working on KA-ZAR directly, given the other stuff on my plate. But once in a while, there's a project that's just a natural fit. In the case of KA-ZAR, it was my relationship with [writer] Paul Jenkins that made it make sense to hang onto the series rather than handing it off—though Lauren has done as much work as I have on the book, truth be told.
Marvel.com: Lauren and Alejandro, what have been your paths to your current positions?
Lauren Sankovitch: Almost four years ago I started as an assistant under senior editor Ralph Macchio and assisted editor Bill Rosemann and associate editor Nicole Boose. After a year cutting my teeth on the Ultimate, cosmic, Marvel Illustrated, Stephen King, and Marvel Zombies books in addition to a few others like CABLE & DEADPOOL, I moved over to senior editor Mark Paniccia's group along with the Ultimate books and took up AGENTS OF ATLAS. Two years ago, I moved into my current position as associate editor under Tom and tackled many of the core Marvel titles, such as AVENGERS, FANTASTIC FOUR and CAPTAIN AMERICA. I currently have in the neighborhood of 20 titles I either assist Tom on or edit myself.
Alejandro Arbona: I started out as assistant editor to Warren Simons in 2006, where I joined the production of DAREDEVIL and helped launch IMMORTAL IRON FIST. A little later, Warren and I were tapped to launch INVINCIBLE IRON MAN and THOR In 2009, Warren left Marvel, and my entire operation was transplanted to Ralph Macchio's office, including both of those flagship comics and all the spinoffs we'd develop from them. Another editorial reshuffle came some months later, and with INVINCIBLE IRON MAN tucked under my arm, I moved to the office of Stephen Wacker, where I was promoted to associate editor. During my time at Steve's, I ended up starting to work on some projects directly with Tom Brevoort, soon to be announced, and so I was recently moved out from Steve's oversight to report directly to Tom.
Marvel.com: What have you learned along the way?
Lauren Sankovitch: I've learned everyone's name! A bigger achievement than you might think. I've been fortunate enough to have had a variety of office environments in which to glean the experience of my fellow editors and develop my own style. The best part is that I'm always learning, from the seniors as well as the assistants and my fellow associates.
Alejandro Arbona: Without turning this into an episode of "Inside the Editors' Studio," what I've learned can virtually be described as "everything I know." I had previously gone to film school, studied screenwriting and worked in film and television, so a lot of that knowledge was applied very practically in this medium of visual storytelling. But the amount I've learned about comics since being here is staggering. Just the first six months of collaborating with Warren and all our storytellers was a crash course, and it was probably the most I've ever learned about anything in the shortest amount of time. Warren's hands-on training was the bedrock that my career in comics is built on, but you never stop learning—at least if you're smart, you don't—so I've absorbed volumes more from everyone else I've had the privilege of working with.
Marvel.com: How do you balance assisting Tom with his books while also taking the lead on your own titles and projects?
Lauren Sankovitch: Very carefully. Since I do have a considerable number of titles with Tom, I try to choose my individual titles carefully and make sure I've got the bandwidth and drive to make them as good as possible.
Marvel.com: Which of the books you've edited, past and present, stand out as your proudest accomplishments?
Lauren Sankovitch: TASKMASTER, the [limited series] I put out last year with Fred Van Lente and Jefte Palo was not only my first project that I developed from soup to nuts but it was insanely fun to put together and got a positive reception to boot. Thoughtful and clever character development with over-the-top action and witty repartee. What's not to like?
Marvel.com: Is there a particular type of project you gravitate to?
Alejandro Arbona: My tastes are very easy to describe: I like any story in any genre, so long as it's a story well told, that works effectively, and that fulfills the potential of its own premise and idiom. That means that I love a project like RED SKULL with Greg Pak and Mirko Colak, where I'm proud of it for not featuring super heroes or spandex costumes, because it's a story steeped in the history of our real world and as dedicated as possible to realism and authenticity. But then I'm just as proud of Nick Spencer's IRON MAN 2.0, which is about a Marine in a flying suit of armor that can turn invisible, fighting a super villain perpetrating terrorist attacks from beyond the grave. With my writers I endeavor for each comic we do to be about something meaningful and relatable, but form follows content, and if that thematic weight is best represented by a sober drama, or by a colorful sci-fi space opera, I'm all for the approach that conveys each story most effectively.
Lauren Sankovitch: So long as there's a solid, marketable story in there, I'm fairly open to try new things. Personally, I love a good spy/espionage yarn.
Marvel.com: Alejandro, you've got Iron Man, one of Marvel's most high profile characters across media, under your watch. What additional perks and challenges come with being custodian for that kind of franchise?
Alejandro Arbona: It's a ton of work and a huge amount of responsibility and pressure, but it's rewarding to a much greater degree than it is demanding. INVINCIBLE IRON MAN is a comic I'm personally very fond of as a fan, and proud of as a collaborator. When people ask where I work and I say "Marvel," they know the company, but even when they ask what I do in particular, I can say "I edit Iron Man comics" and it's a known quantity.
Marvel.com: You also work with Matt Fraction on his creator-owned Casanova series; how does that differ from your typical Marvel editorial assignment?
Alejandro Arbona: Editing CASANOVA is both more of a personal investment and less than the Marvel Universe comics. The reason I say less is because the only people I answer to on CASANOVA are the creators, Matt and Gabriel Bá and Fábio Moon, who own the comic and ultimately have final say on anything. So, whereas on a Marvel comic my job is to shepherd our characters and narratives, and report to my senior editors on that score, on CASANOVA any decision like that will be the creators' to make, and I just offer them my advice, my practical support, my feedback as a reader, and my enthusiasm as a fan. But then the reason it sometimes feels like more of an investment is because I just love this comic, and it's a breath of fresh air to step out of the Marvel Universe and get an opportunity to work on something wholly freeing and unique.
Marvel.com: What's coming up in the titles you handle?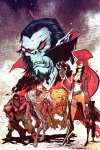 LEGION OF MONSTERS #1 cover by Juan Doe
Lauren Sankovitch: Let's see: More Initiative mayhem in FEAR ITSELF: YOUTH IN REVOLT, a baker's dozen of tales from across the MU in FEAR ITSELF: THE HOME FRONT, including some bad news for Speedball and friends. Who is Bucky Barnes? Find out in CAPTAIN AMERICA & BUCKY. And, for all those SECRET WARRIORS fans out there, prepare for the grand finale!
Marvel.com: And Alejandro, I understand you have a very cool new project to announce…
Alejandro Arbona: I'm hugely excited for the four-issue LEGION OF MONSTERS limited series we're launching in October; it's going to be over-the-top, off-the-wall monster fun, equal parts action, horror, humor, suspense and cop story. That's right, cop story; the monster-hunter Elsa Bloodstone is forced to team up with four of the dudes she hates most in the world, for the greater good of unraveling a series of murders. The writer is Dennis Hopeless, a promising young talent who I'm also working with on something else really exciting—you'll hear about that soon—and the artist is Juan Doe, who did really great work on such comics as FANTASTIC FOUR IN…ISLA DE LA MUERTE!, featuring the FF vs. chupacabras. Check out Juan's cover for LEGION OF MONSTERS #1, featuring Elsa, Morbius, Werewolf by Night, Living Mummy, and Manphibian—ridiculously awesome, huh?