By Craig Tello
WWE Superstar Zack Ryder has his floaties and suntan lotion all set for summer, but he's also got a stack of Marvel comics and collections right next to it.
The lothario from Long Island has caught fire across the Internet with his self-started YouTube show, "Z! True Long Island Story," starring Ryder himself, the proud holder of the WWE Internet Championship (which may or may not be legitimately recognized by WWE officials).

Zack Ryder heads to the ring
The bravado of WWE's beach-baked battler comes from his upbringing out on Long Island, New York, where Ryder grew up with his face tucked into books featuring Marvel's mutants, the X-Men—hologram covers and all—plus many others.
In between tweeting, filming the next webisode of his online show and, of course, hitting the mat with WWE's finest, the squared circle's social media savant kicked it with Marvel.com. Take care and spike your hair as Ryder shares the secret behind his ring gear, recruits Marvel Universe broskis and plenty more.
Marvel.com: What are your Marvel Comics roots? What makes you a Fightin' Fanboy?
Zack Ryder: A lot of my childhood was spent in a comic book store that was located around the block from my parent's house. It was called L&S Comics. I'll never forget the phone number: 489-XMEN. My friends, my brothers, and I would buy, read, trade and collect comics. They are actually stored in the attic of my parent's house. I live in a small apartment now. I don't have enough closet room for my headbands and my comics.

Marvel.com: Amid your massive haul of Marvel books back home, which do you remember as your favorite items?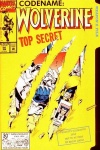 Zack Ryder: My favorite characters were Wolverine, The Punisher and the X-Men. I always loved when there would be something special about the cover of a comic book. There were holographic covers and the special bags that some comics came in that you couldn't open no matter how much you wanted to. But my favorite was a Wolverine comic that had a rip on the cover from his claws.

Marvel.com: How did the costumes and personalities of Marvel's characters help shape your WWE persona?
Zack Ryder: For the first few months of being an "Edgehead," I wore nothing but replicas of Edge's gear. When it was time to create my own look, I looked through "The Marvel Encyclopedia." Each Marvel character has a unique look. I knew that's what I needed. But maybe one-legged tights weren't the best choice.

Marvel.com: If you had a super hero team, what would they look like and where would their headquarters be? The beach? Is spiked hair a liability on the battlefield since you and your fellow heroes might be preoccupied with keeping it in tact?
Zack Ryder: First of all, our name would be the Zack Pack. Our headquarters would be inside the club, bottles poppin' 24/7. The beach would just be where we hung out—and got hit on by chicks. The spiked hair wouldn't be a liability at all. In fact, it would serve as protection. The stiffness of the hair gel would serve as a permanent helmet.

Marvel.com: Every week on your YouTube show, you recognize a "Broski of the Week." Which heroes, villains and the like are your "bros" in the Marvel Universe?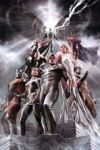 The X-Men
Zack Ryder: That's easy! Bro-Lossus, Bro-fessor X, Woo-Woo-Woolverine. These broskis are in the Z-Men chapter of my Zack Pack.

Marvel.com: You seem to skew mutant. As a native of New York, did you ever consider taking a trip to Westchester to find the X-Men's mansion?
Zack Ryder: Nah, I heard the girls there are stuck up.
Marvel.com: Currently in Marvel Comics, the biggest storyline is Fear Itself. What—if anything—does Zack Ryder fear?
Zack Ryder: Zack Ryder fears girls who are NHE: Not Hot Enough.
Marvel.com: Away from the squared circle and Long Island beaches, are you finding time for Marvel's summer blockbusters?
Zack Ryder: I've seen the majority of the Marvel films and I love them! I've yet to see "X-Men: First Class" and I'm really excited to see "Captain America: The First Avenger." In fact, I think I need to debut some Captain Long Island ring gear. My favorite Marvel film of all time is 2000's "X-Men." It set the bar for the rest of the super hero films we've seen since. It still stands the test of time.

Marvel.com: In the tradition of Marvel's beloved WHAT IF? series, what if Zack Ryder's popular web show crossed over with the Marvel Universe movies?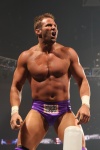 Zack Ryder post-match
Zack Ryder: Marvel is missing the boat by not casting me in one of these movies. They wouldn't have to pay to get a muscle suit made or use CGI for me. I'm already Zacked. My YouTube show, "Z! True Long Island Story," has millions of views. Those same viewers would come watch me on the big screen and box office records would be broken! WOO WOO WOO. You Know It!
You can catch Long Island Iced Z weekly on USA Network's Monday Night Raw as well as WWE.com's WWE Superstars. To find out how you can join the Partnership for a Woo Woo Woo America, please see Ryder's YouTube show or follow him on Twitter.
Plus, tune in to WWE's Money in the Bank extravaganza live this Sunday at 8 PM EST as Superstars like Ryder compete in dual ladder matches, only on pay-per-view!