By TJ Dietsch
A true American hero, Captain America not only fought the forces of evil during World War II, but also bolstered his fellow soldiers with his unwavering bravery. To celebrate the real men and women who defend our country day in and day out, the Army and Air Force Exchange Service—the Department of Defense's oldest and largest Exchange service—has teamed with Marvel Custom Solutions to offer a free Captain America comic that not only exemplifies Cap's effect on his fellow soldiers, but will also give readers an early peek at the world of "Captain America: the First Avenger" opening on July 22.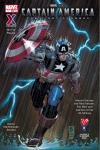 Cover art by John Romita Jr.
The all-new, 32-page comic, written by William Harms and illustrated by Shawn Martinbrough, will be available in every Exchange store worldwide, hitting in the United States first and making its way around the world soon after. Marvel.com talked with Harms and Martinbrough about creating a Captain America story, contributing to the "First Avenger" mythos, and writing for the soldiers.
"The [CAPTAIN AMERICA AND CROSSBONES] one-shot that I wrote for editor Bill Rosemann had just shipped, and he called me up and asked me if I'd be interested in writing another Captain America story, this time for the Exchange," Harms says. "There was no way I was going to turn something like this down, so I instantly agreed. Not only was the story fun to write, but it was also very exciting to write something that'd be entertaining our servicemen and women."
Martinbrough, a long time Captain America fan since first seeing the hero in the pages of TALES OF SUSPENSE, favored Cap creators like Jack Kirby, John Byrne, Mike Zeck, Mike Gonzales and Kyle Baker over the years. Like Harms, he also jumped at the opportunity to draw this book for the soldiers.
"It's an amazing feeling to know that a story that I illustrated in my studio outside of Washington, D.C. will be seen by men and women in uniform across the country and possibly around the world," Martinbrough says. "If I can grab their imagination and entertain them as they read this story, then I've done my job. For all that our armed forces do, it's my small way of saying 'Thank You.'"
The story itself features one solider passing another a lucky Cap comic book and the contents therein. Harms set the story firmly in the Marvel Cinematic Universe, but it does not necessarily intersect with the events of the movie aside from showing Cap in action.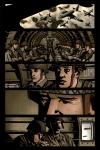 Preview art by Shawn Martinbrough
"We knew that we wanted to have a framing sequence to help orient the reader, so that's how it started," Harms explains. "After that it was a matter of determining why these guys would have this comic, and what it meant to them. In the movie universe, Captain America is real and is fighting alongside those guys, so it makes sense that the officers further up the food chain would use that to motivate them. Imagine sitting in England a day or so before D-Day and being handed this comic and knowing that the guy in it is out there, fighting for the same things that you're fighting for. That'd be pretty inspiring."
The action of the story-within-a-story finds Captain America taking on some mysterious looking bad guys in a small European town. Harms wrote the tale in a style that would be familiar to soldiers fighting in World War II.
"The main direction we took was to play up the pulp aspects of the story and setting, so part of that was making Cap more of a smart aleck than you normally see," Harms notes. "But underlying that is the knowledge that his actions will not only help people survive the horrors of WWII, but also that he's trying to bring the war to end. And in doing so, he'll save a lot of lives. I also wanted to draw a parallel between what Cap's doing in the comic and what our soldiers do every day in real life: put their lives on the line to protect people who can't protect themselves. All we see of what's going on in Iraq or Afghanistan is a little blurb on the news, but the fact is that our troops commit acts of heroism and selflessness every day."
For his part, Martinbrough got to cut loose when it came to creating the look of the villains. They're an intimidating lot that the artist had fun designing.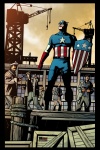 Preview art by Shawn Martinbrough
"William and Bill gave me a lot of freedom designing this world, but I did have the challenge of making the villains look scary and interesting yet specific to the period," he says. "Even though these villains opposed the German forces in the story, the methods by which they operated were very similar to Nazis scientific experiments on prisoners. I wanted to draw a parallel so I designed them to resemble the German soldiers."
In the end, the entire team appreciated the opportunity to not only create a solid story, but specifically one aimed at soldiers currently serving in the military.
"For all of us who work with the heroes of the Marvel Universe, it was a true thrill and honor to create a comic for America's real heroes, the men and women of the Armed Services," Rosemann says. "The creators poured their hearts into this one. The legendary Super-Soldier, a dastardly—but tragic—villain, mystery, drama, jaw-dropping visuals, a soul-stirring message, shield slinging action; this one has it all, True Believers!"
"It really means a lot to me," Harms says. "I know that sounds like a PR answer, but it's true. Although I've never been in the military, my dad was in the Navy during Vietnam and my grandfather was a Marine during WWII. I know what they experienced, and in my grandfather's case, he saw some really horrific things. So if I can create a story that entertains the soldiers or their families and helps them forget about whatever might be troubling them for a few minutes, I'm happy to do so."