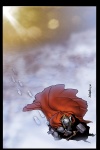 Shattered Heroes teaser
In the aftermath of Fear Itself, Captain America, Thor and Iron Man has been changed the dramatic event. As each deals with the shocking alterations to their lives, can they rise to the occasion and remain Earth's Mightiest Heroes?
For continuing coverage of Comic-Con International 2011 including our live stream plus more stories, photos, videos and more, keep checking the Marvel.com San Diego 2011 hub page and follow along on the Marvel Events App.
Portions of Marvel's Comic-Con International coverage brought to you by Oxygen and Wrigley Gum Bottles