By Jim Beard
The reuniting of writer Matt Fraction and his former UNCANNY X-MEN artist Terry Dodson spearheads an all-new, ongoing DEFENDERS series beginning this December. The events of Fear Itself will lead to a new formation of the legendary Marvel team, spotlighting such heroes as Doctor Strange, Namor the Sub-Mariner, The Silver Surfer, Iron Fist, Red She-Hulk and a roundtable of other Marvel favorites.
The original Defenders revolved around the concept of the "non-team," wherein the members operated without a charter and only the slimmest of rules and structure. Fraction reports a similar mode of operation carries through into the new series.
"The 'non-team' thing is still very much the operative notion here," he says. "We've got New Avengers and Mighty Avengers and Dark Avengers and Secret Avengers—early on in the pitching, I started thinking of my Defenders as the 'Weird Avengers.'
"They're all united by a secret at the end of the first storyline, 'Black Hulk,' a secret they quite literally can't tell anyone else about but for each other. The secret defines them, the mystery binds them together. As they start to investigate its true nature, a thread on the sweater of the Marvel Universe gets tugged and the whole thing threatens to unravel. And they literally can't tell anyone."
Fraction promises DEFENDERS will be "big and weird" and like nothing else Marvel—or he—has ever done.
"I don't know how to say whatever it is I've been saying any better or any bigger than I've said it with FEAR ITSELF," the writer states. "I want to push forward and find new and different places for them to go. So, on all fronts, the short answer [with DEFENDERS] is 'They're different from everything.'"
Doctor Strange and Namor stand with the new Defenders as founding members of the original team, but how they'll relate to each other with all their shared history and to their new compatriots will be revealed as the story unfolds. In addition, the duo will also have another type of sword hanging over their heads.
"These guys are the most Marveliest of Marvel Heroes; they're all tortured loners," Fraction points out of the Defenders founders. "They have that kinship. And Namor and Strange owe The Hulk. They're not so far removed from the Illuminati to pretend otherwise.
"They come together over the first handful of issues, and folks rotate in and rotate out, all bound together by the great mystery at the heart of the book. The idea is that, in attacking the riddle they're presented with, Doc needs certain experts. He needs to grow the petals on his Venn diagram. Very strategic and, by the time he's got all his Defenders on the board, we'll have travel visas to the entirety of the Marvel Universe. At times the book feels like a travelogue."
The writer looks forward to working with the character of Stephen Strange, as well as with a relatively untried adventurer like Betty Banner, aka Red She-Hulk.
"Strange is at [the series'] heart and at its core," says Fraction. "He's the one most provoked by the mystery and the one most obsessed with solving it. Hulk will be happy some form of responsible adult will be keeping an eye on Betty. The way I write her is somewhere between Indiana Jones and Johnny Knoxville; after a lifetime of being fought over and treated like a human football, she's seven foot tall and 62-52-62 or whatever and bulletproof—she goes around leaving these Betty-shaped holes in the wall."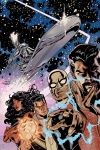 DEFENDERS #1 cover by Terry Dodson
Fraction also makes it clear that one of the very most important players on DEFENDERS comes in the form of artist Terry Dodson.
"He's a master storyteller, stylist, and an all-around great guy," he notes. "He and his wife Rachel have made some of my favorite comics pages ever. This book is gonna see Terry push and pull in all kinds of directions and styles; he's very much my partner in this. 
"DEFENDERS is largely one-offs or very short arcs—nothing longer than three issues—just pop-pop-pop-pop as we rocket along and with each pop Terry has to reinvent himself all over again; a 'Savage Land' issue won't look the same as a 'Creepy Ditko' issue which won't look like a 'Cosmic Starlin' issue which won't look like a 'Don McGregor Black Panther' issue and on and on."
For continuing coverage of Comic-Con International 2011 including our live stream plus more stories, photos, videos and more, keep checking the Marvel.com San Diego 2011 hub page and follow along on the Marvel Events App.
Portions of Marvel's Comic-Con International coverage brought to you by Oxygen and Wrigley Gum Bottles