By Jim Beard
This November, AVENGERS ORIGINS, a series of five original one-shots released weekly, will reveal the inner drive for excellence among Earth's Mightiest Heroes. Through these tales, readers will learn what some of the most popular Avengers think about what it takes to be a member of the legendary team.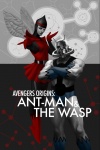 AVENGERS ORIGINS: ANT-MAN & THE WASP cover
"We  had the idea of developing a line of one-shots as easy entry points to the Avengers, much like we had done with the gorgeous set of X-MEN ORIGINS one-shots," notes series editor Lauren Sankovitch. "With the upcoming movie and the high profile of the Avengers titles, it seemed a no-brainer to revisit a few of the classic characters in stories that would not only introduce them to a new audience, but be engaging and fresh for our veteran readers.
"Obviously we've all got our favorites and with this initial push we wanted to really get a sampling of characters from across the Avengers history."
Each book spotlights not only unique Marvel Universe heroes, but creative teams made up of fan-favorite writers and artists as well as rising stars in the industry.
AVENGERS ORIGINS: ANT-MAN & THE WASP, by writer Roberto Aguirre-Sacasa and artist Stephanie Hans, features everyone's favorite on-again-off-again heroic couple.
"For Hank and Jan, I think, to be an Avenger is to be given a way, literally, to avenge," says Aguirre-Sacasa. "Both of them have suffered incredible personal tragedies. Hank saw his wife gunned down in front of his eyes, during his honeymoon, no less. And Janet found her father's dead body after he was killed by a Lovecraftian monster from outer-space. That kind of trauma could, of course, destroy a person. By taking the rage and helplessness they must have felt and channeling it into something positive—like being an Avenger—Hank and Jan are able to save their souls. At least, for a while.
"[This is] an origin story, so it takes place at the start of their careers as super heroes. We begin with Hank, and his first experiments with his shrinking serum, his first adventures down in the anthill. But since this is both of their stories, we meet Janet very quickly, and what we're tracking is their courtship and dating; juxtaposed, of course, with Ant-Man's early adventures in crime-fighting, leading to the birth of The Wasp and the true cementing of Hank and Jan's relationship. So yeah, there's a lot of cool, sci-fi-flavored action, but the spine is the love story."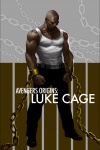 AVENGERS ORIGINS: LUKE CAGE cover
AVENGERS ORIGINS: LUKE CAGE, by writers Adam Glass and Mike Benson, and artist Dalibor Talajic, looks at the inner city hero who rose to the hallowed ranks of the Avengers.
"We think that because of Luke's past as a criminal and then as a 'Hero for Hire,' the Avengers is the last place he saw himself," explains Glass. "It's like playing for the Yankees. There are rules and expectations that come a long with it, two things that Luke really never cared for. Being an Avenger is also about being something more than just a hero; it's about being a symbol for good and justice. Because of his flaws, he is 'the people's hero,' and in many ways the embodiment of what it means to be an Avenger. Though Luke would never rush to admit it, he is proud to be an Avenger and loves who and what he has become as a man and a hero. And he owes a lot of that to being an Avenger. 
"New York City is his hometown and the Avengers are in his back yard.  If something is going down Luke wants a say and a hand in fixing it.  He can still work the street level stuff on his own clock, but with his powers he also wants to clean up any intergalactic threats, too.  The Avengers means you're playing hero at the highest level and Luke has come to like that and appreciate what it means."
AVENGERS ORIGINS: VISION, by writers Kyle Higgins and Alec Siegel, and artist Stephane Perger, peels back the artificial skin of the team's resident synthezoid. 
"The Vision is really kind of looking for his place in the world," says Siegel. "We've all been in a situation where something is expected of us and we're not sure that's really what we want to do. The Vision is in that same situation and he views the Avengers as a way of starting over and creating his own path."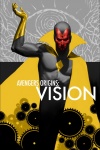 AVENGERS ORIGINS: VISION cover
"And that's what the Avengers have always been built on: the idea of 'second chances,'" adds Higgins. "We're literally opening [the story] in the days of the Vision's creation. We're taking the classic story and bringing a bit more of a modern sensibility and twist to it. We're exploring the inner workings of a classic character early in his career, looking at both what he wants and what he's afraid of—and how those two things put him in conflict with the Avengers."
AVENGERS ORIGINS: QUICKSILVER & THE SCARLET WITCH, by writer Sean McKeever, catches up with the famous brother-sister mutant champions.
"Here you have these twins who go from outcasts to mutant terrorists to being counted among Earth's mightiest super team," notes McKeever. "What, aside from discovering they're mutants, placed them on that particular path? How do Wanda's instincts and Pietro's hot temper figure into things, and how does their relationship evolve in such a way that the Avengers makes sense to both of them? Those are exactly the kinds of questions I'm having a ball answering here.
"We come to them as vagrant teens and follow them through their mutant awakening, their introduction to Magneto, their time with the Brotherhood of Mutants, and beyond. It's really the story of an indivisible bond between two people and how that bond affects the individuals, but as it's the story of Quicksilver and Scarlet Witch it'll be filled with epic adventure and some 'uncanny' guest stars!"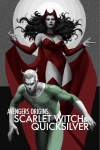 AVENGERS ORIGINS: QUICKSILVER & THE SCARLET WITCH cover
AVENGERS ORIGINS: THOR, by writer Kathryn Immonen, flies the skies alongside the mightiest Avenger of them all.
"For me, the Avengers have always, as a group, been—well, they're not even the 'family you choose', are they," ponders Immonen "It's often been such an oddball mix. And they're not there to avenge either, as has been frequently pointed out. I think Thor is in so many ways defined not just by responsibility, but by heritage and lineage. So, for him to be part of, to want to be part the continuity of service that is the Avengers, seems natural. They're like the Princess Patricias of the Marvel Universe. 
"[My story is] a look back over some formative events that Thor uses to help Donald Blake re-learn or be reminded of the lessons of compassion and humanity, which [he] himself originally learned from Blake. It deals with Odin's 'decision' to have Gaia as Thor's mom, with the formation of Mjolnir, the rescue of Sif from the Storm Giants.  All told with immediacy, so we're not doing bedtime story time here. Lots of thunder, lots of lightning and some adolescent misuse of the Hall of Heroes."
For continuing coverage of Comic-Con International 2011 including our live stream plus more stories, photos, videos and more, keep checking the Marvel.com San Diego 2011 hub page and follow along on the Marvel Events App.
Portions of Marvel's Comic-Con International coverage brought to you by Oxygen and Wrigley Gum Bottles