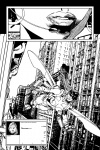 VILLAINS FOR HIRE #1 black and white preview art by Renato Arlem
By TJ Dietsch
Come November, HEROES FOR HIRE will be replaced by VILLAINS FOR HIRE, a new ongoing series with Misty Knight still leading the team but little else remaining the same. What could cause such a shift? Who will be sticking around?
"Misty is a very honorable but pragmatic woman, very resourceful," Co-writer Dan Abnett says. "She wouldn't do this unless it was absolutely necessary..."
While specific details regarding the necessity of Misty's actions have yet to surface, we do know that this new group will be pulling jobs too risky for heroes to take on and that the villains will be chosen for whatever the specific mission happens to call for.
"There's a great mix and some very cool characters, plus some lesser known ones we aim to develop," Co-writer Andy Lanning says. "[Dan and I] have a reputation, with characters like Rocket Raccoon and Groot, for taking slightly forgotten characters and putting a little life back into them. We think readers are going to find these characters very cool, even the ones they've not heard of before!"
While Misty will be drastically updating her rolodex as she embarks on this new endeavor, at least one other familiar face from HEROES FOR HIRE will be sticking around to keep tabs.
"Paladin's never going to be far away, but he's a [mercenary]," Abnett notes. "More traditional heroes might have some awkward questions about Misty's M.O."
"Let's put it this way: you know the phrase 'set a thief to catch a thief'" Lanning adds. "There's going to be more than one team of villains for hire."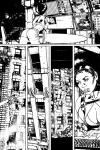 VILLAINS FOR HIRE #1 black and white preview art by Renato Arlem
Both members of the writing team were quick to sing the praises of new regular artist Renato Arlem.
"He's amazing," Abnett says. "We are blown away with the tough realistic and powerfully graphic work he's delivering."
For continuing coverage of Comic-Con International 2011 including our live stream plus more stories, photos, videos and more, keep checking the Marvel.com San Diego 2011 hub page and follow along on the Marvel Events App.
Portions of Marvel's Comic-Con International coverage brought to you by Oxygen and Wrigley Gum Bottles