By Ben Morse
Last week, Marvel opened the doors an invited all to take a virtual tour inside the House of Ideas via in-depth interviews with the various editorial offices. We kicked things off on Marvel.com with Tom Brevoort's crew, Newsarama chatted with the X-Men team and Comic Book Resources sat down with Spider-Man's support staff. Today, while iFanboy presents Mark Paniccia and company
With over three decades at Marvel under his belt, Ralph Macchio stands as the most tenured editor in the Bullpen. From Frank Miller's DAREDEVIL and Walt Simonson's THOR in the 80's to the launch of the Ultimate line and adaptation over Stephen King's "The Dark Tower" in recent years, Ralph's fingerprints have been on many of Marvel's most successful and acclaimed projects. These days, with the help of assistant editor Sana Amanat and associate editor John Denning, he oversees a collection of comics ranging from THE MIGHTY THOR all the way to EMMA.
Ralph, Sana and John gave us some insight into the way their office runs, the lessons they've taught one another, handling major media characters in comics beyond, plus much more.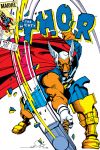 THOR by Walt Simonson
Marvel.com: Ralph, how has your role at Marvel evolved over the years you've been with the company?
Ralph Macchio: Well, I started off as an assistant editor way back in the mid-70's. And the role of an assistant then was pretty much what it is now. I hold the record, by the way, for being an assistant longer than anybody—seven years! Then, they made the mistake of promoting me to editor and I've been wreaking havoc in the halls of Mighty Marvel ever since! I originally began assisting on the black-and-white magazines then went over to the color comics. The main difference between then and now is that editors were more islands unto themselves; there was no Talent Management back then. And we had fewer meetings. Once or twice a year tops. It was a different time and a different company, but the love of producing good comics has remained strong at all levels.
Marvel.com: Now John and Sana, what have been your respective paths through Marvel to get to your current positions?
John Denning: My first job with Marvel was as an assistant editor with Special Projects, doing collected editions, handbooks and a wide range of eclectic publications. Though I had read comics for years, I wasn't specifically knowledgeable about the Marvel Universe. After three years in Special Projects and assisting on 14 hardcovers of the new Official Handbooks, however, being a Marvel zombie becomes part of your job description. That's how I may be the only person on Earth with a Captain Ultra T-shirt. He's got the world's best superhero costume; don't let anyone tell you different.
Eventually, I was looking to expand my experience again and was offered the opportunity to work with the regular monthlies. In less than a year, I've worked on everything from Hulk to Thor, cosmic books to Christmas carols!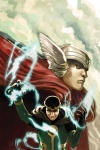 JOURNEY INTO MYSTERY #622 cover by Stephanie Hans
Sana Amanat: I started at Marvel as an assistant editor after I worked in the same position at Virgin Comics.  Because I was trained on the job at Virgin I was able to walk in and have a lot of responsibility from the get go. I was lucky enough to be put on some great titles as soon as I started and was constantly given more, the latest being Marvel's adaptations and licensed properties.  
Marvel.com: What have you learned along the way?
Sana Amanat: I've become a lot more confident in my position for two reasons:  1) I've gotten some great support from my superiors and 2) the amount of work has forced me to push myself to become a better editor. Because we're wearing multiple hats and have back to back deadlines it forces you to be on top of your game constantly. We're developing and editing stories, while dealing with talent and maintaining schedules—among other things—so we have to do it all efficiently and proficiently. The biggest thing for me though, is being able to work with a creator and help them find ways to make the best story they can. If you can give one note that helps better the story, that is gratifying in itself.
John Denning: Special projects taught me art, design and project management while sharpening my editorial eye proofing thousands of comic pages from our 70-year history. [But] that can't prepare you for every challenge that comes with working on a monthly comic series. There's really no other job quite like it. Every project teaches you some nuance of coordinating diverse personalities while balancing the desires of great story, marketability and fan expectations. You always make at least one mistake where you learn the hard way what not to do, too.
Marvel.com: Ralph, what lessons have you learned over time as far as how to work with and groom assistant and associate editors?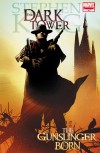 THE DARK TOWER: THE GUNSLINGER BORN #1 cover by Jae Lee
Ralph Macchio: I've always felt it was important to give assistants a great deal of responsibility so they feel they're a real part of the process. And, it also grooms them for the role of editor that they one day may assume. Also, I'm pretty lazy and it's great having someone else in the office do lots of work for you! My first assistant was Bob Harras, who later became Marvel Editor in Chief and was foolish enough to keep me on. [He] is now the [Editor in Chief] at National Periodical Publications, otherwise known as DC Comics.
Marvel.com: What systems have you developed for running your office and managing your assistants?
Ralph Macchio: Systems?! Hah! I really don't have much of a system. I ask my assistant to stay on top of deadlines and vouchering and all the technical stuff such as moving files that I'm too incompetent to do. And I like to be involved in the shaping of the stories mostly. I focus on the direction of the book and seeing the continuity is observed, etc. During the middle of the week I'll have a discussion with my assistant and we'll go over where all the covers and solicits are.
There are more people in Editorial now then when I started and the set up is largely different. When I first worked here, there was an Editor in Chief, his Associate Editor and a bunch of us editorial assistants whose job was mainly to proofread the books when they came in complete. Remember, this was in the days before computers so we were reading big art boards with lettering on them. At our level, we had virtually no input into the books.
And there were no editors overseeing each title. It was the head of Production who kept track of schedules. We had a handful of writer/editors who each had been Editor in Chiefs. When they left staff they took a handful of books for themselves that they were fully in charge of. Even the Editor in Chief had no control over them. And by the time I came onboard, that accounted for almost half our line. The other titles really had no one in the office overseeing them. Plots went from writers to pencilers and the schedule was kept by the head of Production.
Obviously, things are considerably different now.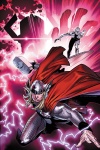 THE MIGHTY THOR #1 cover by Olivier Coipel
Marvel.com: What do you view as your role within the office?
John Denning: Think of every issue of a comic like a train and your creative team is all crammed into the driver's seat. Every assistant might have a dozen or more of these, with sales and senior editors at dispatch telling them what to load into the cars, where to route the trains and when they have to get to their destination.
Now imagine there are no tracks. Better start laying down rails fast!
An assistant editor's main job is to make sure that those trains show up on time, and deliver what they've promised. It's the challenge of all those different demands from your editor, sales, fans and creators that can drive you crazy, but it's also a thrill when you're handed an odd set of tools and in one mad dash, you've built something amazing.
As the one on the front lines every day, you've got to be there for your creators. They're scattered across the world, writing these awesome stories, drawing modern works of art under tight deadline, and there's no way for them to know what's going on in the office unless you tell them. Communicating with them and helping them communicate with each other lets them do their best work. Supporting great artists is easily the most satisfying part of my job.
Marvel.com: Sana, you work on titles across several offices, not just for Ralph; how do you balance your workload and how does it effect your day-to-day?
Sana Amanat: Honestly, I've just learned how to prioritize. I plan my week, then I plan my day, and then cross my fingers that everything works out. Just in case, I'll do status updates midweek so I don't miss anything. I'm also really smart, so that helps.
Marvel.com: As you're responsible for many Marvel projects adapted from the work of best selling authors or other licensed properties, how do those books represent a different kind of process for you?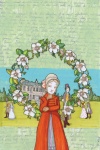 EMMA #1 cover by Janet K. Lee
Sana Amanat: Adaptations are tricky things. You have to take a story and maintain the essence of the original material, while reinventing it at the same time. Luckily I've worked with amazing writers who really understand the heart of a story and fantastic artists who can envision it in surprising and exciting ways.
Marvel.com: How do you shift your mindset from super hero books to something like Dark Tower or EMMA and so on?
Sana Amanat: It's always a change of pace  when you deal with non-super hero books because the outside properties are pretty self-contained. However my mindset doesn't particularly change. At the end of the day we need to create fantastic stories and that doesn't alter much from a super hero book to an adaptation/licensed property. And with both these types of books they've got long-time fans who expect a certain level of quality, so our aim is to deliver that the best we can regardless of the content.
Marvel.com: John, you worked on the cosmic titles with Bill Rosemann and now have brought them over to this office—what's ahead there?
John Denning: I'm a huge science fiction fan. I was raised by scientists. Science was my breakfast, lunch and dinner! That makes the cosmic stuff especially exciting for me. Dan [Abnett] and Andy [Lanning] have been great fun to develop ANNIHILATORS: EARTHFALL with because they're big idea guys. What's the difference between the greater good of mankind and the greater good of the galaxy? The Avengers and the Annihilators are going to answer that question with the oldest scientific method in the book: punching the other guy in the face to prove your point!
Marvel.com: What kind of challenge does a project like ZOMBIES CHRISTMAS CAROL present?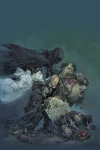 ZOMBIES CHRISTMAS CAROL #1 cover by Michael Kaluta
John Denning: ZOMBIES CHRISTMAS CAROL was exactly the kind of unique challenge that makes my job great. It started with a simple mandate: They called me in and said, "Here's your new project, adapt 'A Christmas Carol'—but with zombies." And that was it. A week before I left for Christmas vacation and all I had was a tagline and a deadline. I had to take a simple hook and make it a genuinely good story. I contacted [writer] Jim McCann and got him thinking, then hopped a plane home with a copy of [Charles] Dickens' story. When I came back to New York, I had outlined the strangest zombie story I could come up with and compared mine with Jim's.
And that's when I threw my story out the window. A smart editor trusts their talent when they're on to something, rather than imposing their own ideas. Jim took a concept that easily could have been a bad gimmick, and gave us a wonderfully fresh and ghoulish take on a classic story. When we were considering David Baldeon as the artist, he asked to do some sketches to show us what he could do. When we saw his Scrooge, this walking skeleton both miserly and pitiable, we knew we had the perfect team.
In all honesty, it's probably my favorite book to work on, precisely because it's so different. Adaptation is a whole other beast, and I love new challenges. For me, that's the best thing about working at Marvel: There are always new challenges.
Marvel.com: Given Thor's major role in Fear Itself, how do you work with the Brevoort Office and other editors to coordinate?
Ralph Macchio: Even though I'm the Thor editor, Tom [Brevoort] is the big boss of all the Avengers characters, so nothing gets done in THE MIGHTY THOR that he doesn't give the nod to.
Luckily, the man writing FEAR ITSELF is also the man writing MIGHTY THOR so that helps a lot in the coordination department. The coordination between my office and Tom's is always smooth. The only time a problem may arise is if we need a bit of reference for an issue of THOR that first has to appear in FEAR ITSELF and that issue of FEAR ITSELF hasn't been drawn yet. That will inevitably slow us, although it's no one's fault. Overall, it's easy coordinating.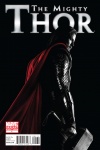 THE MIGHTY THOR #1 movie variant cover
Marvel.com: How has Thor's increased profile in regards to the movie changed how you have to manage the character and his titles?
Ralph Macchio: We know that Thor is now a marquee character—in a literal sense. And we do scrutinize the story and art a bit more than we normally would. Also, we couldn't introduce the new Asgard before the movie arrived. We're more sensitive to presenting certain social issues, etc. We know that the movie has made the book a very high profile product so we are careful.
John Denning: Strangely, the Thor comics are where I feel the least pressure. For one, you've got completely A-list talent working on those books. Matt Fraction is giving us Asgard versus Galactus and even if he wasn't one of the best writers in the business, how could anyone fail to make that the coolest thing you've ever seen, especially with Olivier Coipel drawing it? Kieron Gillen is telling tales of modern mythology in JOURNEY INTO MYSTERY that frankly raise the bar well above most other comics out there, and it's the best work I've ever seen from Doug Braithwaite, who was melting eyeballs with awesome well before he came onto that book.
All that praise isn't meant to just pimp these comics at you. What I'm trying to illustrate is that when you've got great creators doing their best work, an editor's job is fun and easy. Plus, I don't need to put up much of a fight to convince readers to give these stories a chance. The movie means Thor is a household name now, and when you pair that visibility with a great product, it's a lot easier to draw readers' attention and keep it.
I feel far more pressure when it comes to the smaller books. In hard economic times, people don't have the money to take as many chances with characters or creators they are unfamiliar with. So when you have newer creators doing brilliant work on a [limited series] starring Captain Obscure and the Unsung Heroes, there's this urge to go out to the stores and hand sell every copy so that people see it and the profits can justify doing more. And who doesn't want to see a Captain Obscure ongoing?