By Chris Arrant
The Hulk has been through a variety of transformations over the course of his life, but nothing will prepare him for what Jason Aaron and Marc Silvestri have planned.
Launching directly out of the events of Fear Itself with a new #1 in October, the all-new INCREDIBLE HULK shakes up the status quo with Bruce Banner on the run as a threat to the human race. With no one left to turn to, the U.S. government asks The Hulk to come out of hiding and hunt down his own alter ego.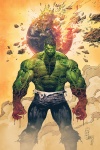 INCREDIBLE HULK #1 cover by Marc Silvestri
"I don't want to say too much in regards to what Banner's up to, but I can say it's a big change in the Hulk/Banner dynamic," Aaron says. "The typical dynamic for INCREDIBLE HULK is that Banner is a good guy who by accident unleashed a monster he has to fight to control. In this new series, we look at that from a different perspective. If you take these personalities and split them apart into two separate beings, which one really becomes the monster and which one carries the burden becomes a real question. It all comes down to perspective; maybe it's not The Hulk who's the big bad guy after all."
The first arc, 'Hulk Asunder,' opens with The Hulk and Banner split up and gone their separate ways. When things don't go so well, they start to get pulled back together.
"It's the beginning of a road to Hulk vs. Banner in a way that we haven't seen before," Aaron promises.
At first glance, INCREDIBLE HULK might seem diametrically opposed from the type of work Aaron has become known for. But when you dig down into the psychological aspects of Hulk and Banner it locks into place as a natural fit.
"I obviously tend to gravitate towards characters that are tortured, be it Ghost Rider, The Punisher [or] Wolverine; and The Hulk certainly fits into that mold," the writer explains. "He's probably the most tortured character in the Marvel Universe. When this project came along, I started thinking along those lines. So much has been done with The Hulk, from being a raging monster to being a hero, and him switching from The Hulk being in control to Banner being in control. For this new series, I wanted to do something different and flip what we typically think of as the Hulk/Banner relationship."
Marc Silvestri joins Aaron on the title, and although he's drawn everything from the X-Men to Spider-Man and even Conan, the artist has never done a Hulk story before.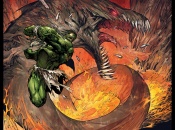 INCREDIBLE HULK #1 preview art by Marc Silvestri
"The Hulk is for me, physically, right in my strike zone." Silvestri says assuredly. "He's a big guy smashing big stuff, and that's what I do. When the opportunity came to do this, I was thrilled; I haven't done The Hulk in any stories before and only drawn him a couple times professionally for his crossovers with The Darkness, but every time I've drawn him I enjoyed it. Once I read Jason's story and saw all the stuff I'd get to draw, I was hooked. Plus the cool dynamic between The Hulk and Banner offered some intriguing ways to spin the action. The Hulk isn't the dumb brute he was when I grew up, which makes it interesting."
The Hulk currently exists as one of the Serpent's Worthy in the pages of Fear Itself and the upcoming INCREDIBLE HULK writer vows that this transformation won't be swept under the rug.
"Everything that The Hulk has gone through, not just from Fear Itself but his solo books in recent days, funnels into the new INCREDIBLE HULK series, mainly in terms of his mindset when we pick him up in issue one," says Aaron. "But the series will also offer a fresh take and a new jumping-on point for those that haven't been reading the Hulk for the past few years.
Joining The Hulk and Banner in their war will be a mixture of faces familiar and new.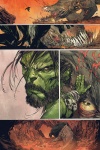 INCREDIBLE HULK #1 preview art by Marc Silvestri
"There are several new characters introduced in the first couple issues who will be the main supporting cast for awhile," Aaron says. "Betty Ross will show up in the second issue as well. We won't see any of the other Hulks like Red Hulk or Rick Jones, however. For INCREDIBLE HULK, we're brining back the focus on Banner and The Hulk. That will be the bulk of our cast, again playing out their relationship in a very strange, new way."
While Aaron remains focused on the characters, Silvestri's excitement builds on the variety of challenges he'll get to tackle visually.
"I get to draw what I love to draw," says the artist. "The Hulk being huge. Monsters being huge. Really big over-sized pieces of technology that Banner's created while he's been off the map. These are cool things to draw, but bad for us if we're the people living in the Marvel Universe. The idea of Banner becoming unhinged and The Hulk, in comparison, becoming the more reasonable of the two is eye-opening. When the series opens, we see The Hulk happy for the first time in awhile, having found a niche living with the Moloids underground. It's not until this shadowy part of the government comes forward and appeals to The Hulk to stop Banner after what he's done."
For Aaron, this project provides him a chance to work with someone he's admired as a fan for years.
"In the first issue I threw a lot at Marc to draw; a lot of big scenes, big monsters and new enemies," he notes. "There were a lot of strange and very bizarre creatures, and he nailed all of it. I wanted INCREDIBLE HULK to be a big fun book again, and have stuff like that in every issue. My favorite Hulk stories are the ones that are pretty off-the-wall crazy. Hulk is not Captain America and not Spider-Man, so obviously he's a different beast when it comes to stories. I've been having a blast doing this with Marc, and like my work on WOLVERINE, you can literally pluck The Hulk down in a strange situation and get into some interesting stories."
Marc Silvestri has worked with writers from Chris Claremont to Garth Ennis and Brian Michael Bendis, but sees something special in his collaboration with Aaron.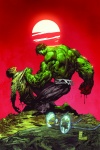 INCREDIBLE HULK #3 cover by Marc Silvestri
"Over the years, Marvel has thrown ideas for books my way every couple months," he relates. "Sometimes I'll take it, sometimes I'll pass. The last time I got excited about a book this much was the Grant Morrison NEW X-MEN story-arc 'Here Comes Tomorrow,' which was a dream project. I kind of felt the same way INCREDIBLE HULK. Once I heard the bones of this story, I was in.
"Jason is a really good writer and has come up with a clever, fast-moving story that, pardon the pun, has some real punch to it. He has a real grasp on The Hulk; a world-wearing but intelligent guy who makes his own decisions. He has a real grasp over these characters and the world they're in. Talking specifics, there's one page where in just a few panels he lays out Bruce's mindset not just at the time, but what's always been under the surface. It's pretty jarring, but also pretty cool. I think the fans will dig it."
For continuing coverage of Comic-Con International 2011 including our live stream plus more stories, photos, videos and more, keep checking the Marvel.com San Diego 2011 hub page and follow along on the Marvel Events App.
Portions of Marvel's Comic-Con International coverage brought to you by Oxygen and Wrigley Gum Bottles