By Tim Stevens
While your average students might go back to school around Labor Day, the young heroes of the Marvel Universe have to wait until November and AVENGERS ACADEMY #21 for the academic year to begin anew—with many changes.
"On a personal level, the fun of doing a team book involving characters that don't have their own titles is that you can actually make significant changes in their lives without ruining someone else's storyline," says series writer Christos Gage.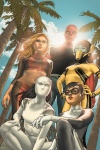 AVENGERS ACADEMY #21 cover
Using that reality to his advantage, Gage allows AVENGERS ACADEMY to evolve in many ways, beginning with the student body. To begin with, one of the initial recruits will not return in the fall.
"As for the student who is no longer with us, we have been saying these kids are at risk of going down the wrong path," Gage points out. "I always planned to pay that off, otherwise the premise of the book holds no weight. In story terms, I always planned that the first major event these kids got involved in would shake up their lives, as going to war always does to anyone. Fear Itself will have definite consequences. It has to, given our cast's inexperience."
Complicating emotions further, the Academy will also be welcoming all new pupils to its ranks.
"One new addition to our cast is someone many fans have been clamoring for," promises Gage. "And yes, there will be a brand new character, but her heroic persona is one with a rich legacy in the Marvel Universe."
The changing student body only scratches the surface of ACADEMY upheaval. The staff will also undergo some losses and gains. Hank Pym will return, along with two other established teachers; their identities though, and who else will be joining the faculty, remains a closely guarded secret.
"There is one new staff member who is a longtime Avenger, going back to the Silver Age, and is a very logical choice to help guide these kids," teases Gage. "Two more teachers are giving up their full-time status, for reasons readers will discover, but they—and any Avenger—could always show up as a guest instructor."
The school also has switched coasts during summer vacation. Now taking up residence in Los Angeles, the Academy will call the former West Coast Avengers compound home. Gage views the change as a necessity to create a more challenging atmosphere for the faculty and students—and for himself as a writer.
"The Infinite Mansion, with its dimensional doors, was getting to be too much of a cop-out," he admits. "I started wondering why everyone didn't use it; why even have Quinjets anymore? I've been laying the groundwork for doing away with that ever since Doctor Octopus hacked Hank Pym's tech in issue #14.
"Also, we decided it was time to bring the kids into the real world, with a fixed geographic location and the West Coast Avengers' old complex was just sitting there, unused. Given that some of our teachers were members of the WCA, it seemed like a natural. It opens up a whole new set of story possibilities."
Unfortunately, there will hardly be time for anyone to settle into their new digs or their new roles before tragedy strikes. The Academy discovers a cast member has been killed. With the murderer unknown, everyone—instructors and students—become suspects.
"The investigation into who is responsible will be a constant thread, but this isn't your typical murder mystery," Gage vows. "That horrific event will cause shockwaves for some time. Stay tuned, the shake-ups are only beginning!"
Of course, big changes can often be met with skepticism by loyal comic fans. Gage recognizes this and strives to prove those fears unnecessary.
"I know some readers might be nervous that what they like about the book could change," he acknowledges, "But hopefully that's not the case. We're just throwing new challenges at the kids and teachers you know and—hopefully—love!"
For continuing coverage of Comic-Con International 2011 including our live stream plus more stories, photos, videos and more, keep checking the Marvel.com San Diego 2011 hub page and follow along on the Marvel Events App.
Portions of Marvel's Comic-Con International coverage brought to you by Oxygen and Wrigley Gum Bottles