By Tim Stevens
A tense region always on the edge of conflict hardly needs a visit from a gamma irradiated man mountain who feeds off his own rage to spread destruction, but exactly that happens in HULK #42, due out this October.
The issue marks the beginning of a new creative arc as artist Patrick Zircher joins current HULK writer Jeff Parker. Both enter the story with an acute sense of excitement. For Zircher, it represents a chance to realize a long-held goal.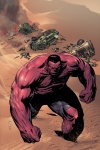 HULK #42 cover by Patrick Zircher
"At one time I'd bought the original run pretty much every month and he has long been a favorite character," the artist says of the original Hulk. "So I had him on a short list of 'dream' characters that was making the rounds with editors. Editor Mark Paniccia called to say he had an opening, but, as it happens, with Red Hulk. Well, I really like that Red Hulk is Thunderbolt Ross, a hard case, and a bit of an anti-hero.  He's a Hulk with his own distinct personality.
"HULK is unlike anything I have drawn previously. Portraying Red Hulk's size and strength, not just in battle scenes, but in the way he walks, sits, thinks, and reacts could be the most fun an artist can have drawing at Marvel."
With his artistic contributions, Zircher had made a fan of Parker.
"Patrick has serious chops, and he and I went back and forth a lot planning this—it's a big story and a true collaboration," he touts. "It's resulted in one spectacular scene after another over the whole arc; Patrick really knows how to boost the scale of a story. It feels like we have this $200 million film budget with the top effects houses on board, and we have a lot of cool guest stars."
The story begins when a friend of General Ross ends up killed in conflict while working for a private contracting company. Driven by guilt and responsibility, Ross cannot ignore the tragedy—he does not want to go, he simply has to.
"Ross doesn't think his friend should have been there in the first place, but because he does have the power to do something, he goes after the source of the arms," explains Parker.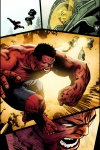 HULK #42 preview art by Patrick Zircher
Under the best of circumstances, such a task would not be easy. However, Red Hulk's mission runs afoul of allies and enemies alike. Primary among them stands Steve Rogers, who fears how a Hulk might destabilize the region further. Although he respects and trusts Ross, the Super-Soldier quickly grasps he cannot afford to let Ross run rough shod across the Persian Gulf and must tap the Secret Avengers to contain the problem.
"[Steve] realizes a new volatile situation is growing in the Middle East, and it's the last place you want Red Hulk to suddenly show up," Parker stresses. "Letting Red have Avengers affiliation now threatens to bite Rogers hard—this Hulk's actions can be seen as a move by the United States."
Pressing down on Red Hulk from the other direction is a brand-new character, a man once known as Dagan Shah who has just recently become so much more than he had been. To him, Ross represents a challenge to his ascendance in the Middle East.
"Dagan Shah is an incredibly tough personality," Parker says, describing the man who will become Sultan Magus. "[He] has kept his nomadic people alive for years and has finally been rewarded with the power to rival the nations that would stomp his tribe out of existence. But Red Hulk is going to be the first to give him a real fight.
"Patrick Zircher and I were happy to have the chance to create a new power player, essentially an Arabian Doctor Doom the way he fits into the overall landscape, and not make him a clear cut villain—if we did it right, readers should be conflicted over how they feel about Dagan Shah. He is a product of the harsh environment he came from; you won't agree with all of his actions, but you'll probably understand them."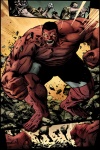 HULK #42 preview art by Patrick Zircher
Following close behind, General Fortean continues to dog our protagonist. While Red Hulk will not allow Fortean to stand in his way, he can appreciate what drives the man.
"General Fortean has gone down the path that Ross was in for so long, Ahab going after the Green Whale," notes Parker. "Ross actually sympathizes with Fortean, but it doesn't change the conflict that won't stop. Red Hulk could save the world right in front of Fortean, and the General would still bend the facts to fit the way he wants to see it. [It's] the same way Ross was with Hulk."
While the story touches upon elements familiar to readers of the HULK, both Parker and Zircher stress that the tale could have only been told in the Middle East as it utilizes that which makes the area physically and culturally unique.
On the artistic side of the equation, Zircher took the task of fully and accurately realizing the world of the Middle East on the page very seriously.
"The challenge with desert settings is creating depth, light, and heat in the art," he explains. "With [New York City], the buildings provide most of the environment and their lines, edges, and shadows provide depth and atmosphere. It's a different approach with outdoors material."
Parker, meanwhile, dug deeply into the region's ability to inspire quality storytelling.
"It lets us touch on the greater world much the way Marvel did in the Silver Age," Parker contends. "Iron Man was in the thick of Vietnam, and that still leads to over the top fantastic action like you expect from a sci-fi superhero comic—that's much of our approach. Big thanks to Marvel for letting us charge ahead with exactly the kind of things considered controversial in the market now."
For continuing coverage of Comic-Con International 2011 including our live stream plus more stories, photos, videos and more, keep checking the Marvel.com San Diego 2011 hub page and follow along on the Marvel Events App.
Portions of Marvel's Comic-Con International coverage brought to you by Oxygen and Wrigley Gum Bottles