By Justin F. Gabrie
Harley-Davidson.
Just the sound of that classic brand name invokes a mystique of ruggedness, a certain ambiance of cool and the feeling of freedom!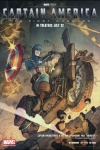 Harley-Davidson Captain America: The First Avenger print by Adam Kubert
No hero evokes—or fights for—the notion of freedom more than Captain America. And no Marvel artist knows the freedom that Harleys deliver more than Adam Kubert. A Harley man himself—riding bikes has been in Adam's genes since his teens—the artist wasted no time in grasping the opportunity to draw an exclusive print featuring the Super-Soldier riding a Harley, as seen in the upcoming "Captain America: The First Avenger" film.
"When our friends at Harley-Davidson proposed the idea of a top Marvel artist drawing this exciting visual, we remembered that cool ULTIMATE X-MEN cover that Adam had drawn, featuring Wolverine leaning against his bike," says Custom Publishing Solutions Editor Bill Rosemann. "Adam's not only a Harley fan, but also rides and owns one himself. So when I offered Adam the job, he said, 'Can they pay me in chrome?' We knew this would be perfect synergy, to have one of the best artists in the comic book industry pouring his heart into a project he has a deep passion for."
"The guys over at Marvel knew that I'm into motorcycles and that I have been my whole life," explains Kubert. "I had a little bit of time to slot in a pin-up so when they called me, I had to do it."
"Not that I need an excuse to buy a Harley, but the one I had in my possession is the one I used as reference for the cover to ULTIMATE X-MEN #16," the artist admits. "In fact anytime I get the opportunity to draw any character posing with a motorcycle, I'll use mine."
However, the job brought with it other perks beyond the bikes.
"I never really drew Captain America before," he says. "Maybe a panel here and there, but nothing as substantial as this drawing and combined with being on a bike—this bike—I couldn't say no to an assignment like this. Andy [Kubert], my brother, had a long run penciling the CAPTAIN AMERICA book with writer Mark Waid, but I hadn't, so for me penciling this image felt brand-new and fresh."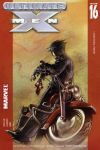 ULTIMATE X-MEN #16 cover by Adam Kubert
But Kubert confesses drawing our star-spangled patriot felt different this time, as it's the cinematic interpretation.
"You really have to pay attention to all the details, especially on the uniform," he notes. "It has to be spot-on. Because I knew Marvel Studios would be looking at it, I not only had to make sure it's correct in that respect, but that it also communicates the feel of the movie with a strong, representational image. It has to have a good shot of the bike, has to have a good shot of Cap, and it has to be dramatic. I'm not going artsy on the thing. I'm going commercial. That's the kind of focus I had in mind when I drew it."
Which brings us to the 1942 Harley-Davidson WLA "Liberator"featured in the piece:
"You know, I didn't even know that it existed when Bill sent me the reference for it. I thought, 'It's a really cool-looking bike,' so I started to search around a little bit; found out that it really did exist. Not that I'd consider buying the bike for reference purposes either, but one could wish..."
Adam recalls his love for Harleys and for bikes, in general.
"I started riding them when I was 13 years old," he shares. "Dirt bikes, mini bikes and all that. I bought my first street bike at around 25 or 26 years old and my first Harley around 15 years ago. I'm the type of rider that likes to ride a lot—I hate turning around. Best ride was a two-week trip with my wife up to Nova Scotia. We camped off the bike with sleeping bags and the whole bit. It's one of the best times I ever had in my life!"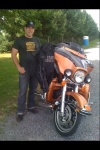 Adam Kubert with his Harley-Davidson
Of the final version, Adam had this to say about his colorist: "Jenny Frison is a talented artist in her own right, nominated for an Eisner Award in the Best Cover Art category. I actually taught her while she attended The Kubert School. I followed her career after she graduated, just looking for the perfect opportunity to be able to work with her. When this assignment came my way, I knew she'd be the right choice for it. It needed a specific painterly feel that only she could provide."
During this interview, Adam found out his artwork would not only be displayed in Harley stores all across the nation, but that it would also adorn the halls of the Harley-Davidson Museum itself.
"I didn't know it was going to be in the Harley Museum. Now that I do, I have to say I am really, really flattered. I think that's incredible! Very cool!"
Considering his history with Harleys, Adam still doesn't feel this piece brings him full circle, at least not until he sees it at the Harley-Davidson Museum one day. A day he looks forward to—after he sees the movie, of course.