By Chris Arrant
2011 marks the 20th anniversary of X-MEN #1 by Chris Claremont and Jim Lee, hailed by Guinness World Records as the best-selling comic book of all time, and Marvel has something special planned for the occasion.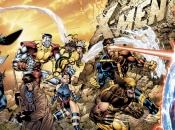 X-MEN #1 cover by Jim Lee, re-colored by Thomas Mason
The seminal issue receives a modern-day tune-up with an elaborate re-coloring job by expert colorist Thomas Mason this October. A colorist in the industry for the past nine years, Mason has gained the unique skill of re-coloring classic comic art as seen in the recent SENSATIONAL SHE-HULK collection as well as various Marvel Essentials as of late. An avowed fan of X-MEN #1 artist Jim Lee, the chance for Mason to re-color the entire issue of X-MEN #1 had been something he'd wanted to do for years.
"I owe it all to Senior Editor Jeff Youngquist of Marvel's Collected Editions department," acknowledges Mason. "I've been re-coloring old covers for him for a couple of years now, and early last year he was putting together the hardcover edition of X-MEN: MUTANT GENESIS and he asked me to do the cover. When I got the e-mail and opened it up I got all giddy inside—it was the Magneto part of the gatefold cover to X-MEN #1!
"After I turned the five-part cover in, I mentioned that 2011 would be the 20th anniversary and it would be cool to re-color the whole book, but it wasn't something we actually discussed at that time. Then earlier this year he had sent me a couple more Jim Lee covers to re-color and I asked him then if I could [work on] X-MEN #1 as a pet project. Once I let him see a couple pages, he really liked what I had done and pushed to get this approved for print and here we are!"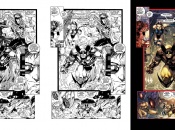 Thomas Mason's re-coloring process
Given the pivotal nature of X-MEN #1 in the larger scheme of modern comics history, going back to improve on such an iconic issue proved intimidating.
"One part of me is all fanboy about the chance to color the X-MEN and Jim Lee because I've always been a big fan of both so that part is exciting," says Mason. "The other part of me has to keep reminding myself that this is X-MEN #1, the biggest selling comic of all time! Hopefully when it's all said and done the fans feel like I did the book justice and reacquainted them with an old friend who just got a makeover."
Although Marvel maintains an extensive archive of publications through time as seen in the numerous Essential volumes released each year, when it came time for Mason to re-color X-MEN #1, he found the files sadly incomplete.
"Unfortunately after 20 years Marvel only had the original color files so I had my representative Terry Maltos contact the guy who actually owns all of the original artwork for X-MEN #1 and we tried to get new scans," he explains. "It didn't work out so I had to take the line-art out of the original color files in order for me to set them up for my friend Rex Stabbs and my daughter Tori to start flatting for me. The advantage of having the original color files to go by is if I'm unsure what something is or just want to see how it looked before I can just open it up and it's a nice guide to have."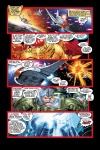 X-MEN #1 interior art by Jim Lee, re-colored by Thomas Mason
With the original X-MEN #1 colored in the infancy of computer coloring for comics, the subsequent 20 years of innovation proved invaluable for Mason on this project.
"The technology has certainly come a long way in 20 years and we aren't as limited by what we can do," he notes. "I really like doing effects so for me one of the things I wanted to do is to add the bells and whistles that couldn't be done 20 years ago whether it's Magneto's reflection in a glass helmet, Jean Grey's reflection in a mirror or making the computer screens have that modern tech feel to them; basically whatever I can do to spruce things up a bit I'm gonna do. Another thing I did was not have the gutters on the pages white. In the original book all of the pages had white gutters but I have always thought that colors stand out better on a black or colored page as opposed to a white page so there won't be any white gutters in this book and I think it helps sell the cinematic feel of Jim's artwork."
Mason also tracked down the book's original colorist, Joe Rosas, who worked from the mid-80's all the way to the early 2000's, becoming one of Marvel's most prolific colorists during the period.
"Whether it's this book or one of the old covers I've had the privilege to re-color, I always try to stay true to the original colors and just give them an upgrade," Mason says. "There are times when I do change things up if I feel it helps or if I just want to put my own spin on things, but for the most part I do try to compliment what's been done before. Joe Rosas did an amazing job 20 years ago so I really want to take what he did to the next level. Every time I re-color something I always worried I was maybe stepping on the toes of the original colorists and I never want to disrespect anyone in that way. I met Joe on Facebook and he saw my colors to the cover for X-MEN #1 and some of these pages and he has been very supportive of me doing this and essentially gave his blessing for me to do my own thing on this book; that was a huge honor and big relief to know he was behind me on this."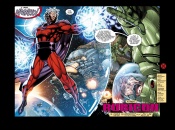 X-MEN #1 interior art by Jim Lee, re-colored by Thomas Mason
Even with both modern technology and the book's original colorist on his side, Mason admits this unique project had its hurdles.
"So far I'd have to say the trickiest thing has been trying to balance the old with the new," says the colorist. "When I first started coloring this I was posting some of the pages on Facebook and someone pointed out that the zipatone was 'outdated' and I should take it out. I went back and forth about it because I didn't want to mess with the original artwork and so I got a lot of feedback and almost everyone agreed the zipatone had to go in order to keep the modern feel. For example, on page 11 when Wolverine, Psylocke and Gambit are in the sewer, the water had a lot of zipatone in it so it was taken out.  I would definitely say that balancing how many changes to make to give it that modern feel and yet keep as much of the original as possible has been a challenge but certainly worth it."
Although Mason has made a name for himself as a colorist specializing in revitalizing older comics, the size and stature of the X-MEN #1 project made this a challenge. But given Mason's professionalism as well as his admiration for Jim Lee's work on this book, it worked to his advantage.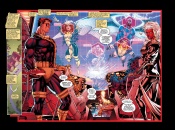 X-MEN #1 interior art by Jim Lee, re-colored by Thomas Mason
"This is the first full book I've done of his but I've done several covers now and I love Jim's art," Mason says. "I originally wanted to be a penciler and Jim is definitely one of the guys I always looked up to. His art is just beautiful and the fact that 20 years later it still holds up is a testament to how good he really is. As a colorist who is also a fan there is that desire to make one of your idols proud and it really makes you step your game up to the highest level you can."
For continuing coverage of Comic-Con International 2011 including our live stream plus more stories, photos, videos and more, keep checking the Marvel.com San Diego 2011 hub page and follow along on the Marvel Events App.
Portions of Marvel's Comic-Con International coverage brought to you by Oxygen and Wrigley Gum Bottles