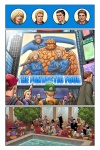 Fantastic Four: Season One #1 preview art by David Marquez
By Jim Beard
Beginning next year, Marvel presents a first for the company: Season One, a series of original graphic novels detailing expanded and in-continuity origins for some of the most popular characters in comics. The inaugural edition of Season One lands in February of 2012, with three more shipping monthly after that and another trio of entries to follow.
"The 50th anniversary of the Marvel Universe seemed like a good time to go back to the beginning and reintroduce today's audience to these seminal storylines and to find new areas within them to explore and illuminate," says Marvel Senior Vice President – Executive Editor Tom Brevoort. "We tried to select newer, younger creators [for the series] who might be able to bring a little bit more of today's sensibilities to telling or retelling these classic stories."
"We're trying to reach an audience that right now is more familiar with our most popular iconic characters from movie and TV screens, as animated features, as video game characters, or characters that they've seen or heard of in the news, on t-shirts, sneakers, and popular food brands," explains David Gabriel, Marvel Senior Vice President of Sales. "We wanted a book product that speaks to these folks, who know how cool the characters look, but haven't necessarily become aware of the books that these heroes have starred in for over 50 years.
"I think the appeal with this series will be to start fresh in reading and learning about these heroes and this world and discover for the first time what so many comic and graphic novel fans have loved for years. You don't need to know 50 years of backstory; you don't need to know how universes interconnect and the deep complexities that have surfaced between characters and their relationships to these worlds. We're saying here's the Marvel Universe and you are discovering it for the very first time with everyone else who's reading right now. That's who we are trying to reach here."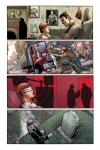 Daredevil: Season One #1 preview art by Wellinton Alves
Gabriel also hopes the in-continuity aspect of Season One will appeal directly to loyal "True Believers," the long-time fans who've invested in the Marvel characters they've loved for years.
"Simply put, if it isn't broken, don't fix it," he notes. "Despite the charge ahead for all these new readers in this unique format, we don't want to forget the masses of fans who have been with us through all our back stories. They are important, too. So setting these in continuity put our diehard fans at the same starting point as our new fans, and we hope to create a lasting base of all new readers!"
The first four graphic novel entries in Season One represent the cream-of-the-crop in the Marvel firmament, written and drawn by fresh talent eager to work with these characters.
FANTASTIC FOUR: SEASON ONE, written by Roberto Aguirre-Sacasa and drawn by David Marquez, delivers Marvel's First Family of super heroes.
"I'm getting to write my favorite comic book characters ever again, which are, of course, the classic Fantastic Four," says Aguirre-Sacasa. "I find them endlessly fascinating. I tend to do a lot of horror stuff, or dark stuff, so any time I get to write 'brighter' characters, with some humor and straight-up action, I'm happy.
"I think David Marquez is going to blow people away with this series, so I'm just glad to have gotten this opportunity to work with him now, before he literally explodes."
X-MEN: SEASON ONE, written by Dennis Hopeless and drawn by Jamie McKelvie, presents the beginnings of Marvel's merry mutants.

X-Men: Season One design by Jamie McKelvie
"[X-Men] was my first favorite comic book," reports Hopeless. "The fact that I get to write the original five [team members] and update Stan Lee's first stories is a little mind-blowing. This is bringing some really iconic stories to a new audience. It's just a great opportunity to revisit that stuff.
"The first five X-Men as teenagers will be tripping over themselves, acting angsty and self-centered. Generally sabotaging themselves at every turn. I love the idea that at this point, sure they're super heroes, but they're also idiot kids. Just like we all were."
DAREDEVIL: SEASON ONE, written by Antony Johnston and drawn by Wellinton Alves, details the gripping origin story of the Man Without Fear.
"It's about giving new readers a chance to see where their favorite heroes came from, but presented in a contemporary way, and a contemporary style, that fits with the kind of comics they're used to," says Johnston of the series. "I'm excited to be writing a Daredevil who isn't yet the completely tortured soul we know from modern times. He's a little more carefree, a little more optimistic.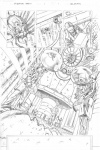 Spider-Man: Season One #1 preview pencils by Neil Edwards
"But I'm just as excited about putting my own small stamp on the character's history, with a few new twists and turns that will appeal to new readers, but which I hope long-standing fans will enjoy, too."
SPIDER-MAN: SEASON ONE, written by Cullen Bunn and drawn by Neil Edwards, introduces Peter Parker, the web-slinging wonder of the Marvel Universe.
"I love the idea of making the ground floor for Marvel's core characters easily accessible for new readers," notes Bunn. "With the Season One books, we're trying to give a brand new reader or casual reader something they can sink their teeth into when it comes to the origins and earliest adventures of these characters. These aren't just origin stories. They're stories that will give the reader a solid understanding of what the character's all about, and that's really cool.
"I've really enjoyed thinking and thinking and thinking about how to introduce these earliest Spider-Man tales in a way that is true to the spirit of the original stories, within continuity, and fresh for both new and existing readers. And come on—I'm writing Spider-Man! There's simply a thrill when it comes to working on a character like this. My goal is for that excitement to come through loud and clear when readers check this out."