By Justin F. Gabrie
While "Captain America: The First Avenger" captivates audiences all over the world, 3D technology company RealD provides their optical advances to CAPTAIN AMERICA: CRY OF THE YETI, an all-new eight-page digital comic created by writer William Harms and artist Steve Ellis for Marvel Custom Solutions.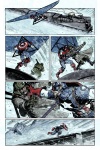 CAPTAIN AMERICA: CRY OF THE YETI preview art by Steve Ellis
Most of us know RealD by the 3-D we see in movie theaters, but their innovations have also been used for applications such as piloting the Mars Rover. Whether on Earth o another planet, RealD gadgetry can unlock different visual perceptions for our eyes to see.
It's gadgetry like this that Captain America uses during his new World War II-era adventure, set in a raging blizzard in Nepal and featuring classic, edge-of-your-seat, movie-serial overtures—and a Yeti!
"With the Sentinel of Liberty's hit movie now in theaters, and RealD providing the 3-D, it only made sense to create a story featuring both the Super-Soldier and cutting-edge optical inventions," says Bill Rosemann, Editor - Marvel Custom Solutions.
When Rosemann offered the project to Harms, the writer found it easy to say, "Yes! I love the stuff that [writer] Ed Brubaker and company have done in the current-age CAPTAIN AMERICA series, but for me WWII is Cap's wheelhouse—he's created specifically to win that war. So to write something set during that timeframe that also has a strong pulp undercurrent is a real treat."
As a history junkie, Harms had tons of reference materials not only from WWII, but also World War I, the America Civil War, and more; yet the real catalyst for the specific environment of this story came when Rosemann told him that artist Steve Ellis had a knack for drawing trains.
"It may seem like such a random thing to frame a story around, but it really dovetailed in nicely not only with the setting, but also with what the bad guys in the story are doing," explains Harms. "The Nazis know that they're losing the war, so they're pulling out the stops to find something that will turn the tide, and that's how we end up on a rickety train barreling through the Himalayans during a blizzard."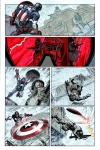 CAPTAIN AMERICA: CRY OF THE YETI preview art by Steve Ellis
"I wanted to push the pulpy action feel for this story, which I think I did with success," adds Ellis. "There's nothing I looked forward to more than drawing WWII Cap and some gritty hand-to-hand combat.
"William's script set up a nice pace which I just built on, but as for style and mood, I wanted you read this story and hear John Williams' score from 'Raiders of the Lost Ark' playing in your head as Cap pulled an acrobatic kick into some bad guy's head. As for the penciling and inking, from the beginning I decided to use a rougher ink style to bring out the edgy, gritty tone. Rough lines are like an accent to me; rough lines exude action and drama and I wanted a constant feeling of motion to the characters.
"With colors, the main story takes place as a newsreel. Therefore, I used a lot of muted tones to mimic the idea of a black and white film without going black and white; controlling the colors so tightly made it possible to have accent colors like the reds really pop out. Doing all the parts myself allows me to direct the whole feel of the piece."
Of his creative team, Rosemann admits, "When it comes to tough action stories with an undercurrent of heart, William can deliver like no other. He did it with his Captain America & Crossbones one-shot, he did it again in the AAFES: Captain America comic that Marvel Custom Solutions created for the U.S. Armed Forces, and he did it again here for a powerful patriotic trifecta. Meanwhile, Steve delivers amazingly dynamic visuals as he did in USA COMICS 70TH ANNIVERSARY SPECIAL."
"I've been a fan of Steve's work for a while, so it's a real treat working on this story with him," Harms agrees. "He did a marvelous job."
Of course, no book should be judged by its cover, but in this case Rosemann might argue the opposite: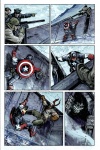 CAPTAIN AMERICA: CRY OF THE YETI preview art by Steve Ellis
"When it came to the cover image, we searched for an artist who not only had experience drawing the shield-slinger, but had a true love for the WWII setting. Enter masterful Mike Perkins, well-known for his award-winning run on Captain America. Combine that art with the awesome colorsof Frank D'Armata and you have one eye-catching visual that sweetly sums up the thrills waiting for you in the story."
Add it all up and you have a roller coaster tale that takes full advantage of the cool technology that RealD produces, all with a wink to Cap's pulp origins a scant 70 years ago.
Also look for a surprise character appearance in the very last panel, and a Yeti scene which just may bring a tear to your eye!
Read CAPTAIN AMERICA: CRY OF THE YETI now and check out RealD's Facebook page