Want more information? Head on over to your local comic retailer. Don't know if there's a store is in your neighborhood? Check out the
Comic Shop Locator and stop by one today!
*Retailers should check the Diamond Vendor Site as well as the Marvel Mailer for more information on being a part of this once in a life-time opportunity.
*Please note that the figure drawn with Spider-Man will be based on the photo reference provided, so the character can vary in gender, body type, etc. so we won't be literally drawing your face on this body.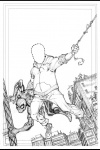 AMAZING SPIDER-MAN #669 variant cover by Todd Nauck

AMAZING SPIDER-MAN #669
(JUL110617)

AMAZING SPIDER-MAN #669 YOU'RE SPIDER-MAN VARIANT
(JUN118145)
Written by DAN SLOTT
Pencils & Cover by HUMBERTO RAMOS
Variant Cover by TODD NAUCK

FOC – 8/22/11, ON SALE – 9/14/11