By Justin F. Gabrie
James Rhodes has been a fixture at the side of Tony Stark, aka Iron Man, for years. He donned the armor himself when Tony needed time off. Eventually, Rhodey earned his own suit dubbed War Machine and became a member of Earth's Mightiest heroes, the Avengers.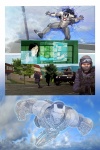 IRON MAN 2.0 #8 preview art by Ariel Olivetti
Leading up to the events Fear Itself, War Machine struck out on a bold, diverting path, albeit under the thumb of the United States Military.
"IRON MAN 2.0 underlines all the things in the character and the premise that especially make War Machine so different from Iron Man, and Rhodey so different from Tony Stark.," explains series editor Alejandro Arbona. "And in giving him the 2.0 armor, we hope to make War Machine more than just "Iron Man plus guns"—he has his own powers now, his own way of operating, and his own unique brand of enemy that only War Machine is uniquely qualified to fight." 
The new series started off with a mystery about Palmer Addley, a military researcher who seemingly ended his own life. The bleeding-edge technology Addley built fails six months after his death and similar gear began to pop up across the map in the hands of insurgents, rebels, militias, and terrorists, who attack and kill with the cryptic coda, "Palmer Addley is dead."
That's note a ruse—Palmer Addley is dead, and there's no way he could have leaked his research—so what's happening?
"The War Machine is a weapon of conventional combat, up against an unconventional enemy who's invisible and decentralized, who is everywhere and nowhere," notes Arbona. "Rhodey has to think, adapt, evolve and counter this asymmetrical threat; after an Addley attack shreds the old War Machine, Tony Stark outfits Rhodey with a new and revolutionary suit, specifically armed with new technologies and weapons to make him faster, more versatile, and more adaptable. He's a beta-test Iron Man 2.0 for the military—a 21st-century War Machine, ready to fight the war facing us today. The problem is, has Rhodey adapted too little too late?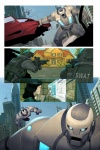 IRON MAN 2.0 #8 preview art by Ariel Olivetti
"In addition to being an exciting new talent who was making a splash with his clever, compelling stories, [IRON MAN 2.0 writer] Nick Spencer zeroed in on a concept at the core of War Machine's character, and spun that into a hell of a premise that I was dying to read as soon as he pitched it to me. At the heart of it, the story Nick set out to tell was that War Machine is a weapon for a war that isn't fought anymore. He's heavy ordnance, he's a tank; but drop a tank into the middle of an insurgency being fought street to street by irregulars in civilian clothes, and there isn't much it can do." 
The editor further explains that this series extenuates Rhodey's connection to the military, delves into politics and establishes the character's world view. For those who have been late in jumping on board, the Point One issue on-sale this week offers an excellent opportunity to catch up.
"IRON MAN 2.0 #7.1—just rolls right off the tongue, doesn't it? Please bear with the obstreperous numbering, because this comic is going to be explosive and exciting," he promises. "After the "Fear Itself" tie-in arc, issue #7.1 brings us back to the Palmer Addley story and fleshes out what exactly this bad guy is trying to do to the world. It's going to be a pitched and explosive battle throughout our next extended arc, and it all starts here. It's a great jumping-on point for a primer on the new War Machine and Palmer Addley, and it sets off the war that will carry through the next arc; post-Fear Itself promises to take it up a notch.
"War Machine's team believe they've pinpointed the source of the Palmer Addley menace worldwide, only to realize just how wrong they are, and how much bigger the problem is than they initially feared. A wave of terror attacks spreads across the globe; hotspots spring up everywhere on the map; the Big Board goes totally red.'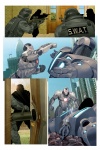 IRON MAN 2.0 #8 preview art by Ariel Olivetti
With Rhodes and his crew focusing their full attention on their invisible adversary, what else does the immediate future hold for IRON MAN 2.0?
"It's not all doom and gloom," Arbona vows. " Rhodey figures Palmer Addley out—only maybe he gets there a little too late and Palmer Addley strikes at him first!
"This arc is going to be explosive, and before it's through. Rhodey will face the greatest enemy he's ever encountered, and fight the battle that will define him. War Machine never had his own arch-enemy before; he finally gets one in Addley—but will this enemy prove greater than War Machine?"