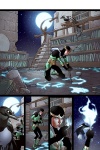 JOURNEY INTO MYSTERY #626.1 preview art by Pasqual Ferry
By Justin F. Gabrie
Robert Rodi has been synonymous with the mythos of Thor since his ground-breaking 2003 Marvel Knights limited series LOKI, beautifully painted by Esad Ribic. It's a story so celebrated, it has even been adapted recently into the Marvel Knights Animated Feature "Thor & Loki: Blood Brothers."
Of late, Rodi has found his way back to the Golden Realm with ASTONISHING THOR and THOR: FOR ASGARD, and ventures forth once more into Norse Mythology alongside artist Pasqual Ferry with Journey Into Mystery #626.1, presenting a story that explores Loki's relationships with Asgard's movers and shakers, while setting the stage for the choices he makes in the months to come.
"All the Point One issues are meant to provide jumping-on points for their respective series," says Rodi. "This assignment posed an odd dilemma, because the series itself was just beginning; the first issue was a jumping-on point on its own merits."
Despite that initial hurdle, the writer had a few decades' worth of complicated back-story involving Loki's previous incarnation that would deepen anyone's appreciation of the series and help explain the reaction of the other cast members to his returned younger self.
"[The Asgardians] have a history with him, but he has none with them," Rodi notes. "It's a paradox. My challenge was to streamline all that history into a single issue and still tell a story. Hey, piece of cake!"
Right before Loki's resurrection, he manipulated events to cause the Siege of Asgard, culminating in its destruction at the hands of The Sentry upon orders by Norman Osborn. The God of Mischief had a last minute change of heart, sacrificing himself in the end to save our world when Sentry lost control of his powers. Despite this, Asgard and its people remains skeptical, keeping the restored young Loki at arms length while maintaining a watchful eye.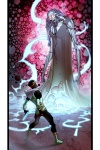 JOURNEY INTO MYSTERY #626.1 preview art by Pasqual Ferry
"With this story, I wanted to set down the status quo for new readers," explains Rodi. "But having read [regular JOURNEY INTO MYSTERY writer] Kieron [Gillen's] first issue, it was clear he was setting up Loki's motivations to be complex and developing; so my challenge was not to screw that up for him."
In so doing, Rodi wrote a story where Loki, desperate to learn why the other Asgardians do not want to be anything more than strangers to him, conjures up a mystical way to eavesdrop on all their private thoughts. What he learns doesn't please him and, to make matters worse may just cost him his life—again!
"I designed my issue to leave the reader wondering; we've seen young Loki tell the truth throughout the story, but does that mean he's changed? Or is telling the truth just a more diabolical strategy for getting his way? I'm looking forward to finding out the answer myself, by the way."
Rodi has nothing but praise for the new series:
"You've got a headstrong young reincarnation of an iconic villain, so you have to wonder how much of what you know about him, still applies. And whether—and how—he's going to surprise you. It's kind of ingenious, actually. It trades on your existing affinity for the character, while also subverting it. There's really no other book like it, at Marvel or anywhere else.
"I had a great time as always working with [editor] Ralph Macchio, and Pasqual's artwork just blew my mind. It was a happy assignment. Always glad to be part of this fabled corner of the Marvel Universe."