Marvel Entertainment and ABC Studios are proud to offer an exclusive preview of CASTLE: RICHARD CASTLE'S DEADLY STORM, an all-new hardcover graphic novel inspired by the popular "Castle" television series. This 112 page hardcover hits comic shops and bookstores everywhere on September 28, 2011. CASTLE: RICHARD CASTLE'S DEADLY STORM brings together a star studded cast of the best creators in the industry, including co-writers Brian Michael Bendis and Kelly Sue DeConnick; interior artist Lan Medina; and cover artist Carlo Pagulayan.
The September 28, 2011 release of CASTLE: RICHARD CASTLE'S DEADLY STORM marks the first adaptation, in any medium, of the Derrick Storm novels by New York Times best-selling author Richard Castle.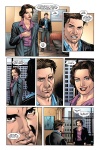 Castle: Richard Castle's Deadly Storm preview page
CASTLE: RICHARD CASTLE'S DEADLY STORM PREMIERE HC
Written by BRIAN MICHAEL BENDIS & KELLY SUE DeCONNICK
Penciled by LAN MEDINA
Cover by CARLO PAGULAYAN
"Castle" fans rejoice!! For the first time anywhere, Castle's hero Derrick Storm comes to life in the pages of this all new graphic novel. This "adaptation" of Derrick Storm's first novel adventure takes our hero from the gritty world of the private eye all the way to the globe-hopping intrigue of the CIA. Eisner Award-winning Marvel Architect Brian Bendis and red hot Osborn writer Kelly Sue DeConnick worked closely with Castle creator Andrew Marlowe to create the one thing millions of Castle fans have been asking for: their first real Derrick Storm adventure. A wall-to-wall, gritty, witty, globe-hopping detective thrill ride for fans of the hit TV show starring Nathan Fillion and Stana Katic, as well as fans of damn good comic books.

112 PGS./Rated T+ …$19.99

For more on "Castle,"
visit ABC.com