By Justin F. Gabrie
Kieron Gillen has risen quickly through the Marvel ranks in a very short time, vaulting from a post-Siege run on THOR to his current gig writing UNCANNY X-MEN, but the British native hasn't forgotten his Asgardian roots as he also pens JOURNEY INTO MYSTERY, chronicling the adventures of Loki and other denizens of the mythic realm.
"My one liner for this series has always been, 'If THE MIGHTY THOR is AVENGERS then JOURNEY INTO MYSTERY is SECRET AVENGERS,' which is enough to get some of the broad strokes of it," says Gillen. "Where one is overt, the other leans covert. The point being 'covert' in a fantasy and mythological book is a different thing than you'd expect in a traditional spy drama."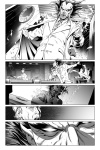 JOURNEY INTO MYSTERY #627 preview inks by Richard Elson
Gillen points out that the newly-young Loki embraces the trickster archetype to solve problems, lying and cheating for a good cause—or, at least, that's how it appears on the surface. No one trusting Loki lies at the core of the book, and that wariness should extend to readers.
"Recently, Loki's discovered why his elder self allowed himself to be killed in the Siege of Asgard, which set him on a road of his own choosing," recounts the writer. "He's gathering powers from across the whole Asgardian sphere of the Marvel Universe to go on a mission. Of course, being Loki, he hasn't said what the mission is yet, but along the way he's arranged [and defused] a civil war in Hell, tamed a Hel-Wolf, blackmailed the god of war, annoyed the handmaiden of Hela and cleaned a cellar of a whole lot of dung."
In a mischievous tone akin to the character he writes, Gillen notes, "Loki is gathering a group of bad people—because what good people would follow him?—to do a dangerous and necessary task. To give an idea of the sort of people he's making deals with, Surtur himself is on the cover of [issue #626. And after that? The mission—whatever it is; along the way, we've set up all the pieces that'll ricochet around what I'm planning to be a 40-odd issue run."
While Journey Into Mystery stands apart from the THOR book it supplanted in most regards, Gillen admits it's a ground-level rebuild in other ways. Having started titles like S.W.O.R.D. and Generation HopE from scratch, the writer has experience with fretting over audience expectations, but with this series elected to do exactly what he wanted to read in a Marvel fantasy book and have faith in that.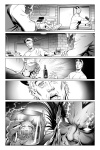 JOURNEY INTO MYSTERY #627 preview inks by Richard Elson
"You have to believe that by writing the best book you can, it can find an audience," he says. "Because you have to believe that quality sells. There [are] a lot of cynics in the world who view that because some good things don't find an audience, [commercial] success means by definition that it can't be quality [work]. And if you buy into it, it's self-defeating. You absolutely doom yourself, your art, art itself and the whole world. Excellence is the one thing which you can guarantee will move people, and it's the surest way to keeping an audience's attention. As a creator, it's about all you really have a say in. That [JOURNEY INTO MYSTERY] been the best reviewed book I've done for Marvel and seems to be doing well commercially makes me feel justified. I can't wait to take it where I'm taking it."
About his art team, the Englishman holds nothing back: "They've been great. The first five issues have been Doug Braithwaite. He's a guy who can draw an epic battle and then segue into something really 'bawdy.' He draws these gods as people, letting us see their flesh and humanity. It's just incredible stuff. He's working hand in glove with colorist Ulises Arreola, who also adds a lot to the book. It's got this soft atmosphere to the whole thing which makes it feel unlike almost anything else on the stand. And Stephanie Hans' covers! Playful, witty, mysterious, seductive. She sets the tone in the way which you always want a cover artist to do.
"It's a book which just builds and builds, based around the political chaos of the afterlife. And to start with, I wanted to use the aftermath of the Serpent War [during Fear Itself] as the setting, in the same way that you could set spy stories around the after-effects of the invasion of a country or the defeat of a superpower or whatever. Basically, it's a story which puts a fantasy spin of the proliferation of weapon-grade nuclear material. The main antagonist: Nightmare, bitter that the Serpent has stolen his routine and done it better."
But Nightmare's not the only mystical headed to the book:
"I'm using Daimon Hellstrom too. JOURNEY INTO MYSTERY is a book that bounces between the heavens and the mortal earth, equally as interested in ancient tomes and iPads. An exorcist like Hellstorm just straddles those worlds wonderfully, and he's a great foil to a faux-innocent like Loki. [Should be] lots of fun."