Former WEC lightweight champion Benson "Smooth" Henderson may be the toughest comic book fan you'll ever meet. The Washington native has been fighting competitively since 2006, amassing a 13-2 record and earning a reputation as being one of the most exciting fighters in mixed martial arts. Now fighting in the UFC's stacked 155-pound division, Benson steps into the Octagon this Sunday, August 14 to face submission specialist Jim Miller at UFC Live: Hardy vs. Lytle, live on Versus at 9 p.m. ET/6 p.m. PT.
As a long time comic reader, "Smooth" is a big fan of Cable and is currently following UNCANNY X-FORCE with great enthusiasm. Benson took the time to chat with us about his favorite Marvel characters and sci-fi novels, plus training at the MMA Lab in Glendale, Ariz.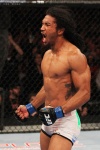 Benson Henderson lets out a yell
Marvel.com: You've got a big fight coming up against UFC veteran Jim Miller. Tell us a little bit about that fight and what fans can expect to see.

Benson Henderson: I think it's going to be an exciting fight. A lot of times when you get two wrestlers together it turns into a little bit of a stand up war with neither guy being able to get the takedown. I'm ready for 15 minutes of 100 miles per hour standup and throwdown; give the fans an exciting fight to watch. I'm ready if, you know, he slips on a banana peel, I slip on a banana peel and it [becomes] a grappling match on the ground for 15 minutes. You know, hard and technical jujitsu on the ground for 15 minutes. Wherever the fight takes place, I'm ready to go and give the fans a good show.

Marvel.com: Jim is an excellent submission fighter. Have you done any special training to prepare for him?

Benson Henderson: No, not really. He is a black belt in jujitsu and stuff like that, but a part of my everyday training is [doing] that same stuff as well. I go against guys that are pretty high caliber. They beat me up and choke me out every day. No special training, but I train hard like always, like for all my fights.

Marvel.com: What's a day at your gym, MMA Lab, like?

Benson Henderson: We got some tough kids at my gym, some tough cats!  Guys that don't care who you are or what your name is. They don't care if you fight in the UFC; they go in there and try to beat the crap out of you. They want to get better. All my guys are tough guys, hungry up and comers that want to make names for themselves and just want to get better. They don't care if you fight in the UFC; they're going to throw you a beating if you don't bring your a-game and I love that about my gym, I love that about my guys. I'm a little bit sad; I want them to succeed and do well in life--I see how hard they work and how hard they bust their butts, but none of them have made it to the big show yet.  But some of those guys I think are pretty ready for the big show.  I'm excited for them to eventually get a shot at in the UFC, have them do well and have their time in the spotlight.

The original X-Force
Marvel.com: Any other comic fans in there hitting the bags?

Benson Henderson: There's a few, there's a few. One guy is pretty hardcore [like] I am but the rest of them, you know, they casually know about comics. They read some when they were younger and of course with all the movies coming out nowadays there's a new wave of Marvel fans, but there are a few I suppose.

Marvel.com: What's your favorite Marvel comic or character?

Benson Henderson: My favorite one right now that I am currently collecting monthly is UNCANNY X-FORCE. I was a big fan of the original X-FORCE. I loved Cable, Warpath, Cannonball--all the characters of X-Force. I loved how they came together. I thought they were a harder edge to Professor X's dream. That was pretty cool, that sold it to me. I'm a big Cable fan; I love Cable a lot. That's the one I collect monthly, then I wait for a good storyline like "Messiah CompleX" or "X Necrosha." I wait for those to come out into the [collections] and then I buy those afterwards. After I know a series is pretty good I just collect that storyline.

Marvel.com: You were talking about X-Force being more brutal. What did you think of when Fantomex took care of kid Apocalypse?

Benson Henderson: When he capped Apocalypse as a kid? It was gangster, man! Everyone talked about it! They all said, "We need to do this" [but they couldn't]. I mean come on, James "Logan" Howlett--if he can't do something, it has to be hard. He's done everything. They all wussed out at the last minute but Fantomex said "You know what? I said I was going to do it so I'm going to do it." It was pretty billy-badass man.

Benson Henderson unleashes his right hand
Marvel.com: I heard you enjoy playing some video games. Xbox Live much?

Benson Henderson: I don't do much online gaming, just because I know that if I did get started, my soul would get sucked into it so I would never train. I would be in my house 22 hours a day. I would leave to get food and that's it, so I know better than to get started with that.

Marvel.com: Any Marvel games?

Benson Henderson: I've played a few but that style of gaming I'm not too big into. I'm into "Fable," old-school Zelda; more of the RPGs, I guess.

Marvel.com: How did comics influence you growing up?

Benson Henderson: They made a pretty big impact on my life. It was [the summer of] my seventh grade or sixth grade year and I started going to a local public library. They had a bunch of old comics and that's what introduced me into reading. Sci-fi/fantasy is my genre of choice. I'm a very avid reader and that's what introduced me to reading the sci-fi genre, all those comic books. It's just a great way to expand your mind, I guess. It's sci-fi, but science fiction 10 years from now is science fact. All their original ideas, even the guys from the 60's and 70's, are just now coming into fruition, like Ben Bova. He has some gnarly, pretty out there theories. All of his ideas are starting to come to fruition now. It's amazing.

Sabretooth
Marvel.com: H.P. Lovecraft guy?

Benson Henderson: I've read some of his stuff. My favorite guy [is] Ben Bova; I'm a huge, huge Ben Bova fan. He's [mostly] strict sci-fi with some fantasy stuff. Glen Cook of course; he's kind of revolutionizing the sci-fi genre the past few years. CS Friedman, Kate Elliott; she had a great series. I could go on forever. I like to read.

Marvel.com: What Marvel characters would you like to get in the ring with as an opponent?

Benson Henderson: That's a good one. I don't know. Maybe a real vile character, someone low-down and dirty. I'll throw out Sabertooth or Venom. Someone with a history of doing bad things I guess.

Marvel.com: Any final comments to the fans and readers?

Benson Henderson: Thanks for all the support! If you happen to be on Twitter give me a follow; it's @SMOOTHone155. I tweet quite a bit about my comic book reading escapades and the books I'm currently up to. I always do a book of the month, one that I am currently reading. Some books are better than others, but I always give a good book that I can recommend for the month. Thanks for your support and make sure your tune in on August 14 for my next fight!

Follow Benson Henderson on Twitter at @SMOOTHone155 and watch him battle Jim Miller this Sunday, August 14 at UFC Live: Hardy vs. Lytle, live on Versus at 9 p.m. ET/6 p.m. PT.