By James Viscardi
Spider-Man may have gotten his powers from a radioactive spider, but the high-flying skills Evan Bourne uses to pummel his adversaries came from hard work.
Evan Bourne has been jumping up WWE's main roster since 2008, bringing his unique acrobatic style down on any opponent that stands against him. Marvel.com caught up with "Air Bourne" to discuss travels and experiences with the WWE, the possibility of an Avengers team-up, and what he's looking forward to on this Sunday's live pay-per-view event, SummerSlam.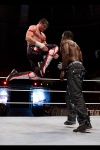 Evan Bourne takes it to R-Truth
Marvel.com: When it comes to travel, being in the wrestling business is not much different than showing up for Avengers duty. You've been all over the world, and this weekend for SummerSlam you're headed to the West Coast. With all this travelling, do you have any favorite spots to visit?
Evan Bourne: Everywhere has its charm and so many things are the same all over. What's cool about WWE is that we transcend a lot of different demographics and cultural boundaries. Our show is just really a melting pot of fans. So we'll have fans everywhere from Tampa where I'm from, Chicago where C.M. Punk's from, to Los Angeles on August 14 [for] SummerSlam. And that's what's cool, we're going to be reaching out to our fans before the show on Friday and Saturday at Summer Slam Axxess, where our fans get to come and meet and shake hands. It's no Comic-Con, but it's a chance to reach out to our fans, do some meet and greets, and Q&A sessions. I don't know if Triple H will confront C.M. Punk, like what happened at the Comic-Con, but something's bound to go down.
Marvel.com: Like the WWE, we've got heroes with all types of fighting styles. If you were to compare yourself with a super hero of the Marvel Universe, who would it be?
Evan Bourne: I think Spider-Man because of just the way [he] moves. The way he would use his web to swing around is sort of interpreted like our ring ropes that we have. I'm only human, I'm just a regular man, but I try [to] be a super hero in the ring. And not for nothing, anytime I'm doing a photo shoot I always try and throw up a Spider-Man pose in there.
Marvel.com So if you had to pick a tag-team partner you're saying Spider-Man would probably be your guy?

Spider-Man
Evan Bourne: Yeah, absolutely. That's easy.
Marvel.com: You're in-ring style is energetic, fun and exciting to watch. Were there wrestlers that you looked up to when adapting this style as your own?
Evan Bourne: I always appreciated the wrestlers that put their bodies on the line for the fans; that were willing to go 100% every night. It's sort of the same as the super hero characters that are willing to sacrifice themselves for the betterment of mankind, or what have you. So I feel in the same vein that if I don't give it 102% every night that I'm going to leave the fans missing something. So that's why, on Sunday, if they order the Pay-Per-View, if they order SummerSlam, they're not going to be let down. We're not going to let down our fans, same way as Spider-Man's not going to let down [the people].
Marvel.com: Now you've had a number of matches where you've been pitted against bad guys, like Jack Swagger a few months ago at Capitol Punishment. If you had to go up against a Marvel villain, who do you think you'd have the best shot against?

Wolverine
Evan Bourne: Wow. I don't know. I wonder what my chances would be. I think they'd be slim to none against some of these power houses you guys have. I'm unfortunately limited by the physics of the realm of Earth so I think they have a distinct advantage over me and that they might have my number.
Marvel.com: Fair enough!
Evan Bourne: But! If I could get Wolverine on my side or somebody like that, I could stand a chance.
Marvel.com: Next year, we've got "Marvel's The Avengers" hitting theaters all over the world, featuring some of the heaviest hitters of the Marvel Universe like Captain America, Thor, Iron Man, Hulk, and Hawkeye. Who, if you were to join the ranks of Earth's Mightiest, would you be excited to work with most?
Evan Bourne: That's a difficult question. All those guys have such different backgrounds. I think I would want to join the group, not just [work with] one of them. Everybody makes up for somebody's weakness with one of their strengths, so I think I would add to the group a special—a unique—dimension that only the WWE can bring, which would be the excitement factor. I would definitely make sure that anytime we got it trouble, it was much more exciting than what they're used to. Regardless of who we're up against I would definitely always have the ability to fly around and be a recon guy.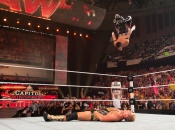 Evan Bourne goes Air Bourne
Some kind of ability where I can use my flying and speed to their advantage to be an asset to the group.
Marvel.com: So if you had the opportunity to hit Air Bourne on someone like Doctor Doom, you'd take that shot?
Evan Bourne: Oh yeah—in a heartbeat. It would be awesome and effective!
Marvel.com:  Last question for you: What is Evan Bourne looking forward to the most this weekend for SummerSlam?
Evan Bourne: Oh, at SummerSlam I'm looking forward to seeing what happens between the WWE championships with C.M. Punk and John Cena. Will Chicago's boy become the only WWE Champion or will it go back to John Cena? Will the ultra-villain that is C.M. Punk, who practically embodies a Marvel bad guy, come out and retain his championship that he won at Money In The Bank last month? We'll have to see!
Learn more about Evan Bourne at WWE.com and get SummerSlam on pay-per-view this Sunday!