By Justin F. Gabrie
If you've been a comic book fan anytime in the last three decades, then you have heard the name Peter David. The veteran writer's career actually started in the halls of Marvel as a staffer working in their Direct Sales Department for five years before becoming a full-time freelancer.
His work includes stints on various Spider-Man titles, including the infamous "Death of Jean DeWolff" storyline. He also co-created Spider-Man 2099—a world he recently returned to when he scripted the video game "Spider-Man: Edge of Time"—and cemented his legend with an untouchable 11-year run on INCREDIBLE HULK.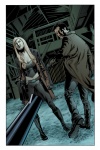 X-FACTOR #224.1 preview art by Valentine De Landro
David's current workload continues to be diverse: from STEPHEN KING'S DARK TOWER to the upcoming prequel series to the "John Carter" entitled JOHN CARTER: WORLD OF MARS and, of course, his second stint on X-FACTOR.
Whereas his first run of the book in the early 90's concentrated on a government-run mutant super-hero team, David explains this version of X-Factor—which he started on in 2005—as a character-driven series involving an eclectic detective agency in New York City. Led by Jamie Madrox, the Multiple Man, they firmly believe that the best way for humankind to accept mutants lies with integrating themselves squarely into the midst of society and offering their services to anyone who has the. They specialize in cases involving the weird, the arcane, and the totally out there.
"Due to the wide range of personalities and powers, I can tell pretty much any type of story I want and it will still have some sort of personal resonance to the cast," says David when asked his favorite part about working on X-FACTOR. "I happen to think that's incredibly important to the book. No matter what sort of situation they're facing, one or more of the cast should always have some personal stake in the endeavor.
"For instance, in a recent storyline, J. Jonah Jameson hired the team to find the killer of an old friend. But it turned out that Monet's personally responsible for re-empowering the woman who in turn committed the murder. And now the team deals with the culmination of Rahne's pregnancy, originally introduced in X-FORCE, but [it] became our team's responsibility once she came over into the book."
The writer also credits his editorial collaborators with keeping the show rolling even through a sometimes rapid succession of art teams.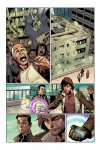 X-FACTOR #225 preview art by Leonard Kirk
"Where I've been fortunate has been in the succession of editors I've worked with who have more or less given me a considerable amount of latitude with the series," he says. "So that's been a plus."
Which leads to the upcoming X-FACTOR #224.1, due out September 7.
"The goal [for this issue] turned out to be three-fold: bring new readers up to speed; provide them an idea of where the series' direction; and do all this while keeping the regular readers entertained," notes David. "[There are] two storylines—not bad for a single issue!
"[The first involves] Madrox, in the company of Layla Miller, returning for a visit to his old and previously-thought-abandoned homestead, only to find some unexpected residents there. Meanwhile, the rest of the team handles a client who's convinced that a seemingly-harmless, little old lady could be a harbinger of unspeakable evil. The police, of course, think she's nuts. X-Factor takes the case. Guess who isn't nuts?"
As for future issues of X-FACTOR, David promises to deliver the kind of stories fans expect, just not in the way they expect it:
"The next arc involves a kidnapped child—which flows directly out of the Point One issue—and introduces a seriously screwed-up villain for the team to deal with. This will also signal the return of an old-time Avengers villain. All this will culminate in issue #227 which climaxes with a two-page one-two punch that will have fans reeling and includes probably the biggest 'What-the Hell?' moment in the history of the series."