By Jim Beard
As Fear Itself races to its end, waves of fear continue to ripple out and into the lives of the Marvel heroes. FEAR ITSELF: THE HOME FRONT and FEAR ITSELF: YOUTH IN REVOLT also rocket towards their conclusions, but not before the spit really hits the fan for its stars.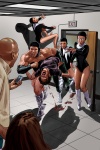 FEAR ITSELF: THE HOME FRONT #6 preview art by Mike Mayhew
"Expect the return of the Sisters of Sin," says HOME FRONT writer Christos Gage of the book's upcoming installments. "Longtime CAPTAIN AMERICA readers will remember that Sin, the Red Skull's daughter, who is currently raising hell as the Serpent's right hand gal, had some partners in crime; runaways and orphans indoctrinated and given powers by The Red Skull. Well, they're back, and they're not happy with what Miriam Sharpe and Speedball are up to."
"What we've done in YOUTH IN REVOLT is show how crazy things have gotten all over the country and how many young heroes have worked so hard to deal with the widespread panic," reports writer Sean McKeever. "Now, in this second half [of the series], as the Serpent's hammer wielders are laying waste to the world, there's a problem so large and seemingly insurmountable emerging in Las Vegas that it virtually becomes the sole focus of Prodigy and his Initiative teams."
THE HOME FRONT features the latest escapades of Speedball, a character Gage says has already learned a few new things about himself in the series, lessons that should stay with him on his troubled journey.
"I think for me, the exciting part about writing this story was the chance to take Speedball into a new phase," he notes. "Sort of resolve the character arc that began with the Stamford disaster and continued during his time as Penance, in the Paul Jenkins stories, through what Warren Ellis did with him in THUNDERBOLTS, to his trying to become Speedball again in AVENGERS: THE INITIATIVE and AVENGERS ACADEMY.
"When we're done with HOME FRONT, he'll be ready to move into that new phase. Not that what happened before is irrelevant—it'll always affect him—but he's no longer just reacting to all that, he's looking to the future. He's really becoming the person he'll be as an adult—finally moving on as a result of what happens in our story."
Fans of THE HOME FRONT will also want to seek out a copy of October's AVENGERS ACADEMY #20 where Speedball makes what Gage calls "a pretty significant announcement that surprises his students and colleagues alike!"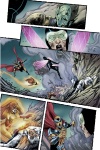 FEAR ITSELF: YOUTH IN REVOLT #5 preview art by Mike Norton
McKeever's work on YOUTH IN REVOLT places him once again in the driver seat for the character of Gravity, whom he co-created in 2005, a situation that's really pleased the writer.
"Writing Gravity again with co-creator Mike Norton at my side has, of course, been sublime, and we're both pretty psyched to show people a new side to the guy," he says. "Since coming on the scene as a happy-go-lucky hero, Gravity has been through so many ordeals that he's really let his resulting disillusionment get the best of him. With YOUTH IN REVOLT #4, we really see him turn a corner as he faces down Hardball and his own heroic ideals."
And, of course, the series' other stars also rate high on McKeever's list of writing pleasures—just don't ask him which one specific hero among them he favors most.
"Can I pick all of them?" he asks. "No? Well, I've made no secret that I absolutely love Firestar, but of the ones I hadn't written before, I've really taken to Ultragirl, Prodigy and Hardball.
"Definitely getting the chance to work with all these great characters [has been exciting]. Having another chance to work with Mike ain't so bad, either."
When looking back on his HOME FRONT experience, Gage recognizes his fellow creators as highpoints, above and beyond the book's characters.
"From a creative standpoint, working with [artist] Mike Mayhew has been wonderful," he points out. "We've wanted to work together for quite a while and I'm thrilled that editor Lauren Sankovitch made it happen. His work is so realistic and expressive, I've found myself using a lot of storytelling techniques I would use writing a screenplay, when I know talented actors are going to act it out.
"We've all seen comics where the only difference between the characters' appearance, aside from gender, is the color of their hair and their clothes. Mike is the opposite; every person on the page is a distinct person, which is so important for a story like this, where the average individual on the street is such a major part of things. Rain Beredo's color art complements Mike's work so well it almost makes the story seem painted. I'm really happy with how it turned out."