By Tim Stevens
Marvel has no intention of letting the Great White North exit the spotlight any time soon. Originally set for eight issues, ALPHA FLIGHT, from writers Greg Pak and Fred Van Lente and artist Dale Eaglesham, has made the transition to an ongoing series.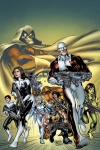 ALPHA FLIGHT #5 cover

"The main reason a series like this gets the vote to keep on keepin' on is because of the fans," Senior Editor Mark Paniccia says, crediting ALPHA FLIGHT devotees. "There are enough readers and fans supporting this that we were able to make the decision to extend it."
For the writers, the news does not force them to alter their plans so much as allow them more room to explore plot points and themes.
"Our story has remained the same and will hit a massive climax in issue #8," confirms Pak. "We now have the real estate to spread out some of our characters' subplots and give them room to really breathe. And we're really opening things up with a big, big idea we've been mulling over with issues #9-12."
An international perspective will provide one way to grow the story. With Canada's close physical proximity to the United States and historical connections to the United Kingdom, it only makes sense that the Unity Party machinations would reverberate beyond national borders.
"The situation in Canada goes from bad to worse," Van Lente forecasts. "This requires intervention from its neighbor to the south, in the form of the Avengers."
With the Avengers on the way, that guarantees a certain short and short-tempered Canuck will be returning to the land of maple leafs.
"Wolverine," Pak teases. "Did I say that out loud? Yes, Wolverine."
Van Lente elaborates: "Wolverine was trained by Alpha Flight and is supposed to lead them. And he still has feelings for Heather Hudson, to all appearances now the villainous Vindicator, so he is definitely going to want to check this out."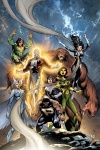 ALPHA FLIGHT #6 cover

Across the proverbial pond, the British also have their interest piqued via a heretofore unseen network of heroes.
"Alpha Flight finds out they're [part] of a super team they weren't even aware of—the Commonwealth of Heroes," Van Lente reveals.
Pak continues, "The other nations within the Commonwealth have a strong interest in what goes on within her borders, which may result in some pretty shocking super hero action."
Artist Dale Eaglesham finds the international perspective thrilling as it gives him a chance to tackle a longtime favorite.
"I'm really psyched that I'll get to draw Captain Britain," he enthuses. "I love that character. So this should be fun."
Pak also gets a chance to capture a personal favorite in the pages of ALPHA FLIGHT.
"Taskmaster shows up in issue #5," he pledges. "Fred's TASKMASTER [series] from last year was pure genius, so I was thrilled when we came up with a great story reason for the character to play a role ALPHA FLIGHT."
Going global does not mean that Canada disappears in the shuffle though; the team insists that Canadians, heroic and otherwise, remain at center stage.
"Beginning in issue #4 this oppression of the people might just be how Alpha Flight can win them to their side and [begin] turning the tide against the hidden forces behind Unity," says Van Lente, "[Citizens are] going to become increasingly aware of it—in fact, by the big events of issues #7-8, they won't have a choice [about choosing sides]."
"Alice Hu, the reporter we met in issue #1, will play a big role as the series progresses," notes Pak. "And Northstar's non-powered boyfriend Kyle Jinadu is incredibly important."
All it all, ALPHA FLIGHT will continue to delight its loyal fans to the end of the current storyline and beyond.
"With an eight-issue [limited series], the main focus was seeing the fascist government take control turning our heroes into outlaws and seeing their struggle to survive," Paniccia says. "Now we can seed a whole new set of awesome subplots and bring in other teams and characters and let the book continue to rock."
Can't make it to the convention? Follow along with our liveblogs above and at marvel.com/fanexpo2011. And don't forget the Marvel Events App & events.marvel.com, the best way to get exclusive videos, real-time announcements from the convention floor and up-to-the-minute panel, in-booth and signing schedules of all your favorite Marvel creators!