By Jim Beard
This December kicks off with a bang—specifically KISS KISS BANG BANG, the latest Crossgen four-issue limited series. Writer Peter Milligan will weave the tale of Charles Kiss, one of the most famous spies ever, and Alan McGrath, the secret agent chosen to shoulder his mantle.
"McGrath is a man who is plucked out of obscurity and thrown onto center stage," explains Milligan. "He's an idealist, a man who really believes in what we are fighting for. Most importantly he's a man whose hero is and was a spy called Charles Kiss."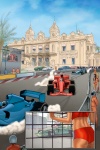 KISS KISS BANG BANG #1 preview art by Ramon Rosanas
But, there's a wrinkle to the honor: Kiss doesn't exist. The infamous agent's simply a codename passed down to the most successful spies, all of whom undergo plastic surgery to look the part.
"Alan McGrath is offered more than just a codename," Milligan says. "He is offered the chance to follow in the footsteps of someone who encompasses everything that he believes to be right and good. You could say it's a tough act to follow. It's more than just an honor; it's a responsibility and an opportunity to discover something about himself.
"This latest—or first, really—mission is probably almost suicidal, and it forces McGrath to do things that would sicken a normal man. But one suspects that this is how it usually is with these fellows, and it's how they like it. The stakes are somehow more than merely his own life. The stakes are to do with his idealism, with what he believes in; we're talking politically and romantically."
Milligan's wingman for this deadly mission will be artist Ramon Rosanas.
"There is a brutal clarity to Ramon's work," he reports. "It hints at an underlying sadomasochistic tendency, just as something darker is hinted at by the characters in this story." 
The tone and timbre of KISS KISS BANG BANG might seem familiar to fans of another fictional British super-spy, but Milligan insists that the series plots its own course. The title opens a whole new file on the genre while honoring its literary foundations.
"Yes, the initial archetype is James Bond," confirms Milligan. "But I think this comic is closer in spirit to the darkness of some of Ian Fleming's James Bond novels, rather than the flashier pleasures of the movies. But more even than James Bond, when it comes to spy literature I like the early John Le Carre stuff. The world-weariness, darkness, and irony.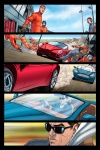 KISS KISS BANG BANG #1 preview art by Ramon Rosanas

"The setting [of KISS KISS BANG BANG] is epic, an international adventure encompassing many continents and cultures. We move from 'Central Control' in London where MI6 primes its agents to defend Western Democracy and to uphold Britain's place in the world against the real enemy—i.e. the Americans—to North Africa, where our hero finds death, love, and moral uncertainty."
Can't make it to the convention? Follow along with our liveblogs above and at marvel.com/fanexpo2011. And don't forget the Marvel Events App & events.marvel.com, the best way to get exclusive videos, real-time announcements from the convention floor and up-to-the-minute panel, in-booth and signing schedules of all your favorite Marvel creators!