By Jim Beard
The Invaders, Marvel's original World War II super-team, returns in an untold adventure courtesy of writers Ed Brubaker and Marc Andreyko along with artist Chris Samnee. CAPTAIN AMERICA AND BUCKY #622 reveals the wartime mission that set Bucky, Captain America's young sidekick, on a solo path to save his fellow heroes.
The antagonists? "The Nazis!" says Andreyko. The situation? "Battle!" he resounds.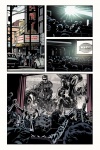 CAPTAIN AMERICA & BUCKY #622 preview art by Chris Samnee
"The story begins with Bucky as a 10-year-old following the deaths of his mother and father while living at Camp Lehigh," adds the writer. "The U.S. hadn't entered WWII [at this time], but everyone knew it was an inevitability. Bucky is rarin' to go fight the Nazis, but Steve [Rogers, aka Captain America] knows that fighting in battle is very different than sparring in a training exercise.
"We then see the Invaders, when we're fully entrenched in the war. They are viewed as heroes and they also serve a strong propaganda role, both on the home front and against our enemies. Bucky and his relationship with the Invaders is the focus of CAPTAIN AMERICA AND BUCKY #622, so you'll have to read it for more specifics."
Since their introduction into the Marvel Universe back in 1975's GIANT-SIZE INVADERS #1, the team's many tales can claim the cream of the crop of World War II-era heroes and heroines, but this new flashback story features a particular Invaders line-up.
"It's the A-listers," promises Andreyko. "Cap, Namor, Human Torch, Toro and Bucky. As much as I love Spitfire and Union Jack and the All-Winner's Squad, we wanted to focus on how the team affected Bucky's growth as a young man and why he chose to stay in the original group. And, again, their relationships are the focus of the next issue, #623."
For the writer, his own focus centers not only on the characters and their story, but on the pleasure he's felt from working with the iconic era of the book.
"In addition to writing characters I've loved since childhood, working with Ed, Chris Samnee and the entire CAPTAIN AMERICA AND BUCKY team has been a dream job," Andreyko notes. "Getting to delve into unexplored areas of Bucky's life and psyche has been challenging and exciting and I'm thrilled that fans and critics seem to enjoy what we're doing."

CAPTAIN AMERICA & BUCKY #622 preview art by Chris Samnee
Speaking of the book's artist, Andreyko reserves some special praise for Samnee's evocative visuals.
"Chris is easily one of the best, most enthusiastic, most insightful artists I've ever worked with," he says. "[His] energy and enthusiasm just resonates off every page, every panel, and I am in awe every time I see new art from him.
"He's gonna be a superstar and deserves every accolade he gets."