By Justin F. Gabrie
If you've been a Wolverine fan any time in recent years then you know the work of Jason Aaron.
The writer began chronicling Logan's adventures with the "Get Mystique" storyline in 2007 and has since continued his work with WOLVERINE: MANIFEST DESTINY, WOLVERINE: WEAPON X and ASTONISHING SPIDER-MAN & WOLVERINE leading to his current run on WOLVERINE. The next major chapter in the life of the diminutive Canadian mutant will see him branching out to lead his own team in WOLVERINE AND THE X-MEN—also written by Aaron and launching this October—but before then, he's still got some unfinished business to handle on his own.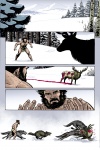 WOLVERINE #16 preview art by Goran Sudzuka
"The story that's currently running [in WOLVERINE] wraps up Wolverine's war with the Red Right Hand," says Aaron. "By the end of the arc, you'll see how that plays into X-Men: Schism since it's happening at the same time and will have a direct connection to what is going on in the X-Men universe.
"The arc that follows I'm working on with artist Ron Garney. He's been a long-time collaborator on many of my Wolverine stories so I'm making sure this one shifts gears and covers everything that interests the two of us. This'll springboard into the next big story that will be coming to a head in the next few months."
For those Wolverine fans not privy to all things X-Men, Aaron provides a catch-up:
"There is no secret that Cyclops and Wolverine are splitting apart and that Logan is going on his own. Though I can't really speak about what he's doing or how he's doing it, it will definitely be a big change for him in a lot of different ways. Leading to that, Logan says goodbye to San Francisco which has huge ramifications. One is obviously his relationship with girlfriend Melita [Garner], who during the pages of FEAR ITSELF: WOLVERINE, was very busy reporting while 'attaching' herself to a mission Logan was on. This has garnered her plenty of job offers so she'll be going through some big changes as well."
The upcoming arc with Garney has roots going back to WOLVERINE: MANIFEST DESTINY.
"The symmetry here is when the X-Men first moved into San Francisco, Logan's first stop was to deal with some unfinished business in Chinatown," Aaron recounts. "That ended with him basically becoming the near de facto crime boss of the underworld there. Of course being who he is, it's a job Wolverine hasn't necessarily been around for between his time with the X-Men, the Avengers, and X-Force; this has been a low priority for him. When he heads back to Chinatown—this time his last stop before leaving the west coast—to get a chunk of money to fund his new endeavors, only to find out it's been stolen. The story arc concentrates on getting it back and finding out who stole it."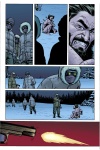 WOLVERINE #16 preview art by Goran Sudzuka
Not many writers have tackled the economics of being Wolverine, but Aaron does so head-on.
"Sure, Logan is not the kind of character that you think of as being rich since the man always lives out of a sack, but he does have a lot of cash," he notes. "Think about it: if you lived over a century and in that time you've done some things that could be considered not so very nice, you know you'd have stashes of money here and there. It's not something he advertises to everybody. Even when his colleagues suspect he's got this huge bankroll, they act all surprised like, 'Where did you get money? When did this happen?'
"Though Wolvie agrees to do one last job as 'The Black Dragon,' he's bringing in some friends along the way with guest stars Gorilla Man [from the Agents of Atlas] and Fat Cobra [of the Immortal Weapons]. After all the big dark angst that's been going on in WOLVERINE right now, this will be a definite pallet cleanser. It's a kung fu story that takes place beneath the streets of Chinatown, involving dragons and some of the most devious kung fu villains I could dig up from the annals of the Marvel Universe."
Having taken Logan in many personal journeys in his solo adventures, Aaron admits his anticipation to see him go through a different direction that will be reflected in the pages both UNCANNY X-MEN and WOLVERINE AND THE X-MEN as well as his own book.
"They will each be chronicling their own stories, but you will see the changes reflected in both of those books," promises Aaron of the titles he will be directly responsible for. "You don't have to read one to understand what's going on in the other. But if you read both, you certainly get a better understanding of Logan's mindset is at as it relates to Schism and certainly into Regenesis. They'll continue to have a lot of interplay between the two but you won't be beholden to one to understand the other.
"As for me personally, that is the kind of Wolverine book I like to read and it is the only thing that I can control. I like mixing it up I like all kinds of stories and we will continue to see that going forward current storyline will be different than the story that follows it, so fans better be prepared to come along for the ride."