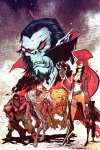 LEGION OF MONSTERS #1 cover by Juan Doe
By Ben Morse
When LEGION OF MONSTERS haunts its way into stores this October, a cast of unpredictable terrors leaves little assurance of what will go down once the mayhem starts, but count on one thing: This book will look like nothing else on the shelves thanks to the distinct artwork of Juan Doe.
Doe has been making his mark on Marvel for several years now with memorable covers on titles including CIVIL WAR: X-MEN, NOVA, SECRET INVASION: FRONT LINE and more that resemble everything from propaganda pieces to horror movie posters as well as classic super hero pin-ups showing off the artist's range of design and layout chops. In 2008, he provided interiors for FANTASTIC FOUR: ISLA DE LA MUERTE, the first in a trilogy of annual FF adventures set in Puerto Rico.
To this point, though, Doe has never worked on anything longer than one issue, a situation he has been looking to change.
"While working on the DEADPOOL ANNUAL last spring with my editor Alejandro Arbona, we talked about me doing a limited series at some point in the future," he recalls. "A couple of months later he offered me the LEGION OF MONSTERS gig and I think I did about 14 backflips and 72 fist pumps in my studio—that is not an exaggeration."
As noted by writer Dennis Hopeless in our interview with him earlier this week, LEGION OF MONSTERS follows the group introduced by Rick Remender in FRANKENCASTLE who serve as "monster cops" to the underground safe haven of Monster Metropolis. The group includes classic Marvel characters like Morbius the Living Vampire and Werewolf By Night.
"I try to challenge myself with every project I do and these characters offer a great opportunity to do that," says Doe. "They're iconic and familiar not just to [Marvel] fans but to anyone who has an appreciation for the classic monsters of lore."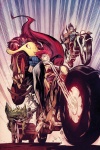 LEGION OF MONSTERS #2 cover by Juan Doe
LEGION OF MONSTERS stands apart from traditional super hero comics with its unique protagonists and will also allow Doe to show off some new tricks he's been working on.
"About six months ago I deliberately switched my approach from digital illustrations to working on Bristol board with brush and ink," he discloses. "It was a daunting change [as] I had reached a very comfortable plateau with the work I was doing. I wanted to break out of that comfort zone and reconnect with the tactile nature of original art. Hopefully this project will showcase the best results of those efforts.
"Mr. Hopeless is a storyteller of the highest quality and I'm having some of the most fun I've ever had working on [this] book. There are definitely elements of horror, but it's tempered by a solid murder mystery that I think is going to strike a nice balance."
With your appetites now whetted, enjoy these exclusive characters sketches Doe created while working on the cover for LEGION OF MONSTERS #1 along with his commentary.
ELSA BLOODSTONE
"I wasn't too familiar with the character before this series but I had seen her in NEXTWAVE and always thought she had a great design. After learning about her background and abilities I'm super excited to be working with her in this series. Her slick, bad-ass self is a nice contrast to the gritty monsters in the book."
MORBIUS
"Forget Nosferatu, Morbius, with his luscious and beautiful head of hair, is one of the coolest vamps out there and a scientist to boot. Also has one of the sweetest costume designs; the colors work so well with his look. Love him!"
WEREWOLF BY NIGHT
"My favorite lycanthrope next to 'Werewolf in London' and Lon Chaney Jr. Drawing him is a blast; he always seems to be on the verge of 'wolfing' out and that makes for some great visual tension every time he's in a scene."
THE LIVING MUMMY
"This guy is the alpha-original, baby daddy of all zombies! It's an honor to work with him, especially since he's not a zombie of the mindless variety but actually has about 3,000 years of history and knowledge to impart on the world—although, I wouldn't want to be stuck with him on a deserted island with no food."
MANPHIBIAN
"To quote a friend, 'It's fun to even say 'Manphibian'.' Nuff said...