By Jim Beard
This October, GENERATION HOPE writer Kieron Gillen bids a fond farewell to one the X-Universe's most talked about titles. But, fear not, for hope arrives anew in November with writer James Asmus.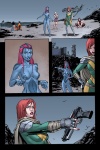 GENERATION HOPE #11 preview art by Tim Seeley
"First off, I am sincerely thrilled to take the reins on GENERATION HOPE," says Asmus of his new role. "I'm excited to dive into my favorite comic book set-up: 'Teenagers who don't know what they're doing with superpowers.' This is absolutely the most fertile ground for great super hero comics. Being a teenager is what the mutant metaphor is about: surprising changes in your own body, crazy drama popping up all around you, and everything suddenly becomes life or death. Both as a teenager and as a young kid-with-superpowers, these characters have to figure out who they are going to become while fighting through all the uncertainty, heartbreak, rivalries, and discovery that come at that age.
"It's the most volatile age in a person's life, where everything about your life seems to be put to the test."
The writer himself will be put to the test as he builds upon the foundation laid down by Gillen, yet forges a new path for Hope and her pals all his own.
"The good news for fans is, I absolutely will be continuing a bunch of story lines Kieron introduced," Asmus reports. "The biggest pot-boiler in the series so far has been Kenji—aka Zero—and Laurie—aka Transonic—conspiring against Hope. And I promise you, those events are coming to a head very, very soon! I'm also going to be playing with a lot of the emotional arcs that Kieron was developing. So get ready for a lot more hormonal tension, including one pairing that I think will make a lot of people squeamish.
"I sincerely love each of these characters. Every one of them ultimately revealed some hook that sends my mind off in a dozen directions of where we can take them or test their mettle. As you'll see, though, I'm going there first with Kenji. I'm pushing him right into what I think is the logical conclusion of where his powers and his nihilistic, arrogant mentality are gonna take him. And I couldn't be more excited about it! I should say, though, that the ideas behind characters like him and Teon—aka Primal—are surprisingly complex. So it's definitely a challenge to evolve their stories without lessening their richness, or reducing them to something that might already be out there in the Marvel Universe."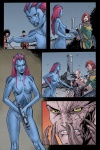 GENERATION HOPE #11 preview art by Tim Seeley
Recent explosions in the X-Universe will play their part in the ongoing series, too.
"The events of Schism completely upset the delicate balance of the team," says Asmus. "And now is the time Hope has to try to reassemble her team into something that can survive. But as all the X-teams reshuffle, GENERATION HOPE is going to get more than one surprising new member in its ranks."  
For the outgoing Gillen, doing what he calls "raising five new characters and giving a spin on a relatively new one" and "cramming in a bunch of really odd ideas and making them actually feel pop," stand as his greatest joys on GENERATION HOPE.
"For example, despite teasing it right from the off, what Teon's hyperinstincts actually meant seemed to taken everyone by surprise, and waiting on something like that for eight issues is the only way to make it work," he notes. "Doing stories about things that really matter. It's been hard work, and occasionally heartbreaking, but it's been full of joys.
"I really had two main goals [on the title]. Firstly, to take a group of new characters and just delineate what's interesting about them and then drag them backwards through a barbed-wire fence to see how they respond to it. Secondly, to really build on the Hope-as-Messiah [idea]. Messiah-or-antichrist wasn't even the question. I really wanted to explore how sinister the idea of a Messiah could be, with the characters increasingly aware that this isn't right. Hope's control of them started as sinister, and only increased along those lines. Bringing some of that to a climax in the final issues of GENERATION HOPE and their scene in Regenesis provided another joy."
Gillen looks forward to Asmus' take on the entire concept, and even offered a bit of advice to the incoming writer.
"It's actually the first time I've ever handed a book over to someone, so I fretted like an over-protective mother sending her kids off to school," he says. "I actually just wrote a big letter to James telling him all the unspoken motivation for the characters I was dealing with, aspects of their powers which I hadn't made explicit yet and assorted ideas I had for their long term future, all with a But you are the writer now! Ignore me! note to prevent me appearing too insane. That James didn't point and laugh at me is something that makes me believe he'll be a glorious successor.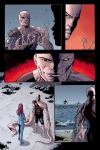 GENERATION HOPE #11 preview art by Tim Seeley
"Mostly though, there's one off-handedly brilliant direction he's taking one of the characters romantically I would have never of thought of in a million years, but makes perfect sense. I can't wait to read it, which is exactly what you hope to be feeling when someone's taking over from you."
Asmus also notes that this will be recorded on his career as his first "take-over" of a title, but feels he's launching with plenty of fuel.
"We got to commune over the intention and the ideas behind these characters, which is valuable to me as a writer," he says of his interactions with Gillen. "There was also a fantastic moment in [Kieron's] last script that basically taunted me directly and handed the reins at the same time. That not only made me laugh out loud, but it really meant a lot to me personally.
"It was the equivalent of 'Welcome to the X-Men, James Asmus...hope you survive the experience!'"