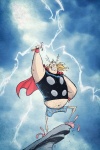 SHAME ITSELF #1 cover by Skottie Young
By Tom Brennan & Ben Morse
The Marvel Universe has weathered war, invasion, siege and fear (itself), but can it survive…shame?

On November 2, an assemblage of talent from the world of comics and comedy team up to showcase a seldom seen side of Spider-Man, The Hulk, the Fantastic Four and other luminaries from the House of Ideas in SHAME ITSELF. Over the next week, we'll be speaking with these humor heavy hitters to learn a bit more about them, their Marvel fandom, what they've got planned and more.
Wyatt Cenac hails from New York City, Dallas, Texas and a bit of North Carolina. He landed in Los Angeles and nailed a gig as staff writer for FOX's animated show "King of the Hill." He also performed comedy at the Upright Citizens Brigade Theater and in shows like "Comedy Death Ray" and "The Tomorrow Show." In 2008, he returned to New York to join the news team of "The Daily Show with Jon Stewart" as a correspondent and writer. He forgot how cold it gets here in the winter. He doesn't Tweet, so don't follow him. Ever. You can find his stand-up special "Wyatt Cenac: Comedy Person" wherever DVDs are sold.
Marvel.com: What's your background in writing and comedy?
Wyatt Cenac: I'm a comedian. I've written for such TV shows as "King of the Hill" and "The Daily Show."  My stand up special "Comedy Person" was released last month on DVD for the DVD player.
Marvel.com: How long have you been a comic book fan?
Wyatt Cenac: My friend Brian got me into comics in the 2nd or 3rd grade.
Marvel.com: How did you get involved with Marvel and this project?

Wyatt Cenac
Wyatt Cenac: [Editor] Tom Brennan asked me. I said yes because it was either that or pay for wrecking the fender of his Corolla.
Tom Brennan: I was fortunate enough to work with Wyatt on the story Citizen Cage: Political Power Man for the MARVEL ASSISTANT-SIZED SPECTACULAR, available in both the NEW AVENGERS: LUKE CAGE – TOWN WITHOUT PITY trade
and the TOM BRENNAN OMNIBUS [Editor's Note: The second collection exists only in Tom's depraved mind]. In addition to being very funny, Wyatt has a keen sense of story and how to use his jokes and gags to move the story forward.
Marvel.com: Who are your favorite Marvel characters?
Wyatt Cenac: There are a lot. Spidey, Storm, Wolverine, Cyclops—but I will say that I'm preferential to the old Beast that doesn't look like a cat man. Why? Because he's not a cat man.
Marvel.com: Where did you come up with the concept for the "Wy-Ifs" shorts featured in SHAME ITSELF?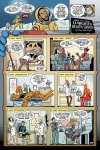 SHAME ITSELF #1 preview art by Colleen Coover
Wyatt Cenac: They started as random questions I would ask [fellow "Daily Show" writer] Elliott [Kalan] when we were supposed to be working.
Marvel.com: How did you and Elliott collaborate on these stories?
Wyatt Cenac: By avoiding the work we were supposed to be doing.
Marvel.com: What was it like working with artist Colleen Coover?
Wyatt Cenac: Colleen was great. Did you think I would say she was some kind of horrible person? If I did would you have run this up to HR? This is a silly question. Colleen was wonderful.  I am a fan of her work so it was great that she was willing to slum it with me and Elliott.
Marvel.com: What's the one "Wy-If" you didn't get to do?
Wyatt Cenac: If Storm and Thor are in the same room, who controls the lightning?
Come back tomorrow to meet another member of The Shameless and be sure to pick up SHAME ITSELF on November 2!