By Tim Stevens
The client, Paladin, presents as an adult male of above average physical fitness. He declined to provide his real name to staff, insisting it was Paladin. Follow-up questions regarding aliases he has used in the past, including Paul Dennis and Paul Denning, were met with assurances that they were nothing but cover names. As his sessions are being paid for out of pocket by his employer, the freelance vigilante agency known as Heroes for Hire, and therefore insurance authorization is unnecessary, staff has chosen not to pursue his given name at this time.
The client has been ordered into at least three sessions of counseling by the Heroes agency following an incident involving the villain known as Puppet Master mind controlling several of the operatives, including Paladin and Misty Knight. This is in part to verify that there has been no lasting mental damage caused and in part because, as Knight informed the writer, she is "done with surprises."
While Paladin has insisted he would not be in therapy if it was his choice, he has proven to be a relatively cooperative client, admitting that he wishes to do right by Knight. Given the client's reputation for being driven purely by financial gain, something he insists is merely "professionalism," this writer found his dedication to Knight to be unusual and has raised this to the client. This is the one area where Paladin has proven to be closed off, refusing to discuss the matter beyond reassuring the writer that "I have not changed. I am still a professional. I get paid. A steady paycheck just beats having to hunt around for work. Let's not overanalyze this." The writer has seen signs of romantic interest in the client's body language and word choice while discussing Knight and this bears watching. However, until the client shows signs of opening up about it, the writer does not wish to risk the therapeutic relationship pursuing the topic in a direct manner.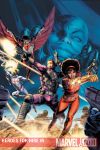 Paladin has shown a surprising willingness and desire to discuss is his reputation and how he views himself. He is easily irritated in discussing how so-called "unprofessional" heroes look down on him because he does what he does for money. He has a career, he argues, and he, like any quality capitalist, charges what his services are worth. Anyone who does not, he says, is either "dumb" or "working off some kind of guilt complex."
Further discussion of this topic leads him to admit that although he thinks that his career is perfectly valid, he is not always proud of where it has taken him. In particular, he is bothered by having traded a clean record for helping the government capture Matthew Murdock, a lawyer believed to be the street vigilante Daredevil, and, during the so-called Civil War, attempting to bring in Captain America. A recent encounter with a creature that seems to reflect a person's worst fears back on them, has furthered deepened his disappointment in himself as it left Paladin feeling as though he were facing a version of himself that "never made a decision that would leave me…him ashamed." The fact that this creature, in this guise, so handily defeated him has only reinforced the client's feelings that he has acted in a way, at times, that was "wrong" and those times have left him less than he could be.
It should be noted that despite this doubt, the client does not appear to be in anything higher than a pre-contemplation stage of considering change. He may have identified some concerns about his past actions, but he does not seem to be entertaining the idea of pursuing a new way of life or even an altered one.
As with the other Heroes for Hire operatives this writer has met with, a full physical and psychological battery has revealed no last effects from the Puppet Master's manipulations. In the case of Paladin, however, the interaction with the above mentioned creature has created feelings that are worth pursuing further. Thus, the writer has recommended more sessions than originally contracted for and the Heroes agency and the client have agreed to continue the therapeutic relationship for at least two further sessions.
Paladin's next session is scheduled for October 5 with Doctors Dan Abnett, Andy Lanning, and Kyle Hotz. Details will be available that day in the file SPIDER-ISLAND: HEROES FOR HIRE #1. He has also made a second appointment for November 2 with Doctors Abnett, Lanning, and Renato Arlem and that session will be found in file VILLAINS FOR HIRE #0.1.
Psy D. Candidate Tim Stevens, MA is a Practicum Trainee at a community mental health facility and a Dialectical Behavior Therapy Consultant.