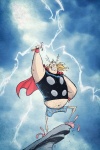 SHAME ITSELF #2 cover by Skottie Young
By Tom Brennan & Ben Morse
The Marvel Universe has weathered war, invasion, siege and fear (itself), but can it survive…shame?

On November 2, an assemblage of talent from the world of comics and comedy team up to showcase a seldom seen side of Spider-Man, The Hulk, the Fantastic Four and other luminaries from the House of Ideas in SHAME ITSELF. Over the next week, we'll be speaking with these humor heavy hitters to learn a bit more about them, their Marvel fandom, what they've got planned and more.
Elliott Kalan is a comedian, an Emmy-winning writer for "The Daily Show with Jon Stewart," and co-host of the podcast "The Flophouse." For Marvel, he's written stories for the AGE OF HEROES, Fear Itself and Iron Age events.  That two page spread mocking comic book crossovers pretty much ensures he will never work in the industry again. Follow him on Twitter @ElliottKalan.
Marvel.com: What's your background in writing and comedy?
Elliott Kalan: I'm a writer for "The Daily Show with Jon Stewart" and a stand-up comedian. I also co-host the comedy/bad film podcast "The Flophouse." I studied screenwriting at NYU's Department of Dramatic Writing before co-founding the sketch duo The Hypocrites, hosting the one-man show talk show "The Midnight Kalan" for two years, and writing a weekly humor column for Metro newspaper for roughly four years. Also don't tell anyone, but I wrote all of Shakespeare's plays.
Marvel.com: How long have you been a comic book fan?

Elliott Kalan
Elliott Kalan: I dabbled in comics when I was very young, but I didn't fall in love with them until 1991, when I was exposed to the Marvel Universe Series 2 cards. It was a great introduction to the characters, even if it did make me think the Punisher villain Saracen was a bigger deal than he actually is. Unfortunately this also means my baptism by fire as a comics reader was the "Extreme" 90's era. The very first comic I remember buying with my own money was WEB OF SPIDER-MAN #90, the first of the Spider-Man 30th Anniversary issues. 
Marvel.com: How did you get involved with Marvel and this project?
Elliott Kalan: I got professionally involved with Marvel through my friend, co-writer, and co-worker Wyatt Cenac, who introduced me to [editor] Tom Brennan and brought me along when he guested at the The People's Improv Theater's Comic Book Club show. It was there that I publicly unveiled the story that would be printed as "Captain America: Man Of God" in AGE OF HEROES #4 before an audience that included enthusiastic Marvel staffer Jennifer Grunwald.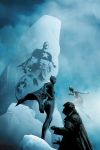 AGE OF HEROES #4 cover by Jae Lee
Tom Brennan: Elliott really took to the structure of comics rather easily, and I've been fortunate to work with him on a few projects now, including that AGE OF HEROES story and a wonderful Fantastic Four story for THE IRON AGE. He's got a keen understanding of these heroes and how to demonstrate their characters through action. Also, his AGE OF HEROES story made my mom cry. It's in the AGE OF HEROES collection and y'all should check it out.
Marvel.com: Who are your favorite Marvel characters and why?
Elliott Kalan: My absolute favorite character is Spider-Man, for all the reasons everyone's said before.  He's the everyman, he's a decent soul with low self-esteem, he's my own life writ in comic form, he's got the best costume, etc. Otherwise, I have a bizarre affinity for D-Man. He's the plucky little guy who means well but just can't seem to make the whole superhero thing happen for him. But really there are almost no Marvel characters I don't love in some way.  Well....maybe Gambit.
Marvel.com: Where did you come up with the idea for "Unholy Reunion," your Fantastic Four story in SHAME ITSELF?
Elliott Kalan: Tom Brennan mentioned how ridiculous it was for Doctor Doom to still hold a grudge over Reed from college, and somehow in our minds this turned into the idea that of course Reed and Ben would have a college reunion, and of course it would be a terrible, dispiriting experience, as all college reunions are. 
Marvel.com: What do you find interesting about the dynamic between The Thing and Mr. Fantastic and how did you figure there would be humor there?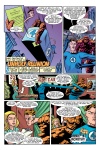 SHAME ITSELF #1 preview page by Dean Haspiel
Elliott Kalan: Thing and Mr. Fantastic have a great dynamic because they're such different characters with almost no interests or qualities in common—aside from being noble heroes—yet it never seems forced that they're best friends. Their friendship feels more real for their being such opposites. Of course this also means that they approach situations differently and get different results. For all their friendship, there's no way that football jock Ben Grimm and nerdy Reed Richards experienced college in the same way.
Marvel.com: What makes Mr. Fantastic a funny character?
Elliott Kalan: Mr. Fantastic is funny partly because he has little to no sense of humor; not that he can't take a joke, but that it wouldn't usually occur to him to make a joke. Also, for all his being a super-genius, he's also a person and that means he has to deal with other people who are not super-geniuses. There are few things funnier than a smart person getting frustrated while being forced to communicate to a regular person. Also, as WHAT IF? showed us numerous times, he's constantly teetering on the brink of going insane and becoming a full-on mad scientist. Also, he's super-stretchy so he can do silly things.
Marvel.com: How did you contribute to Wyatt Cenac's stories?
Elliot Kalan: Whoa, whoa, whoa, Wyatt Cenac contributed to my stories! Actually, it was a pretty equal partnership. We've had many conversations about the sillier aspects of super heroes, so it was pretty easy for us to come up with ideas for the "Wy If?" segments and then write them together. It's hard to pinpoint whose jokes were whose. Except for the X-Men farting a lot. That was all Wyatt.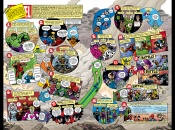 SHAME ITSELF #1 preview page by Jacob Chabot

Marvel.com: What was it like working with artist Dean Haspiel?
Elliott Kalan: Working with Dean was a fantastic experience. As a long-time fan of his and a writer pretty new to working in comics, it was invaluable to have someone with his visual sense and understanding of story and character to help make "Unholy Reunion" as strong and funny as it could be. Plus, he's a really nice guy and fun to talk to! And it wasn't just Dean; for this book I also got to work with the astonishing Colleen Coover and the fantastic Jacob Chabot. Every page I got back was better than I'd imagined it!
Come back tomorrow to meet another member of The Shameless and be sure to pick up SHAME ITSELF on November 2!