By Jim Beard
Prepare to saddle up beginning November 2 for a new action-filled limited series that rides out not from the Old West, but a modern landscape with a Western flair. SIX GUNS, by writer Andy Diggle and artist Davide Gianfelice, takes classic Marvel Western heroes and re-imagines them for the present—its cowboys and outlaws for the 21st century.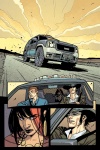 SIX GUNS #1 preview art by Davide Gianfelice
"SIX GUNS, like the Western genre itself, is ultimately about the spirit of self-reliance and rugged individualism that lies at the heart of the American Dream," says Diggle. "A man's gotta do what a man's gotta do. Although SIX GUNS is set in the present-day Marvel Universe, it takes place in a corrupt South American country where anything goes, and the law of the gun holds sway. That frontier spirit.
Originally created by none other than Stan Lee himself many moons ago, the fictional state of San Diablo exists now as a stage for such characters as Tarantula, Tex Dawson, The Black Rider, Matt Slade and The Two-Gun Kid to play out their story. Diggle reports that these modern versions will express their unique voices as the series unfolds.
"I always saw Tex Dawson as the main protagonist, but I have to say I have a real liking for The Black Rider too," he notes. "He started out as a bad guy but he has his own code, and I started to really root for the big lug. He reminds me of The Headsman in THUNDERBOLTS. He puts on this big show of being a scary bad-ass, but deep down inside he's a decent guy.
"[SIX GUNS] didn't require a huge amount of research, I'm pleased to say. That's one of the best things about creating new characters: you don't have to worry too much about continuity. Obviously I looked at their existing namesakes, but that was as much to ensure I didn't repeat anything that had been done before. Most of the characters and situations in SIX GUNS are completely new, so it's a perfect jumping-on point for new readers."
And of course, with such a sprawling saga as the series weaves, there's bound to be a few loose cannons that will have to wait in the wings for their chance in the sun.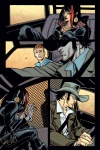 SIX GUNS #1 preview art by Davide Gianfelice
"I would have loved to be able to include Arizona Annie, to balance out all that testosterone, but there just wasn't room in the book for so many characters," Diggle muses. "Next time!"
But, according to the writer, no regrets exist where his SIX GUNS collaborator's concerned. Gianfelice and Diggle's creative partnership echoes that of Butch Cassidy and the Sundance Kid—or maybe even Bonnie and Clyde.
"Everything Davide does impresses me," Diggle says. "Seriously, I've been in love with his art since the first book of Northlanders. But really he excels on the actions sequences—and there are a lot of them in SIX GUNS! Car chases, gunfights, bike stunts, aerial assaults. Davide gives them all an incredibly dynamic energy. I feel privileged to work with him and I hope to continue doing so. This is our second book together after DAREDEVIL: REBORN, and we're already planning our third."
When the dust clears and the sun shines once again on the deserts of San Diablo, the moral of SIX GUNS remains clear, according to Diggle:
"Be your own man. And carry a back-up piece."