By Tom Brennan & Ben Morse
The Marvel Universe has weathered war, invasion, siege and fear (itself), but can it survive…shame?

On November 2, an assemblage of talent from the world of comics and comedy team up to showcase a seldom seen side of Spider-Man, The Hulk, the Fantastic Four and other luminaries from the House of Ideas in SHAME ITSELF. Over the next week, we'll be speaking with these humor heavy hitters to learn a bit more about them, their Marvel fandom, what they've got planned and more.
Sara Benincasa is a comedian, writer and editor bred in Jersey and currently dwelling in Queens. She speaks about mental health at colleges around the country, and she's done stand-up on stages from Oslo to Los Angeles. She blogs about political humor for Comedy Central. Her memoir, "AGORAFABULOUS!: Dispatches from My Bedroom" will appear in a bookstore near you in February 2012. Follow her on Twitter @SaraJBenincasa.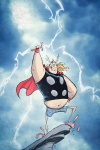 SHAME ITSELF #1 cover by Skottie Young
Marvel.com: What's your background in writing and comedy?
Sara Benincasa: I've been a writer since I learned how to draw letters with a crayon, and I've been a comedian since 2006. I started in sketch and moved on to stand-up, character videos for the web, and some one-woman show action. My first book is a memoir about being agoraphobic, a condition that would be particularly difficult for any super hero. It's called "Agorafabulous!: Dispatches From My Bedroom" and it comes out on Valentine's Day.
Marvel.com: How long have you been a comic book fan?
Sara Benincasa: Like many girls with too many feelings and a fondness for skinny emo boys, I found comics through Neil Gaiman's Sandman series. I later interviewed Neil and his wife, Amanda Palmer, in a bathtub. I've volunteered with my friend Charles Brownstein's nonprofit, the Comic Book Legal Defense Fund. As a result, I was once in a room with Neil and Stan Lee at the same time, right after I interviewed Frank Miller, Colleen Doran, and Jeff Smith for MTV News. It was rather geektastic.
Marvel.com: How did you get involved with Marvel and this project?
Sara Benincasa: [Editor] Tom Brennan asked me to do it, and because he is a charming and also terrifying human, I said yes. I've wanted to write comics for quite some time, so Tom's request was a dream come true.
Tom Brennan: You'd have to look long and hard before you find a writer with the right combination of attitude, humor and heart like Sara has. I first saw her at the "Family Hour" story telling show she hosts here in the city and have since read her work with Comedy Central and other places; she knows how to find the humor in any situation and bring it to the surface. Even the science lab of Midtown High.

Sara Benincasa
Marvel.com: Who are your favorite Marvel characters and why?
Sara Benincasa: The Hulk. I have so many questions about his pants. Also, I've always really wanted mournful music to play when I walk away from anything. 
Marvel.com: Where did you come up with the idea for "I Hate Peter Parker," your story in SHAME ITSELF?
Sara Benincasa: Unfortunately, my father suggested the sight gag around which the story is based. I say "unfortunately" because it's kind of gross. It's set at Midtown High in the borough of Queens, where I live. I think high school is hilarious. In fact, I used to teach high school. And like most comedians, I'm horribly emotionally stunted. So I tend to see things in terms of high school relationships and that general weird teenage dynamic. 
Marvel.com: Why go with a story focusing more on out of costume stuff than super hero action?
Sara Benincasa: To me, the costume stuff is the least intriguing part of any super hero story. If I want to see overmuscley, insane egotists in tight costumes, I can watch "WWE SmackDown." I'm more interested in why they are who they are, and how they behave when they're not in spandex.

SHAME ITSELF #1 preview art by Stephanie Buscema
Marvel.com: What was it like working with artist Stephanie Buscema?
Sara Benincasa: It was an honor. Steph is the third generation of kickass Buscema artists, and she puts a spin on the form that's entirely her own. Her style acknowledges and respects the past while managing to stay quite current. It's kitschy and innocent with a sexy edge.
Marvel.com: Do you in fact hate Peter Parker?
Sara Benincasa: No way. I like him. I wouldn't mind being his lab partner in school, because he'll do all the work. But I don't want to be his girlfriend. I don't want to get thrown off a friggin' bridge. At least not without a very reliable bungee cord.
Come back tomorrow to meet another member of The Shameless and be sure to pick up SHAME ITSELF on November 2!