By Ben Chabala
Every week we'll pick a handful of awesome comics from the thousands available through Marvel Digital Comics Unlimited. From creator spotlights to editor's picks and more, this'll be your spot to find something new and cool.
To tie in with AVENGERS: 1959 #1 hitting store shelves this week we're giving you five amazing stories sure to get you set for the book.  Starring Dominic Fortune, Sabretooth, Kraven the Hunter, Namora, and the mysterious Blonde Phantom—the gang's all here so what are you waiting for? Get reading!
ALL-SELECT COMICS 70th ANNIVERSARY #1
What drives The Blonde Phantom across the rooftops of New York's concrete jungle, a violent vixen reborn and unleashed? Someone has murdered Louise Morgan's friend and the Phantom's on the case. Unfortunately flying fists and devastating kicks will only get you so far, but what the bombshell vigilante lacks in subtlety, Louise makes up for in refined and intellectual investigating. Watch out killer, the Blonde Phantom's on the case!
In a tale that spans two temporal locales—modern day Madripoor and the not so modern Wild West—Sabretooth teaches Wolverine the lesson that he's got what it takes to put the runt six feet under. He eviscerates Logan's lady, Silver Fox, and beats the feral mutant within an inch of his life in the cold, frozen depths of memory. Back in the present, Creed makes a surprise appearance to give Wolvie a birthday present he'll never forget!
The Chameleon's back and ready to resume his once illustrious career as the world's greatest saboteur, but there's still a certain spider-themed hero he needs to deal with. Luckily he knows just the man for the job. This bruiser fells gorillas in a single blow, tracks the stealthiest of jungle cats with the greatest of ease, and wants to mount Spider-Man's head on his wall. That's right folks: here comes Kraven the Hunter, ready to play the most dangerous game with everyone's favorite wall crawler!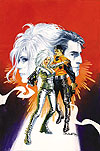 What do you get when you team a world-class super spy mercenary with a street-smart private investigator? Well you just might get the awesome adventures of Silver Sable and Dominic Fortune! Sable's disbanded the Wild Pack and struck off on her own, hunting after two of her own AWOL agents, and Fortune's looking for a rich daddy's son.  Together they stumble onto a caper that threatens to destabilize civilization as we know it! Luckily the deadly duo came prepared for a scrape; they've got guns, and lots and lots of bullets.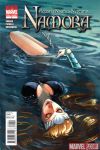 The Sub-Mariner's lovely cousin Namora probes the dark depths of the ocean in search of scattered Atlantean colonies. After getting directions from a well-meaning whale she discovers a lost settlement, but they decline her invitation to join her in Oceanus; for some reason they can no longer stray from their mineral vent or they get sickly and weak. However the mistress of the waves knows there's more to this magical oceanic pore than meets the eye and descends in to find out what smells so fishy. When she discovers what lurks in the shadows she might just wish she hadn't!