By Tom Brennan & Ben Morse
The Marvel Universe has weathered war, invasion, siege and fear (itself), but can it survive…shame?

On November 2, an assemblage of talent from the world of comics and comedy team up to showcase a seldom seen side of Spider-Man, The Hulk, the Fantastic Four and other luminaries from the House of Ideas in SHAME ITSELF. Over the next week, we'll be speaking with these humor heavy hitters to learn a bit more about them, their Marvel fandom, what they've got planned and more.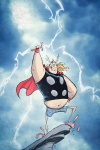 SHAME ITSELF #1 cover by Skottie Young
The eclectic Victor Varnado is a comedian and filmmaker whose slanted observations have led him to being featured on "Jimmy Kimmel Live" and "Late Night with Conan O'Brien." His recent guest-starring role opposite Kathy Bates on NBC's "Harry's Law" tops off his list of film and television appearances opposite greats like Arnold Schwarzenegger, Eddie Murphy and the almost as great Jason Lee. After directing and starring in "The Awkward Comedy Show" on Comedy Central, his sophomore feature "Tell Your Friends! The Concert Film!" premiered at the 2011 South By Southwest Film Festival. Follow him on Twitter @varnado.
Marvel.com: What's your background in writing and comedy?
Victor Varnado: I have been writing since high school. Mostly short stories and plays, not all of them funny. I happen to [be] a big genre fan and have written lots of action and sci-fi stuff as well.
Marvel.com: How long have you been a comic book fan?
Victor Varnado: I can't think of a time when I didn't want to curl up in the corner with a good comic, sometimes to the exclusion of human contact, even if those humans were ladies. Sadly, I once skipped a date just to get through a collection of RUNAWAYS.
Marvel.com: How did you get involved with Marvel and this project?
Victor Varnado: Previously I worked with and had a friendship with [Senior Editor] Stephen Wacker who knew that I was very interested in writing for comics. Finally, it seems, just the right project has come along.
SHAME ITSELF editor Tom Brennan: Victor doesn't just come to this as a comedian but as a filmmaker, and one who does his own storyboarding. One of the biggest challenges we in editorial can run into with writers from the world of TV and film is telling a story through static images, not punchy dialogue. But Victor turned in a script jam-packed with compelling images; every panel something important happens.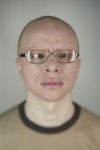 Victor Varnado
Marvel.com: Who are your favorite Marvel characters and why?
Victor Varnado: My favorite thing in the entire Marvel Universe are the dumb thugs.  I appreciate the guys that never seem to win but no matter what they are always going to get mad and take a swing at Spider-Man, Iron Man, or even Thor. These guys are nameless, but we know them by their heart and their stupidity. The guys who can't take a quip from Spidey without coming back with a "Why I oughtta" and then lights out for our unsung thug heroes.
Marvel.com: Where did you come up with the idea for "The Last Attack," your story in SHAME ITSELF?
Victor Varnado: I thought it is hilarious that someone is always trying to take over the universe and they never seem to run into each other or foil one another's plans. When there is one bra left at the department store, tons of people end up fighting over it. I wanted to see that same concept applied to the Marvel Universe we all know and love.
Marvel.com: How did you pick the characters you wanted to use and find their "voices"—or a close approximation thereof?
Victor Varnado: I went back and re-read some of my favorite old stories to get the banter right. I especially enjoy the way celestial powered beings talk. It's always like "I have already conquered you. I'm just going through the motions, insects." Yeah right Galactus, don't you remember every time you have ever tried to do this?
Marvel.com: What was it like working with artist Clayton Henry?
Victor Varnado: Clayton is a fantastic artist that I am humbled to have rendering my silly ideas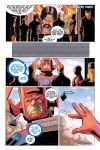 SHAME ITSELF #1 preview art by Clayton Henry
Tom Brennan: It was important that this story, set so "firmly" in current Marvel events, feel like a deleted scene from the big event. We wanted to play it straight [and] Clayton was a perfect choice. He knows super heroes and action so well and really knew how to sell this bizarre story in a straight fashion.
Marvel.com: What's your favorite Marvel crossover event and how would you have changed the ending?
Victor Varnado: I like Secret Wars. Everyone looks back at Secret Wars like it was a bit silly, and yes it was, but it was also freaking awesome. Secret Wars was the first crossover event where I absolutely had to have every book.
The main thing I would have changed is I would have like to see the symbiote try on different heroes for a while before it ended up with Spider-Man. Maybe hang out on The Hulk for a while before settling on puny Parker.

Come back Monday to meet another member of The Shameless and be sure to pick up SHAME ITSELF on November 2!