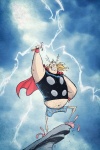 SHAME ITSELF #1 cover by Skottie Young
By Tom Brennan & Ben Morse
The Marvel Universe has weathered war, invasion, siege and fear (itself), but can it survive…shame?

On November 2, an assemblage of talent from the world of comics and comedy team up to showcase a seldom seen side of Spider-Man, The Hulk, the Fantastic Four and other luminaries from the House of Ideas in SHAME ITSELF. Over the next week, we'll be speaking with these humor heavy hitters to learn a bit more about them, their Marvel fandom, what they've got planned and more.
Michael Kupperman lives and works in Brooklyn, where he creates the ongoing Tales Designed to Thrizzle comic book series. His most recent book is "Mark Twain's Autobiography 1910-2010." His cartoons and illustrations have appeared include "The New Yorker," "Fortune Magazine," "The New York Times," and more. His first book, "Snake'N'Bacon's Cartoon Cabaret," was adapted by the author as an Adult Swim animated pilot which can be seen online.  His work has also appeared on the Comedy Central series "TV Funhouse," "Saturday Night Live," and "The Peter Serafinowicz Show" on BBC2 in the UK. Follow him on Twitter @MKupperman.
Marvel.com: What's your background in writing and comedy?
Michael Kupperman: I've been writing and drawing comics for almost 20 years; I've written and illustrated a bunch of comic—or "funny"—books; my work has appeared everywhere from "Saturday Night Live" to "The New Yorker;" of course, all this is on my resume.
Marvel.com: How did you get involved with Marvel and this project?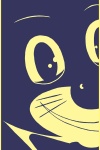 "Michael Kupperman"
Michael Kupperman: They e-mailed me, to ask me to do something. Then later they e-mailed me, again, to ask me to do this!
Tom Brennan: Conan O'Brien once reviewed Michael Kupperman's work and said "This guy may have one of the comedy brains on the planet right now."  That's pretty much all you need to know.  I'm so humbled that he'd join us for this project.
Marvel.com: Who are your favorite Marvel characters and why?
Michael Kupperman: I like Quicksilver, because I identify with him. He wants to walk fast, but there are all these stupid tourists in the way, gawking at the skyscrapers with their fists on their hips, the elbows pointing straight out, blocking the sidewalk.
Marvel.com: Where did you come up with the idea for "Triple Z," your story in SHAME ITSELF?
Michael Kupperman: I was on a walking tour of Europe with a few friends. We were trying to stray off the beaten path and we ended up in a part of Bavaria they don't talk about in the guide books. A friendly group of German hunters invited us to share their cabin, deep in the woods, and we gratefully accepted. During the night, though, I woke up and went to the kitchen to get a glass of water. I heard conversation, and instinctively held back from barging into the living area. The hunters who had invited us were preparing weapons and arguing about the best way to prepare human meat for consumption. I realized then that they intended to hunt us for sport. Tiptoeing back to my friends, I shook them awake with a finger to my lips and made them understand the urgency of our escape. We managed to open a back window and were climbing out when one of us accidentally nudged a flowerpot. The crash aroused the hunters, who came charging out with the weapons they had been holding, and they opened fire. Bullets whipping around us, we leapt into the bushes in the darkness, terrified and deafened by the noise of the firearms. At that moment I thought "Hey, it would be great to do a dream-based X-Men story in illustrated text form someday."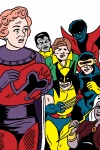 SHAME ITSELF #1 preview art by Michael Kupperman
Marvel.com: What led you to choose the X-Men as your protagonists?
Michael Kupperman: Someone else was doing the Fantastic Four.
Marvel.com: Why a primarily text story?
Michael Kupperman: I'm tired of comics, and I figure Marvel is too.
Marvel.com: How did working on this compare to your experiences on STRANGE TALES?
Michael Kupperman: I was paid even less. Incredible but true!
Tom Brennan: That's how I do it.
Be sure to pick up SHAME ITSELF on November 2!