Photos courtesy of WWE
By Arune Singh
In the Marvel Universe, heroes have memorable nicknames; Captain America goes by "The Sentinel of Liberty," Iron Man answers of "The Armored Avenger" and many call Hulk "The Jade Giant." Each of these champions devotes themselves to helping those less fortunate, protecting the innocent from undue harm and suffering.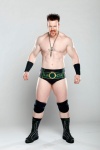 Sheamus
In the WWE Universe, one of their most popular Superstars has a lot in common with Marvel's greatest heroes—he's known as "The Celtic Warrior" and fights injustice through the Be A Star anti-bullying alliance. He's also been known to unleash his devastating Brogue Kick to the faces of the most villainous WWE Superstars.
Marvel.com recently spoke with Sheamus, one of the fastest rising stars in recent WWE history, about his life-long love of Marvel Comics, why you wouldn't like him when he's angry and the charitable work that makes him worthy of being called a true super hero.
Marvel: Let's start off by talking about Be A Star, which looks like it would be something right up our Marvel super heroes' alley. How did you get involved and what do you do?
Sheamus: Just like everyone else in the WWE, I saw the promos for the Be A Star program and knew I had to be involved. For those who don't know, Be A Star is a coalition with WWE to stop bullying, which we know is a huge problem today. We're really targeting kids because kids are getting depressed at a younger age and bullying is rampant on school grounds—it's something that needs to be stopped. A lot of kids are just ignorant and don't know what they are doing. Three out of every four kids are bullied and the bullies don't realize the harm they are doing. A lot of kids don't want to leave the house or go to school and their lives are miserable. They are at the age where this should be the best time of their lives; they don't have to worry about taxes or having a job or working 50 hours a week. There are a lot of unfortunate kids out there. We WWE Superstars feel that we are on TV every week and have a great influence with what we say, so we have a great responsibility to help out. Where have we heard that before? [Laughs].

Sheamus speaks to Be A Star
To the kids who are being bullied, don't be afraid or embarrassed. To the kids that aren't being bullied, stand up against the bully, but not in a physical or violent way. Also for the parents, they should check out beastaralliance.org to find a downloadable form for parents and teachers to fill out. These are the steps to take to try and make everyone aware of the situation going on.
Marvel: Are there parts of this program that are personal to you?
Sheamus: Yeah absolutely. I'm not afraid to say when I was younger I was a fat kid, a red headed kid and I wasn't always a big fella. At 18, I sprung up but I was an easy target. I took a lot of abuse. When I was 12 a lot of my friends were bullied and I could stick up for them because I knew how bad it was. Some kids don't know they are ignorant and for whatever reason whether the kids are overweight or other reasons they are bullied. A lot of kids thought it was cool to jump in and follow the bullies; it's an easy way out. We're trying to tell kids that it's wrong and it takes more of a man to stand up to the bully. I've been there. I know exactly what kids are going through. People said to me "Oh, you'll never make it." I told people that my dream was to be a WWE Superstar and I turned a negative into a positive and proved everybody wrong. I said I'd prove everybody wrong and there are some kids that are not fortunate like that, that's why we are trying to step in.

Spider-Man
Marvel: So rumor has it you were a big fan of The Hulk and Spider-Man when you were younger. Did comics help you through dealing with bullies? Did they inspire you to be like a Marvel hero?
Sheamus: Yeah I think that's the crazy thing about how comics can affect you and I think comics are a great outlet. I think WWE Superstars are like the real life super heroes and I don't mean that in an arrogant way. I think when kids watch our shows they can switch out for a while, the same with the comic books. There is a lot to inspire them in both WWE and [with] Marvel heroes—I watched "Captain America: The First Avenger" and it's the same thing. Steve Rogers was bullied in the beginning and later received the Super Solider Serum to become Captain America.
There are other heroes, like Spider-Man, who have to overcome bullies before they gain their special powers. A lot of kids get inspired by comics. They see a person who is normal but now can do amazing things and their life is changed. I think that is a great way to switch off from the real world. Kids get immersed in the story and the characters. Everyone wants to be a super hero. I was a huge Spider-Man fan; I always wanted to climb on walls and web-sling—that would make me very happy.

Sheamus in action
Marvel: What made you such a big Spider-Man fan?
Sheamus: Well, I never liked Superman and I was never a Superman fan. The thing about Spider-Man is that he would get his ass kicked, yet he would still come back and he wasn't perfect when he was surrounded by everyone. He had a lot of flaws but he also had a sense of humor and he also would always keep coming back. He is very human and normal. I was able to relate to him a lot. He wasn't like Superman who was from Krypton and was perfect.
Marvel.com: What about the Hulk? What made him so interesting to you?
Sheamus: Same thing about The Hulk; Bruce Banner, he was a scientist and wasn't very strong and when you made him angry he would turn into the monstrous Hulk. A lot of people could relate to this. When I was being bullied, you take so much and when someone pushes you too much physically, everyone snaps. I like The Hulk because there were times in my life when I snapped because someone was pushing me too far. When Bruce Banner turned into The Hulk, it means you made a big mistake and went one step too far. It's like Dr. Jekyll and Mr. Hyde with the two different characters.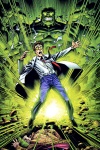 The Hulk
Marvel: Like you mentioned above, there is clearly a connection between WWE and comic books, especially being like real life super heroes. What are other ways comic book characters influence you today?
Sheamus: What we read as kids inspires us. The Hulk definitely influences me; he is one of the greatest characters in the world. Everyone relates to being pushed and snapping. I'm a huge Hulk and Spidey fan and when someone pushes me too far and it snaps in me I go off like The Hulk against guys like Cody Rhodes or Christian.
Marvel: Switching gears, you said that—like Cody Rhodes—you have the Marvel Comics app on your iPad. You read anything lately that has you excited?
Sheamus: ULTIMATE COMICS SPIDER-MAN is one of the first comics that I actually read on the app. It is something that I wanted to get back into which is hard to do because comics are all over the place. I'm really excited to get my iPad set up and get everything going. Let me tell you, the first game console I got was Playstation and I bought "Amazing Spider-Man" right when it came out back in the day.
Marvel: Have you ever had the chance to see some of the Marvel movies? What was your favorite?
Sheamus: I didn't like the first "Hulk" movie, the one with Eric Bana—I was very disappointed. But the second one, ["Incredible Hulk"] with Ed Norton and with The Abomination, that's how a Hulk movie should be. That movie was great. I liked "Spider-Man" and I thought "Iron Man" was a great film too. I'm a huge Iron Man fan—I always liked the comics and thought the film did a great job bringing him to life. I'm also really looking forward to ["Marvel's The Avengers."]

Sheamus with Be A Star
Marvel: Before we go, you've been involved in some really intense feuds lately. Who's making you really angry right now? And what are you looking to accomplish this year?
Sheamus: I came into the WWE to be a superstar and obviously now there's the feud with Christian. There are a lot of problems. I want the World Heavyweight Championship. I've been WWE Champion twice and that's what I want. There were a lot of times I was butting heads with John Cena but I want the championship. That's what I have on my radar. There would be no better way to top the year and end the next few months than to wear the gold once again.
Catch Sheamus on WWE RAW, every Monday Night on the USA Network and on WWE SmackDown, every Friday night on SyFy. Check your local listings and visit WWE.com for more information.

To learn more about Be A Star, check out their official web site.