By Justin F. Gabrie
Writer Mike Carey began chronicling the adventures of Marvel's mutants with issue #188 of X-MEN in 2006. However with issue #208 and a slight title change, along came a new mandate to turn a team title into a solo book. 53 issues and two Annuals later, X-MEN LEGACY has grown a robust fan following and carved a niche for itself in the franchise's larger lore.
Carey, as the consistent writer on the book since its new inception, has been rightly credited with much of that success.
His final arc starting in #259 acts as a coda to 'Five Miles South of the Universe,' the story that followed Rogue, Magneto and company's search for their missing teammates Havok, Polaris and Marvel Girl into the far reaches of outer space. Carey explains that the group of X-Men who will belatedly come to terms with the events of Schism, and make a decision which way they'll stand in relation to the new dynamic.
"A lot of time has passed, if you consider that when these space-faring X-Men left Earth, the mansion still stood," notes Carey. "Ed Brubaker started writing 'Rise and Fall of the Shi'ar Empire' in uncanny X-MEN at the exact same time when I started with X- Men so in a weird way it's all come full circle.
"From an emotional standpoint, there will be a sense of one door closing and another opening. Whenever you leave an ongoing book, there'll always be some unfinished business, because you're constantly opening, closing and weaving through plots. However, we did manage to tie up some threads we promised to deliver on. Readers will experience a big sense of closure as well as anticipation as to what's going to come next as my last issues will segue into the stories by new writer, Christos Gage."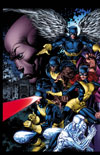 Reflecting on the roots of LEGACY, Carey recalls, "The game-changing event [was] Messiah Complex. It consisted of all the team members who as reformed villains—or seemingly-reformed villains—had a very unstable dynamic. The logic of that event dictated the team would fall apart due to the terrible tensions within. So the big question: 'What would we do after Messiah Complex?' Around this time, Axel Alonso took over the [X-Men] books as group editor. His first mandate: have each book be unique and distinct from the others. In my discussions with Axel and my book editor Nick Lowe, we came up with this idea that it would be a solo book with a rotating cast as opposed to the dedicated ones many X-Men have had in the past, like Gambit or Cable.
"Right around then we'd had a lot of revelations of Xavier's past that rocked the status quo, like his role in the X-MEN: DEADLY GENESIS limited series [and] the story of Danger as revealed in ASTONISHING X-MEN by Joss Whedon.  The chance to revisit those events? Too good to pass up. Certainly many had this view of Xavier as an idealist, but then to find out he has made some ruthless, pragmatic decisions—now that's really interesting. I really wanted to explore some of those aspects of the past by looking through the lens of the present and take Professor X on a journey of rediscovery as he filled in the pieces of his lost memories. When it came time for the rotation to change over, we engineered it by finally having Professor X fulfill his promise to help Rogue control her powers. It made the switch reasonably smooth and natural."
Carey's favorite story written during his run: Age of X. Originally pitched as a small, self-contained, three-part story, editorial interest allowed the event to grow beyond the confines of its own book, pulling in issues of NEW MUTANTS and adding several one-shots and limited series.
"In addition to an Alpha issue and huge marketing support, suddenly the canvas grew big enough for this mini-epic to exist on," he reflects. "Though I've enjoyed being part of line-wide X-events like Messiah Complex and Second Coming, being kind of a show-runner on an event is a great experience."
Of his artistic collaborators over the years, Carey feels his good fortune has been more than anyone should expect. Starting with Chris Bachalo in his first arc on X-MEN to Khoi Pham in his last LEGACY tale and everyone in between, Carey goes out of his way to mention what a real privilege working with each and every one of them has been.
"Though I'm leaving, I am not saying goodbye," he maintains. "I feel like I still have X-Men stories to tell and would like to do so someday. It'd be great to follow up on the Children of the Vault, Age of X, Gambit/Death, as well as Blindfold's brother—a story that that we hinted at but never really revealed."
Lastly, to his fans, Carey says, "Beyond thanks! My background before super hero books had me interact with a small, self-defined group of fans. When news broke that I was writing X-Men, it seemed like I went from paddling in a little pond to suddenly swimming in the Atlantic Ocean. The attention you get—it's kind of intimidating, yet contact with X-Fans worldwide has always been and continues to be overwhelmingly positive, really friendly and very supportive. I come away with some happy memories."