By Tim Stevens
Doctor Stephen Strange is an adult male nearing middle age who appears to be in average to above average physical health. Evidence of physical trauma is evident in his hands, which he describes as having been sadly injured in an accident some years prior.
For many years previously, the client was known by the moniker "Sorcerer Supreme," a title of apparently great significance in our world and beyond. He relinquished the title following the events of what the press dubbed World War Hulk because of his role in the occurrence and what led to it. The mantel was then bestowed on another, a Brother Voodoo, who Strange helped select. Recently, this successor sacrificed himself to ensure the safety of the universe.
These recent events have left the client shaken and feeling as though he has lost purpose. At time when he stopped being Sorcerer Supreme, he felt it was the correct decision and one he made without haste. Now, however, seeing as how that choice led, in his opinion, to the death of another person, he has doubts. Additionally, although initially attempting to put distance between himself and the super hero community, he has repeatedly found himself involved with them, leading him to question whether his desire to move on was sincere and whether passing on his mantel was the safest thing for the universe.
Thoughts like this trigger concerns about past insecurities in the client. He has revealed in previous sessions that, prior to his accident, he was arrogant and reckless. Whenever he begins to think that perhaps it is best he be Sorcerer Supreme again, he wonders whether these feelings can be trusted or whether the spirit of his past self influences his decisions.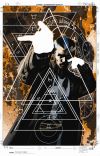 The focus of therapy has been on the difference between healthy and unhealthy negative emotions and recognizing the difference. For instance, while it is true that Strange chose Voodoo as a successor, this does not make him directly responsible for Voodoo's passing. Given that the client is very concerned about narcissism, he has been very receptive to the idea that taking on excess responsibility, and then guilt, for the actions of others can actually be a manifestation of arrogance, a belief that one is so important that his or her decisions are directly responsible for events that are only tangentially related to those decisions.
Another therapeutic goal is for the client to accept his past and understand it as an aspect of himself that helped him reach where he is today. In other words, while he made negative choices in the past, often growth has come from those choices. This does not excuse the mistakes he made, only puts them in the context of the fact that he has since done much to address those errors and improve both his life and many of the lives around him in the bargain.
Doctor Stephen Strange's next appointment is scheduled with Doctors Matt Fraction and Stuart Immonen Further detail on the client can be found in file DEFENDERS #1 available for review on December 7
Psy D. Candidate Tim Stevens, MA is a Practicum Trainee at a community mental health facility and a Dialectical Behavior Therapy Consultant.