By Justin F. Gabrie
When Red Hulk—aka former U.S. Army General Thunderbolt Ross—finds out that one of his closest friends has perished in the Middle East, he goes on an unsanctioned rampage to seek revenge. But this time instead of charging into the fray head-on, he does so with his eyes wide open.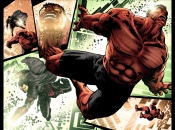 HULK #46 preview art by Patrick Zircher
"Red Hulk started out trying to pound the world into the shape he wanted it, taking risks and making questionable alliances born of desperation, end game scenarios," says HULK writer Jeff Parker of the current "Hulk of Arabia" storyline. "Now he accepts a measure of responsibility.
"He's still following his nature to use his power to make things right, but these days he's aware of the bigger consequences, like plunging his country into war. Maybe that wasn't actually as daunting to him as a General, but now he sees another side of things out on his own. A lot of what he's doing comes down to discovery and reconnaissance." 
This sets up Red Hulk to be in conflict with his own government yet again. They do not want him starting an international incident and have directed his immediate commander Steve Rogers and his Secret Avengers to stop him.
Ross' actions also put him at odds with the native people of the region he's infiltrating and ominous new villain Sultan Magnus.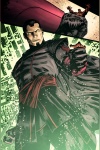 HULK #46 preview art by Patrick Zircher
"We've been focusing on building up a new rogues gallery for Red Hulk; formidable players who can later wreak havoc on the wider Marvel Universe," says Parker. "And every day the 'Arab Spring' movement develops, changing the face of the Middle East and Northern Africa. It felt right to give that region its own Doctor Doom-esque figure, but someone who exudes being a walking conflict and not a clear villain. I like complex threats [that] can go in different directions. You will not be able to say for sure what the Sultan's going to do. He may even help save the world. But Magnus will most likely always going to want Red Hulk dead."
Having formed an alliance with Machine Man, Red Hulk finds out that someone has decided to terraform the desert to their own ends as the story reaches its final climax. Parker notes that the story's conclusion will affect Ross down to his core.
"This influences Red's perspective on the global scene. He's never thought of himself as anything but an American, and now he's at odds with his own military and government. But, being a Hulk means being an outcast, doesn't it?"
Looking forward to the story arcs that follow and the villains attached while the book thumps its way closer and closer toward milestone issue #50, Parker had this to say:
"We have something really magical planned that grows out of [a crossover with VENOM] and powerhouse Hulk artist Carlo Pagulayan will be drawing that. It really plays to the kind of wild imagery he excels at. I wish I could show you some of the art right now! 
"Don't forget the new M.O.D.O.K., who looms over things here whether you see him or not. Also Red and Annie—and Machine Man—continue their hunt for Zero/One, who's still at large. And when you don't hear from her, it's time to worry that she's being busy!"