By Ben Morse
The latest webslinger in the Marvel Universe may have a known name and familiar face, but that's about it.

When SCARLET SPIDER #1 swings into stores on January 11, Peter Parker's clone, Kaine, lands in a new city—Houston, Texas—where he'll encounter new friends, new threats and build a new life for himself. Spinning out of Spider-Island, SCARLET SPIDER promises a wallcrawling experience the likes of which you've never seen.
All this week, with the help of writer Chris Yost and artist Ryan Stegman, we'll be exploring the World of The Scarlet Spider in order to prepare you for a hero unlike any other.
As Kaine grows into his new role as The Scarlet Spider, his look and world will evolve to suit his endeavors, and Ryan Stegman will be the man directing that visual growth. Having proved himself a true artist to watch with his work on INCREDIBLE HERCULES, SHE-HULKS, FEAR ITSELF: HULK VS. DRACULA and more, Stegman spoke with us about his path to SCARLET SPIDER and the steps he's taking to bring Kaine's adventures to life.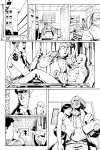 SCARLET SPIDER #1 inked preview art by Ryan Stegman
How did you come to this assignment?
Ryan Stegman: I did AMAZING SPIDER-MAN #665 and sort of came to the realization that I loved drawing Spider-Man. It's one of those situations where you start working on something and it just all clicks and you feel like it just makes sense. So as I was working on it, [editor] Steve Wacker seemed to be enjoying it and so I tried to subtly tell him that I wanted to work on the character a lot more. But in the end, I wasn't so subtle. I just laid it all out there. Shortly after I finished the issue, Steve called me and asked me if I'd be interested in drawing SCARLET SPIDER. He told me all the info about it being Kaine, etc. and immediately I was won over by the idea of a "dark" Spider-Man. I mean, what's cooler than that? And the more I learn about the character and Chris Yost's angle on him, the more I fall in love with the project. It's a perfect fit.
What are the biggest differences between drawing Spider-Man and the new Scarlet Spider? 
Ryan Stegman: The costume! I don't have to draw all those webs all over his outfit! But other than that, my goal is to make Scarlet Spider even more "arachnid" so-to-speak. When I drew Spider-Man I tried to give him that spider-y feel that I love so much on the character. But Kaine needs to be even more menacing, more intimidating. So I'm really going to push the posing and use a lot more black to give him that ominous feel that we want.
How did you get a feel for the character of Kaine?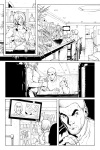 SCARLET SPIDER #1 inked preview art by Ryan Stegman
Ryan Stegman: I went back and read the Clone Saga. Well, that's an ongoing process. Holy smokes there are a lot of books to read! And I've done a lot of sketching of the character as well. Figuring out the "feel" of the character is an ongoing process though. For example, in issue one we actually see Kaine smile! I know, it's crazy. But you have to wonder when the last time he smiled was. So I had to figure out a way to make him happy, but not so happy that it's out of character. And I try to take these challenges on as I get to them along the way.
What was your process for designing the new Scarlet Spider costume?
Ryan Stegman: I wanted something classic that wouldn't need a re-design. We tossed around the idea of the hoodie, and I appreciate the nostalgic aspect of that costume. But that's Ben Reilly's costume. And to me, it has a time and a place. Kaine is very different from Ben Reilly. For Kaine's costume, I wanted something more menacing that would strike fear into his adversaries. I'm in love with the idea of the blood red eyes set against a background of black.  
And I really wanted something simple. Because Scarlet Spider is going to be in motion a lot, and bogging him down with too many bells and whistles can take away from the movement in the drawings. And movement is something that I really try to capture in my work.
I think the simple, classic design prevents it from being dated as well. My hope is that when people look back on the character in 20 years they don't say, "He just looks so 2010s" or whatever you call this decade. 
How did you get a sense for Houston as a locale?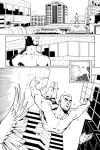 SCARLET SPIDER #1 inked preview art by Ryan Stegman
Ryan Stegman: Thank goodness for Google Maps. Chris does a lot of research on locales and he'll include links in my scripts and then I can go in and actually find a 3D model of the area. A scene in the first issue takes place near the Bank of America Center and I was able to really portray the area accurately because of all the stuff on Maps.
Chris and I also will be going to Houston in January, and that should help me to understand it more. Because you can't really know a city until you've been there.
What are you doing to distinguish Houston and give it its own feel?
Ryan Stegman: Just by studying the architecture in Houston online I've noticed how different it is from New York. New York buildings are very ornate, while Houston buildings are less so. But I guess the easy answer to this question is that I use Google Maps and just try to be as accurate as possible!
How have you adapted your style for this series? Any new tricks?
Ryan Stegman: I'm not sure that I'm using "new" tricks per se. I probably am, but I never notice it until I look back on the work later. But I will say this: I feel like my whole career I've been building up an arsenal of "tricks" or I guess "skills" is a better word.  So all along I've been learning and learning and learning and now I feel that I'm just unleashing all those things that I've learned. I really feel like it's the strongest work of my career, but I'm probably not objective because I happen to be me.
What are you most looking forward to drawing in this book?
Ryan Stegman: Scarlet Spider swinging through the city looking like a badass! And fighting fire monsters, which happens in issue #2. I'm still trying to convince Yost to write in a dinosaur battle at some point. But basically, I am going to try the empty the tank of awesome stuff to draw that I've been filling up since I was a kid!
Remember to pick up SCARLET SPIDER #1 on January 11!