By Jim Beard with John Tancredi
Marvel Comic notes with great sadness and significance the recent passing of comic legend Mick Anglo, the creator of one of the most beloved and long-running British super heroes of all, Marvelman. Anglo's career included work as a writer, artist and editor, making him one of the most versatile and creative figures in the history of the comic book industry.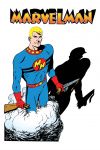 Marvelman by Mick Anglo
Born in London, England in 1916, Anglo's artistic leanings led him to an early freelancing career in fashion and commercial art, eventually bringing him to the door of a small publisher with whom he worked as a writer. The company, Martin & Reid, introduced Anglo to a wide variety of fiction genres, such as Westerns, romance and suspense tales, and within a short time the young man began producing actual comic strips for the firm. In 1954, Anglo founded his own company, Gower Studios, to produce the entire contents of comic books for many different publishing houses. It's there that he mentored and tutored an entire crop of artists and writers who would go on to make their mark on the British comic industry.
1954 also stands as the seminal year in which Anglo created the character for which he's best known: Marvelman. The Miller and Son publishing house came to Anglo after the American comic book company Fawcett cancelled their Captain Marvel character, effectively ending the British company's opportunity to continue to publish reprints of his adventures. Anglo crafted a new hero, Marvelman, to bridge the gap and, in doing so, kicked off a sensation. By the time the writer/artist ended his association with Miler and Son in 1960, he'd been responsible for scripting over 700 adventures of Marvelman and his extended super hero "family" of characters.
Throughout the 1960's and up until his retirement in the 1980's, Anglo continued to work in comics for several different publishers and on a multitude of adventurous heroes and heroines. In 2009, Marvel Comics acquired the rights to his Marvelman character and began to reprint Anglo's original adventures in chronological order.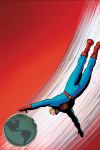 Marvelman by Mick Anglo
"Mick was a very unusual man in that he could be extremely funny, gruff, coy, outspoken and reserved," remembers Jon Campbell, Anglo's agent and friend  "He was a man of a different time; he was an ex-army soldier turned boxer who went on to become a comic writer, artist and publisher. Mick Anglo was a straight talking, dry witted man with many a great tale and he prided himself in his 'loquaciousness.' He loved playing with words and phrases. He liked to dine out and was generous and kind, however, most of all—and this is the part I know he would want to be remembered by—he was a 110% doting and devoted husband to his lovely wife Minnie. Whenever I would visit you could really feel the bond between Mickey and Minnie and you would leave feeling heart-warmed that a love could last over seven whole decades. Mick Anglo isn't just a sad loss for comics but a sad loss to the world.

"Mick Anglo has now transcended into comic book legendary status. Marvelman simply was Britain's most successful superhero story ever. It's funny as last year I had an elderly plumber fixing a bathroom in my house and he saw my Marvelman figurine and the first thing he said was 'KIMOTA!' and 'Oh, I used to love Marvelman, I would get it every week without fail!' Mick was very proud of the design, practically that of the striped tracksuit look that Marvelman had and he liked the crew cut as it made him look 'hard'—British for tough. He still used to get fan mail from all over the world regarding his works.

"As Mick once summed it up quite amply by saying, 'Marvelman kept the kids happy and you can't ask for any more than that, can you?'"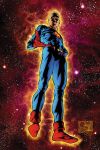 Marvelman by Joe Quesada

"I was very fortunate to have had the pleasure of meeting Mick about two years ago," shares Marvel Chief Creative Officer Joe Quesada. "It was shortly after Marvel had purchased the rights to Marvelman and I was in the UK on a business trip. I reached out and was thrilled that Mick had some time to meet up with me.

"He was amazingly generous with his time and incredibly happy to share his stories of his days as an artist. To say Mick was colorful is to do him a disservice; even at his advanced age he still had a knack for telling wonderful stories. While his life as an artist was incredibly interesting, the stories that he really loved to tell were of his days in the military during the war. He lived an amazing life and I was also very surprised that he had a pretty good career as a novelist, which I was unaware of.

"One of the highlights of my visit was how much he was looking forward to his original material being printed with today's modern methods and re-colored on computer. When those books started to get released I heard back that Mick was over the moon and had wished that they could have looked this way back in his day. That made my year!
"It's unfortunate, but Mick didn't have as big impact during his prime here in the States as he should have, but over in the UK, he was the man. He ran a large art studio and obviously created an amazing character in Marvelman that will live on long after all of us are gone. The truth of the matter is that while Marvelman has already soared to great heights, we have yet see the full impact that Mick's creation will bring. The future is incredibly bright for Marvelman, and it's a shame that Mick won't be here to see how it shakes out."