By Jim Beard
The MARVEL HOLIDAY SPECIAL, currently unfolding as four free digital tales on the Marvel Comics app , brings not only brand new holiday adventures for Marvel heroes, but fresh creators to the House of Ideas. In the first story, available now, the amazing Spider-Man benefits from the attentions of writer Miljenko Horvatic and artist Andrew Trabbold.
"For me, Spider-Man is the essence of 'super heroism,'" explains Horvatic. "He was the first hero I believed in and the one I had identified with when I was a kid—the problems he had, not so much with the very-tempting wall climbing! The best evidence of his true power comes from my own two boys, four and six years, as Spidey is their favorite super hero. There is a reason for that and it is in the simple but genius set-up for the character.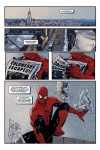 MARVEL HOLIDAY SPECIAL 2012 art by Andrew Trabbold
"Spider-Man is a character that can function as a pure action hero, but he is also equally believable making a point or relating a message. If you place him in an unusual setting or a situation, even if it is a pathetic one, Spidey will function easily while some other characters often cannot get away with stuff like that. He is believable, regardless of the setting, be it Christmas, 9/11, Halloween or St. Valentine's Day—Spidey rocks!"
"My mom bought me a Spider-Man comic and I was hooked," reports Trabbold. "I still remember the cover: it was Spider-Man leaping all over the cover across some rooftops.
"He's just a very good, decent human being, all about sacrifice and responsibility. I think his idealism stems from starting as, essentially, a child and carrying that into adulthood. That idea of sacrifice for others that he embodies is what makes him perfect for a holiday story."
Horvatic's early days as a comic reader also dovetailed with Mighty Marvel's output, putting him onto the path he walks today as a writer.
"I was born in the former Yugoslavia which had a solid comic book production with lots of comics published in the 1970's and 80's, when I was growing up," he says. "Those were mostly Italian, French/Belgian comics or American comic strips, but Marvel had also found its readers there at the time. The first Marvel comic I read was AVENGERS, however I must admit that I enjoyed Spider-Man the most and later on Shang-Chi, Iron Fist and the Daughters of the Dragon. These comics nicely fit into the Bruce Lee madness that was spreading around the world at the time."
The writer notes that his first published work both in Croatia and in the States came as collaboration with Esad Ribic, who he places as "among the best comic book artists in the world."
"In 2010, I participated in an electronic comic book competition," Horvatic remembers. "We placed fourth, and we joined the competition during its final month, which wasn't bad at all. That same year Marvel's C. B. Cebulski was a guest at a comic book festival, MaFest, in Croatia and this is where we were introduced. He was kind enough to look at my work; he liked it and helped me to get in contact with editors and with my first proposals/pitches for Marvel. And then all of a sudden bam! I'm writing for Marvel!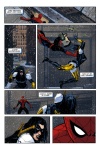 MARVEL HOLIDAY SPECIAL 2012 art by Andrew Trabbold
"I am grateful to my editors Jody Leheup and Sebastian Girner for giving me the opportunity to work on Spidey, and for helping me and giving me creative freedom along the way. Thank you, guys!"
For the story's artist, Trabbold also feels blessed for being able to work on the MARVEL HOLIDAY SPECIAL and for collaborating with Horvatic.
"I was put in contact with Jody Leheup and he was nice enough to get me a story to work on," he says. "Most of my collaboration was with Jody but Miljenko and I talked a bit after it was done. Super nice guy!"
"Andrew did a great job," enthuses the writer. "As I had an opportunity to see some of his other work, I believe that he has a bright future before him. I would love to work with Andrew again."
The two creators also look forward to other potential collaborations, specifically with their dream list of Marvel characters.
"I would love to draw Daredevil, Moon Knight or any street level hero," Trabbold notes. "I think those heroes are the most interesting because they have something to lose but they do it anyway, all because of the strength of their convictions."
"Well the easiest answer would be the X-Men, Thor, Iron Man," says Horvalic. "However, I also like The Punisher—as I have a limited military experience and I love crime stories—Wolverine—because you can place him in various time periods and because he is cool—Black Widow and White Tiger—awesome female characters—and my childhood obsessions Iron Fist, Shang-Chi.
"I could go on and on! When you are a writer every character hides a potentially good story. Regardless to what I will do in the future I will give it my best. After all, this is my dream job and Marvel has a very wide and marvelous array of characters that deserve attention."