By Jim Beard
The MARVEL HOLIDAY SPECIAL, currently rolling out for free in four parts on the Marvel Comics app , gives new writers and artists the chance to work with some of Marvel's most famous characters, including Nick Fury, who sees holiday action courtesy of newcomers Aaron Shaps and Sebastián Piriz.
"Nick Fury hits two major bases for me, in that he is a human hero with no super human abilities but has adventures in a fantastic setting, and he is also a spy character," details writer Shaps. "I have always been a fan of characters [that are] essentially ordinary humans that rise to extraordinary heights under extraordinary circumstances. In Nick Fury, we have this American super-spy character, who inhabits this extraordinary universe, so what is not to love?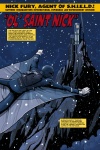 MARVEL HOLIDAY SPECIAL 2012 art by Sebastian Piriz
"As to why he makes the perfect Christmas hero, I think it's precisely because he seems like he wouldn't be the kind of [character] you would put in a story like this. He is this grizzly, grumpy old hard-ass, and he seems like he would probably be a bit of a Grinch. But of course, even though the heart of a lion beats within his chest, it is also a heart of gold."
Artist Piriz agrees with Shaps as to Fury's perhaps-unlikely appearance in a holiday-themed tale.
"Fury isn't the first character that comes to your mind when you think of the Marvel Universe, but he's without any doubt one of the most interesting," he says. "Just a man telling some of the most powerful people in the world what to do to. Definitively a great character for my first gig at Marvel.
"I'm not sure if he's the best character for a Christmas story, but Aaron made one of the best holiday comics I've read in my life. I'm one of those who think that it's not about the characters, but what you do with them."
Shaps notes that the experience of working on the MARVEL HOLIDAY SPECIAL comes as a heady one, providing a whole new universe of possibilities to him.
"Basically, the story came about because a mutual friend introduced me to Marvel's C.B. Cebulski at C2E2," he explains. "I gave C.B. some samples of my independent stuff and some of the self-published stuff through my own studio, and then I kept in touch with him after the show. Ultimately, I was asked to pitch some holiday-themed stories, and sent ideas for Captain America, Doctor Strange, and Nick Fury. Editor Sebastian Girner contacted me a few weeks later and said he liked elements of the Nick Fury pitch and the Cap pitch, and essentially wanted to combine the two. And to his credit, he was absolutely right, in that I think the elements of the Cap story work much, much better with Nick Fury. I never would have thought to go that route. He's a great editor.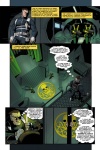 MARVEL HOLIDAY SPECIAL 2012 art by Sebastian Piriz
"As for working with Sebastián Píriz, I have nothing but enthusiastic praise. From the second I saw the rough thumbnails, I was really excited about the art. In comics, there is always that little element of fear for a writer, fear that maybe the artist won't really get what you want the story to feel like, and you'll just end up with something that is nowhere near what you initially envisioned. And with Sebastián, the moment I saw his thumbnails, any fear disappeared completely. I would love to work with him again on another Marvel story. It was a great collaboration and I think he totally nailed it. I think the end result is really fun. I hope the fans agree. If they have half as much fun reading it as I had working on it, it will definitely end up being their favorite retro Nick Fury Christmas story ever."
"The script is great and I had a lot of fun drawing it," concurs Piriz. "I think the pages look great—though as a professional, I already had a list of things I'd fix a few days after the deadline—and I love the retro look the colorist gave to the story."
Both creators also have very definite designs for more Marvel adventures and characters should the call to action come once more.
"I've loved Daredevil since the Frank Miller era," says Shaps. "He's a great character that works really well in gritty noir stories. He also has a bit of a swashbuckling vibe about him, so that is another really cool element. A Daredevil story might be really dark and intense, but there is always that sense of exhilaration as he moves through the city. He is poetry in motion. And a lot of great Daredevil stories have ninjas in them. Like monkeys, pirates, monsters with tentacles, and sexy alien ladies, ninjas are almost never a bad thing to introduce into a story.
"I would love to do a Power Man and Iron Fist series with a retro feel, like the Nick Fury story. I think a story that feels like a blaxploitation movie/classic kung fu movie, true to the real roots of those characters, would be so much fun to do."
"Doctor Doom," states Piriz plainly as to his dream character. "He's the best villain ever. A very powerful character and I just love him; and along with Doom, anything about the Fantastic Four, of course."