By Jim Beard
In September 2012, a founding member of the Avengers joins the ranks of Marvel characters to be showcased in the new series of graphic novels, Season One. Hank Pym, one of the first heroes of the modern Marvel Universe, takes center stage in ANT-MAN: SEASON ONE, written by Tom DeFalco and with art by Horacio Domingues.
"Long before I picked up my first issue of FANTASTIC FOUR, I thrilled to the adventure of 'The Man in the Ant Hill' in TALES TO ASTONISH #27," remembers DeFalco. "When I first met Hank Pym, he was a self-centered scientist eager to show off his genius. His eagerness led to carelessness when he experimented with his shrinking formula and soon found himself running for his life within an ant hill. Needless to say, I was quite surprised a few months later when Hank returned, donned a costume and began calling himself the Ant-Man.

TALES TO ASTONISH #27
"Together with the FF, Thor, Iron Man, Hulk and Spider-Man, Hank helped form the basis of what we now call the Marvel Universe. While I know that FANTASTIC FOUR #1 actually predated TALES TO ASTONISH #27 by a month, Hank will always be my first Marvel super hero."
The writer believes that the character's true story begins in a childhood dominated by a tempestuous father, but ANT-MAN: SEASON ONE will kick off with a different, yet equally traumatic moment in Hank Pym's life.
"I open the book with a fresh take on the death of his first wife," says DeFalco. "His inability to protect her drove him into the depths of despair and may have triggered his future personality disorders. Although she dies on the first page, Maria Pym's presence is felt through the entire story and Hank even employs some technology which she designed.
"Hank is haunted by Maria's death and I believe this later affected his stormy relationship with Janet [Van Dyne]. But, since this story deals with the origin of the Ant-Man, Janet only gets a cameo mention."
Pym may go down in comic book history as the hero who's created the most costumed identities, and it's that sort of life-changing ability that spurs DeFalco on to dig deeper into his psyche.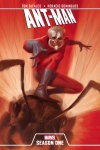 ANT-MAN: SEASON ONE cover by Julian Totino Tedesco
"Although Hank was a founding member of the Avengers, he was always an outsider—a man who never seemed comfortable in his own skin," he notes. "He was constantly changing; his costumes, powers and even his identities. He started as Ant-Man, switched to Giant-Man, later called himself Goliath and even became Yellowjacket. It was almost as if he was trying to prove something to someone. I decided to find out why and who."
They say it's often the villains that truly make the hero, and Hank Pym seems to be no exception to that rule.
"My favorite Ant-Man adversaries were Egghead and The Scarlet Beetle because they were such products of their time," DeFalco observes. "There was a certain early 1960's innocence and fun to them. But, I don't believe Hank really came into his own until he became Giant-Man and started fighting super-villains like The Black Knight and The Human Top."
The writer also notes that as far as being a founding member of the Avengers, Pym "happened to be in the right place at the right time," a good feeling that perhaps ANT-MAN: SEASON ONE artist Domingues can attest to.
"Horacio instills his characters with real and intense humanity," says DeFalco. "You can almost taste Hank's terror when he first finds himself running for his life from killers while only the size of an ant."
ANT-MAN: SEASON ONE will be available July 2012