SPOILER WARNING: THE FOLLOWING ARTICLE CONTAINS SOME DETAILS ABOUT THE CONCLUSION TO JOHN CARTER: A PRINCESS OF MARS
By Ben Morse
Following the JOHN CARTER: A PRINCESS OF MARS series, adapting the classic Edgar Rice Burroughs tale—and on sale now—the titular hero finds himself back on his native Earth and attempting to reconcile the adventure he just survived. He won't be reflecting long, though, as writer Sam Humphries makes his Marvel debut booking our hero's return trip beginning this March in JOHN CARTER: GODS OF MARS.
"John Carter [returns] to Barsoom—aka Mars—after a 10 year absence from the planet and the love of his life, Princess Dejah Thoris," says Humphries of the series plot, which follows another Burroughs story. "During his struggles to return to her, he literally has to fight through the elder deities who control life and death on Mars. The discoveries he makes about their true nature changes the mythology of Barsoom forever."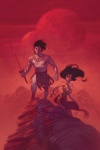 JOHN CARTER: GODS OF MARS #1 cover by Julian Totino Tedesco
The Carter readers got to know in A PRINCESS OF MARS has undergone some changes in the interim before GODS OF MARS kicks off, and Humphries plans to tackle the growth and contrast.
"Separation makes the heart grow fonder," the writer muses. "During his first trip to Barsoom, [John Carter] dreamed of returning to Earth. In the process he survived in a hostile environment, won the loyalty of alien cultures, and fell in love. Now he's back on Earth, dreaming of a return to Barsoom. His inadvertent exile on Earth has humbled him, and forced him to recognize what he truly values."
While GODS OF MARS does have the love story between John Carter and Dejah Thoris at its heart, fans of high action and intrigue need not fear, as all will be present and much will come from the powerful forces introduced.
"In addition to the red and green Martians from A PRINCESS OF MARS, this book reveals the white and black races of Barsoom," Humphries says. "Neither race is quite what they seem. The book is about John's quest to reunite with Dejah, but it's also about the secrets of the gods themselves."
Along with John and Dejah, other familiar faces from A PRINCESS OF MARS will pop up once more while new additions will also make the scene.
"We see the return of John's brother-in-arms Kantos Kan, the canny red Martian," Humphries promises. "Tars Tarkas, the wise green Martian, is back as well. Solas, Tars' daughter who taught John the ways of Barsoom, has an important role to play as well. And of course, the brave and beautiful Dejah Thoris.
"One of the great things about GODS OF MARS is the first appearance of Thuvia of Ptharth. She's a kick-ass warrior princess and one of my favorite characters. Thuvia is an important figure in the John Carter universe, and even got her own novel, 'Thuvia, Maids of Mars.'"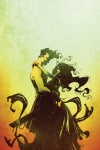 John Carter and Dejah Thoris by Skottie Young
Best known for his creator-owned work Our Love is Real and Sacrifice, Humphries certainly makes a unique entrance into the House of Ideas via the far-flung world of John Carter, but he's excited for the challenge of adapting classic work, even though he confesses not being am Edgar Rice Burroughs diehard prior to the assignment.
"I must say I was only tangentially familiar with his work before starting on this adaptation," Humphries says. "But in studying the John Carter series and the breadth of Edgar Rice Burroughs' work, I am struck what a deep and dynamic influence he's had on adventure, fantasy and science-fiction in any form. I had one of those moments when I realized, oh snap—all these stories I've loved all my life, they took their influences from this guy. He was a writer of energy, emotion and ideas—we are all surrounded by Burroughs.
"The novel ['Gods of Mars'] is almost 100 years old, but the book is so packed full of crazy ideas and slam-bang action that the biggest challenge was to fit it all into fives issues!"
Humphries found a game partner in this endeavor, with artist Ramon Perez hitching along on the trip to Barsoom.
"Ramon is a great artist, and so suited to these fantastic settings of sci-fi, fantasy and action," the writer enthuses. "I sleep like a baby knowing he's making me look twice as good as I am. Ramon Perez's art is so baller!"
So for fans on the fence about GODS OF MARS perhaps because of unfamiliarity with John Carter, what does Humphries have to say?
"You don't have to know anything about John Carter or the works of Edgar Rice Burroughs to enjoy this book. You don't even have to know anything about Mars. All you have to know is a thirst for action, adventure and crazy-ass aliens."