Denver Broncos quarterback Tim Tebow has been nothing short of a super hero for his team this season, with his clutch performances and last minute comebacks propelling the club on an historic hot streak headed into the NFL postseason. To commemorate "Tebow Time," Marvel Custom Solutions and ESPN have teamed up to create three special pieces of art.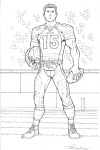 Tim Tebow by Todd Nauck

Marvel artists Bong Dazo, Scott Koblish and Todd Nauck answered the call to depict Tebow at his mightiest in masterworks that will see their full debut on ESPN's SportsCenter, and will appear on SportsCenter and NFL studio programming through the weekend, but you can get a sneak peek at the inked versions right here.
"Like the Marvel heroes who pull off last minute victories, Tim Tebow has fans around the world on the edge of their seats and believing that--in our own lives--when time is running out and all looks lost, we can dig deep inside and use our various strengths to triumph over insurmountable odds," says Bill Rosemann of Marvel Custom Solutions.
Watch SportsCenter as well as NFL studio programming this weekend for more on Tim Tebow and Marvel!